Technology has enabled us to make a bond with the screen, either a phone, laptop, or any other digital device.
Social media is one aspect of advancement in technology, and of course, I consider it the more fascinating and alarming one.
This article will build a plot around screen time and a challenging talk on diverse social media platforms.
Screen time is when a person in his 24 hours of life spends staring at the screen.
Well, the purpose of this romance with a screen could be either exploring the limits of the world or scrolling the posts from your friends and family.
Where Do We Spend Our Time?
In today's world, everyone has a smartphone in his hand, and people do have the accessibility to the internet.
The internet has changed things and made people stick to a phone screen, a tablet, or a laptop.
These gadgets are playing a vital role in our lives, but the thing here is that it has made people constantly focused on screen time.
The reasons for using social media, or, more specifically, screen time, have increased significantly in the recent past.
Some Interesting Stats On Screen Time
Here, I would like to add some facts and figures related to screen time.
Some of these data have been collected through algorithmic programs, and some done via fieldwork.
Although this data is meant for many parts of the world, statistics vary as we go through the countries.
An average person has a screen time of 2 hours and 24 minutes daily as of 2020.
Above 50% of the screen time reflects only on the use of social media.
Users spend most of their time on social media platforms like Facebook, YouTube, TikTok, Snapchat, and Pinterest.
There is the counting of social media users in billion; an estimated 11 new users are added to the counting each second, and it keeps growing.
In 2011, the average daily screen time was 1 hour, and in 2017 the increase is manifold higher, and it was 2 hours and 11 minutes, and it kept increasing over then.
Comparison Of Screen Time Around The World
Many countries globally have above 80% of the internet users, and some countries are below the 20% mark.
The screen time for the continents of the world is as follows: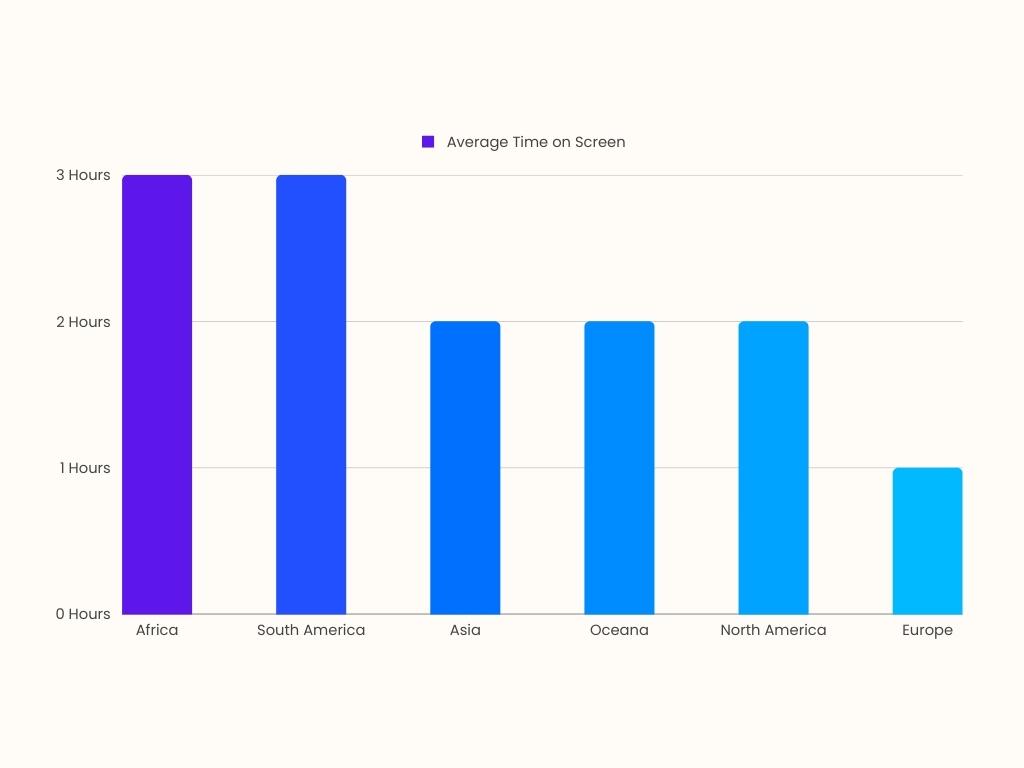 Which Age Category Spend The Most Time On Screen?
People from different professions and interests spend their time on the screen watching movies, memes, playing games, posting pictures and videos, chatting with social circles, and some get dollars through freelancing, etc.
The age group data shows that most social media users are adults between 16 – 22 years.
South America has the highest rate of social media users with a significant portion of 24 hours, about the average of 3 hours and 24 minutes spent on screen.
The situation is further frightening as we look into a report from The Centers for the disease control and prevention (CDC) that is:
8-10 years old — Six hours
11-14 years old — Nine hours
15-18 years old — Seven and half hours
Furthermore, people of older age who do not remain busy have been reported to be screen-addicted.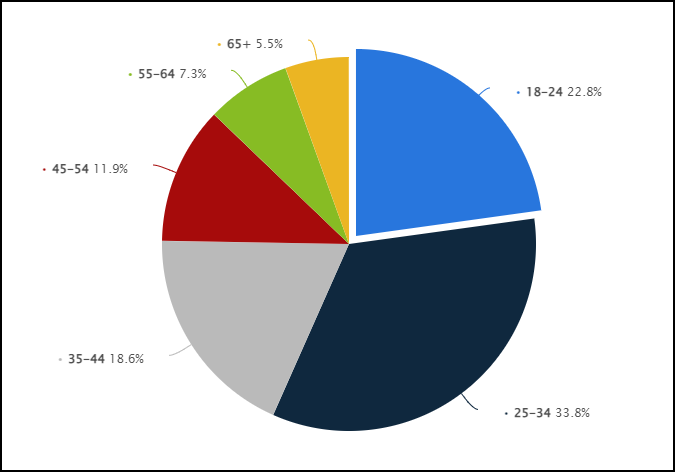 Top 10 Countries With Highest And Lowest Screen Time
The average screen time per day is 147 minutes globally, but what about the stats for the top 10 countries with the highest lowest screen time.
| | | | |
| --- | --- | --- | --- |
| Serial No | Country | Daily screen time *hours | Daily screen time *minutes |
| 1 | Nigeria | 04 hours 07 minutes | 247 minutes |
| 2 | Philippines | 04 hours 06 minutes | 246 minutes |
| 3 | India | 02 hours 36 minutes | 156 minutes |
| 4 | United States of America | 02 hours 14 minutes | 134 minutes |
| 5 | China | 01 hour 57 minutes | 117 minutes |
| 6 | United Kingdom | 01 hour 48 minutes | 108 minutes |
| 7 | Germany | 01 hour 29 minutes | 89 minutes |
| 8 | Japan | 00 hour 51 minutes | 51 minutes |
Screen Time For Social Media In a Lifespan
According to international organizations, the average lifespan for countries varies; the developed countries with good health and a balanced diet can live longer compared to the third-world countries where poverty, little health facilities, and access to food and water hinder the lifespan of the people.
Based on the data analyzed from different statistics, an average person spends six years and eight months on social media throughout his lifetime.
This number is increasing at a high rate, and it can be assumed that the change will be consistent in the coming years.
Daily Screen Time Spent On Facebook

Facebook is a big social media giant, and the credit goes to the users who have joined the platform over the years, making it the most prominent platform with 5 billion downloads.
The active user's monthly pile is up to 3 billion, and the daily users with 1.6 billion users.
The screen time for Facebook is 38 minutes, but here is a surprise to many of you that Facebook is taking little time of yours.
The thing here is that Facebook has lost many users estimated 15 million since 2017. The other reason for the short screen time for the platform is that mostly the teenagers have to turn to other social media tools such as TikTok, Snapchat or Instagram, etc.
Daily Screen Time Spent On YouTube

YouTube has become an interior part of our lives as more quality content can be found here.
The youngsters get a lot of education through youtube, and it is solely because of the revenue YouTube is generating through its Google AdSense.
People are earning a handsome amount of money; more precisely, many teenagers have become a millionaire through the platform.
On average daily screen time for YouTube is 19 minutes. It is the second most popular search engine behind Google.
YouTube is a tech giant platform reaching almost 2.56 billion active users.
Daily Screen Time Spent On Instagram

Instagram is owned by Mark Zuckerberg, founder of the parent company Metaverse.
Instagram has gained excellent success since its launch in 2010.
It has over 2 billion active users, and the famous soccer player Cristiano Ronaldo is the most followed person on Instagram with 441 million followers.
Let's come back to our discussion area daily; 28 minutes have been spent on Instagram.
It has increased eventually over the past few years because most users belong to young age, primarily teenagers.
Daily Screen Time Spent On TikTok

TikTok has become a sensation in today's world. It is famous for short video content, and a significant portion of the users are teenagers.
TikTok is a Chinese social media tool with over 1 billion monthly active users. There are many countries where the platform has been banned for any reason.
The average daily screen time for TikTok is 32 minutes, probably the longer length of time for any social media platform.
Khabby Lame is the most followed creator on TikTok, with 133.4 million followers.
Daily Screen Time Spent On WhatsApp

Metaverse owns WhatsApp, formerly Facebook, founded by Mark Zuckerberg, a chatting application.
WhatsApp has faced much competition in the market, but none have made any substantial resistance to the platform.
It is the most extensive application for communication, and the messages are end-to-end encrypted.
The average daily time spent on WhatsApp is 28 minutes, with over 100 billion messages daily and millions of conversations.
The application is famous in business communication as it has a separate business version WhatsApp Business.
Daily Screen Time Spent On LinkedIn

LinkedIn is a popular social media site for professionals. It serves the entrepreneur and professionals to find their way to make it big.
LinkedIn is not for chill but for seeking opportunities and securing success.
The average screen time for LinkedIn is around 1-minute.
The application is for professionals and for those who take their life seriously. LinkedIn has 200 million monthly users and 756 million registered users.
Conclusion
Many more social media platforms need to be addressed because to an 8 billion population, these few applications are not enough funny.
The thing to take from here is to make the best of your time where you enjoy the most, and it must be beneficial for your career.