Technology has made it simpler for people to increase their income with profitable side hustles.
While freelancers of all ages in the United States receive the biggest benefits, young freelancers in Asia are swiftly following suit.
According to a new report from digital payments platform Payoneer, the world's fastest-growing freelancing markets and how they're transforming the nature of work are being highlighted.
According to the Global Gig-Economy Index issued Tuesday, America's gig economy grew the most in 2019, with freelancer earnings rising 78 percent yearly.
The report is based on data from Payoneer's network of over 300,000 freelancers.
The United Kingdom and Brazil, which both experienced a 59 percent and 48 percent increase in gig worker wages over the last year, came in second and third, respectively.
On the other hand, Asia saw the biggest regional gain, with incomes rising by 138 percent across four countries.
Pakistan led the pace, with a 47 percent growth in freelancer revenues in the previous year.
Philippines, India, and Bangladesh reached the top 10.
Based on the year-over-year revenue increase, below is the list of the top ten countries with the highest number of freelancers in 2022.
Countries With Highest Number of Freelancers in 2022:
United States – 78%
United Kingdom – 59%
Brazil – 48%
Pakistan – 47%
Ukraine – 36%
Philippines – 35%
India – 29%
Bangladesh – 27%
Russia – 20%
Serbia – 19%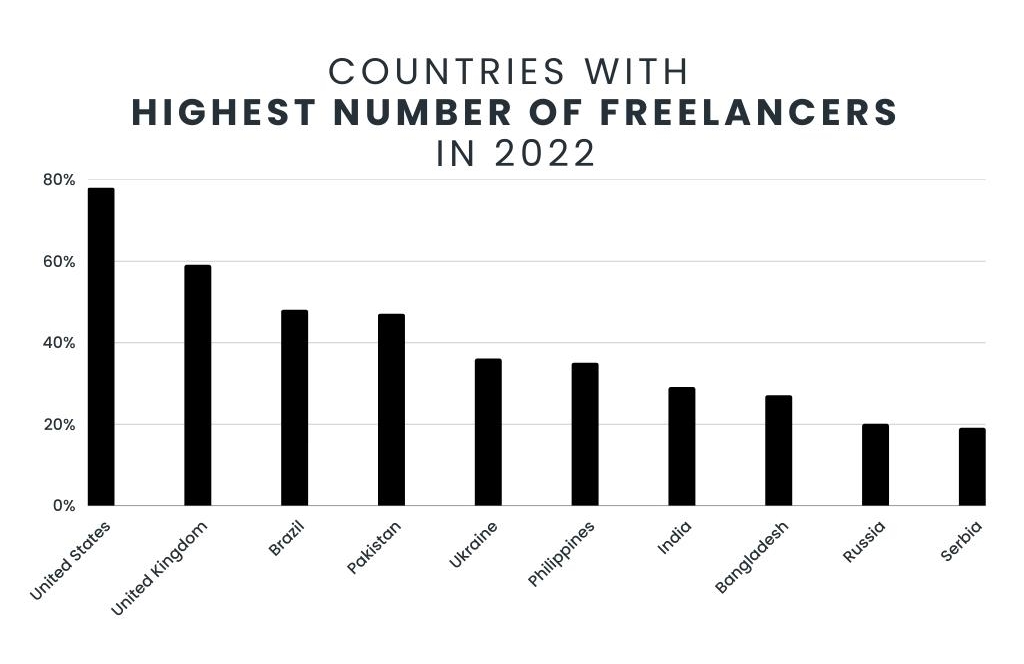 #1. US – United States (78%)
Freelancer earnings in the United States have risen considerably in the previous year, growing from 10% in 2018 to 78% in 2022, making it the best in the world.
The gig economy in the United States draws experts of all ages. However, it tends to advantage younger generations who are more technologically aware or have been exposed to less conventional employment structures in other markets.
Despite the COVID-19 pandemic, freelancers contributed $1.2 trillion to the economy in yearly revenues, according to a study of over 6,000 US employees over 18 – a 22% rise since 2019.
#2. UK – United Kingdom (59%)
In 2022, the United Kingdom climbed to the top of the freelancing countries list with a 59% increase in revenue year over year.
The number of freelancers in the United Kingdom increased by 31% in the previous year.
While well-known professions like consultancy services and information technology continue to grow, many new freelancers in the United Kingdom work in the lifestyle and creativity sectors, as evidenced by the 24% increase in freelance photographers and the 159% growth in freelance beauticians.
#3. BR – Brazil (48%)
Because of a 48% growth in freelancer earnings, Brazil has joined the top 10 freelancing countries ranking for the first time in 2019.
After the United States and the United Kingdom, Brazil has the world's third-largest side-gig economy.
Because Brazilian companies have failed to embrace the usage of remote workers, a large percentage of Brazil's freelancers work for companies outside the country.
Other countries want to recruit Brazilian freelancers since their costs are often cheaper than those in the US and Europe.
#4. PK – Pakistan (47%)
Many people were surprised when Asia had the most significant regional growth rate.
Earnings increased by 138% in four countries. With a 47% increase in freelancer earnings over the previous year, Pakistan set the pace in Asia.
The number of Pakistani freelancers has risen rapidly in the preceding year, from 4% in 2018 to 42% in 2019, and eventually, 48% in 2021-2022, establishing Pakistan's position as the fourth most popular freelancing country in 2022.
A younger generation in Pakistan is seeking new opportunities.
According to a poll, 12,000 young people who graduated from e-jobs earned $6,87,324.12 (approximately 14 crores PKR) throughout Pakistan's e-employment freelancing project, helping boost the economy and reduce unemployment.
#5. UA – Ukraine (36%)
Last year, Ukraine's freelancer earnings climbed by 36% due to the country's high number of I.T. university graduates.
Furthermore, Ukraine's young freelancers are well-known for their expertise in I.T. services, which aids in their ability to earn more money.
According to a report, the Ukrainian government has created a special taxing system that exempts I.T. outsourcers and products enterprises from paying value-added tax.
It also permits them to hire subcontractors who are not subject to labor taxes as freelancers. Furthermore, these companies can profit from loosened foreign currency laws.
Ukrainians are well-versed in dealing with foreign markets. They also share a time zone with the rest of Europe, making it easy for European companies to engage Ukrainian freelancers.
#6. PH – Philippines (35%)
For several years, the Philippines has been one of the top ten freelancing nations due to the reduced costs offered by freelancers.
The government-funded Rural Impact Sourcing Technical Training Project in the Philippines trains indigenous people with ICT-based skills to enable them to thrive as digital workers and entrepreneurs.
#7. IN – India (29%)
India has dropped a few spots in the 2019 ranking of the top ten freelancing countries.
It used to be the global leader in freelancers, but with a 29% gain in revenue this year, it has fallen to seventh place.
Freelancers under 25 make up a significant portion of the Indian freelance workforce, accounting for 21% of the total.
The government of India offers indigenous talent freelancing opportunities through the Digitize India Platform initiative.
The government provides digital skills training through the India Skills Online project, and the Ministry of Skill Development and Entrepreneurship is devoted to supporting young women and marginalized groups.
#8. BD – Bangladesh (27%)
Bangladesh, a long-time leader in the freelance industry, has lost a few places in the top freelancing nations ranking for 2022.
Freelancing is a handy choice in Bangladesh since it provides financial security and flexibility to people who would not otherwise have access to the same earning opportunities.
With the average monthly wage in Bangladesh being around $60, freelancing opens the possibility of making substantially more money.
#9. RU – Russia (20%)
In Russia, freelancing revenue increased by 20% last year, with freelancers making more money.
In 2020, 14 million Russians will be self-employed. The number of freelancers in the country has virtually tripled in the previous three years.
The freelancer business was estimated to be worth $41 billion in 2020 and was predicted to grow significantly in the years ahead.
According to a local poll, the average freelance salary is now more than the local average monthly wage of 38,800 rubles ($597).
Marketing communications roles are the most popular, accounting for 25% of all opportunities, followed by information technology services.
#10. SRB – Serbia (19%)
Serbia is a surprising entry to the top ten list of freelancing countries, with freelancer earnings predicted to rise 19 percent by 2022.
This country was also named one of Europe's top countries in terms of the proportion of the digital workforce to the entire population and total employment, along with Romania.
Now, Serbia is acquiring a reputation for generating excellent freelance developers and programmers, and numerous companies have opted to build their headquarters there, including GoDaddy, Microsoft, and Adobe.
Conclusion:
Previously, most freelancers' work was outsourced to emerging nations from the United States and the United Kingdom.
On the other hand, Asia is one of the world's top 10 fastest-growing freelancing markets.
As nations worldwide expand their independent workforces, the freelance market will only get more prosperous for domestic freelancers.