Here we are, you have done with all the things you want to sell, the pricing, the quantity and quality offered to the customers, and the targeted market of a region. Further, the payment methods, the look of your store/shop, and the social media engagements you have done all this with enormous effort.
All is done, but here comes the most difficult time deciding where you will sell all your efforts which you are doing for quite a long. So, here you need help which I will be providing you based on my research.
Several e-commerce platforms offer a certain variety of working experiences to the user. Among hundreds of e-commerce websites, you have to pick one who can decide the future of your chosen career. Here are the top seven e-commerce platforms which can turn you to become a prominent influencer.
1. Shopify
Shopify has a great success history. The most known e-commerce platform of the present time. Shopify has achieved many goals in the e-commerce industry. The best thing about Shopify it is easy to use and more reliable to customers worldwide.
Shopify has aided more than 1.5 million businesses across the globe.  The company's total revenue in the full year of 2020 was $2,929.5 million, an 86% increase over the previous year. It has a large market value which means it a trusted platform to start your business with this diverse platform.  Here are some features: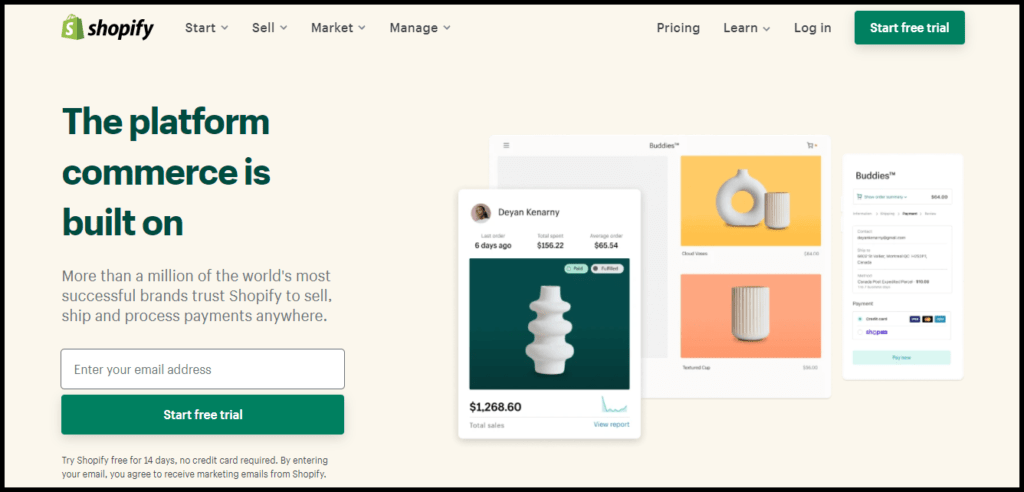 Design The Theme Of Your Store
The best thing about Shopify is the self-control customization of the themes. It allows you to chose more eye-catchy themes. There is a diversity in colors, layout, and overall look of the website.
Shopify offered 14 days free trial. There is no credit card required for the free trial. The pricing is average and not much expensive. The price starts from $29/month from any place you are selling.
Shopify provides customers with a secure payment policy and eliminates all the illegal elements of cheating. Your business is 100% safe with Shopify.
2. WooCommerce
WooCommerce is the largest e-commerce website designed for WordPress. Most of the businesses operate from here. According to estimates, a quarter of online selling websites are associated with this platform.
In 2018,  sites generated a revenue of $10-$15 billion. The revenue generated from the extensions plugins has reached almost $30 million last year. Over 4 million websites using the platform. Almost 93% of WordPress websites use WooCommerce.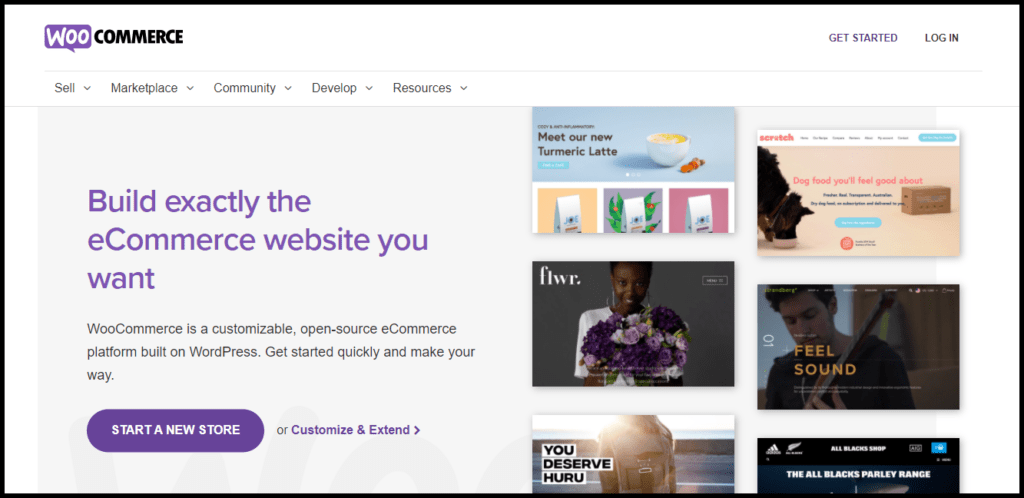 There are almost 1300+ THEMES ON ThemeForest. There are 1122+ themes of WooCommerce. The diversity in a large number of themes is a tremendous opportunity for entrepreneurs.
The WooCommerce is free, but $12/year charges on the domain name and $5-$25/month hosting charges. WooCommerce charge per theme (~$59), plugins & extensions (from $25 each) and developer fees ($20-$150/hour).
It has a secure payment method, and transactions are through credit cards. It also allows multiple other channels for payment, such as PayPal.
3. Adobe Commerce
Adobe Commerce is one of the top websites of e-commerce. It is used by famous multinational enterprises, including Nike, Coca-Cola, Samsung, Ford, and many more. Overall, there are almost 250,000 active websites on this platform, 1.2% of all websites on the web.
Adobe press, in a report, said that Magento averages approximately $150 million in annual revenue. The roughly estimated market share is about $1.5 billion.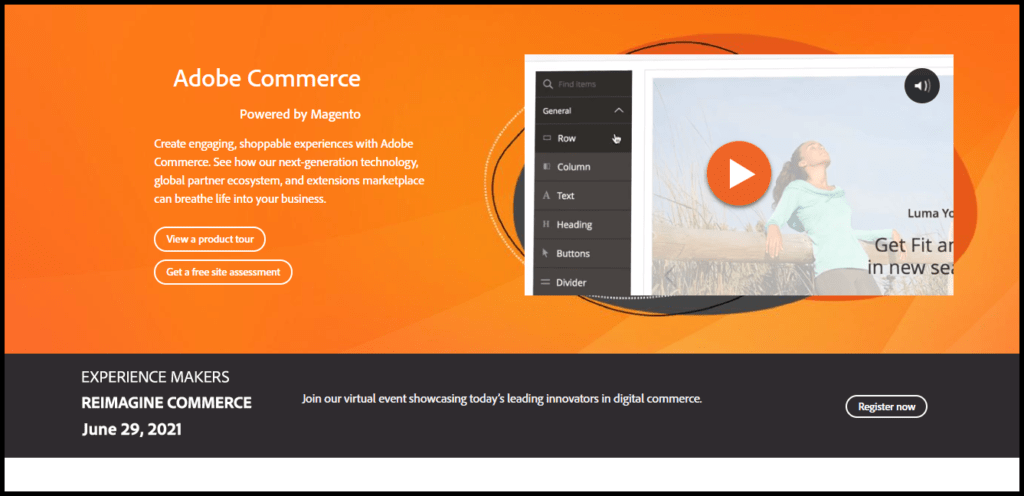 There are a lot of customization options and flexibility to customize with e-commerce websites. There is also a feature to expand the page to multiple designs and unique formats.
Magento gives the freedom to choose different hosting. It is not one hosting policy. You may rather opt for many hosting as your choice. This expands the businesses to the next level.
Magento is one of the fastest websites. It takes little time to load the pages. People have less time these days, so a faster loading helps the owner sell their products more quickly.
4. BigCommerce
BigCommerce is an online software selling e-commerce marketplace working since 2009. Its products and services include online store creation, search engine optimization, management, and security to the different firms.
The company's annual income was estimated at 1 million USD alone in 2019. According to reports, it will increase its market share in the first to a quarter of 2021.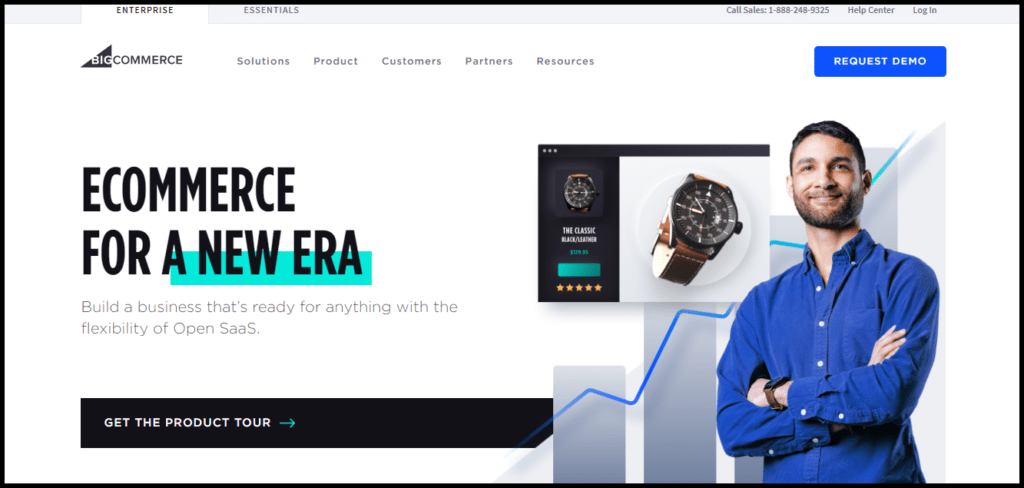 The Standard plan costs $29.95 a month, the Plus plan is $79.95 monthly, and the Pro is $299.95 a month. It has announced one common share at 24 USD.
This platform is user-friendly as it is easier to use. The carts are a good design you can access all the products. The payment method is legal and authentic, and no scam is involved.
5. Volusion
First established in 1999, Volusion is among the longest-lasting eCommerce systems in the industry. It remains popular and reliable despite the entry of newer competitors like Shopify and Wix, with over 30,000 shops using the system and producing over $28 billion in sales.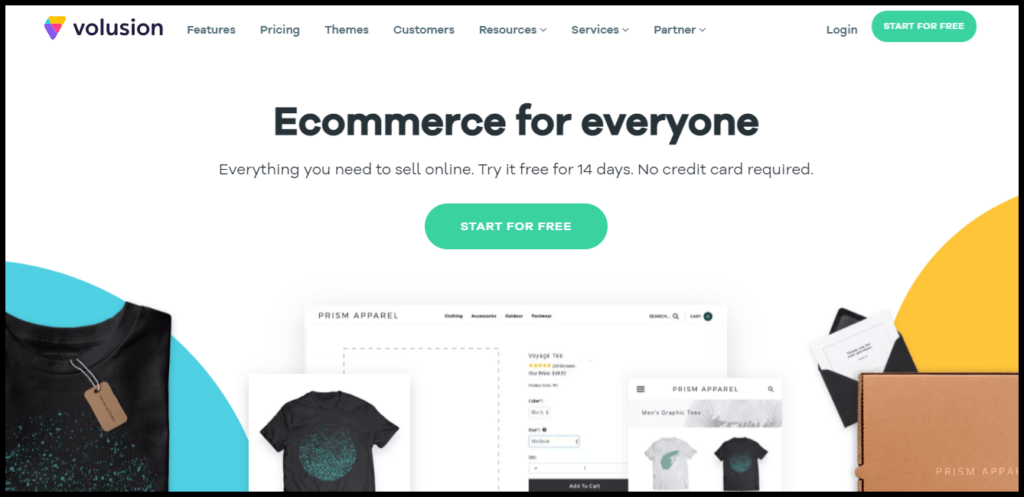 Volusion is the finest eCommerce platform for entrepreneurs and large companies that want to get started fast yet have space to expand within their proposed solution. Unlike other platforms that need you to go via an app store, many essential functions are already included in the basic dashboard. Volusion shows its age in many places, but it's still a solid solution that meets most company requirements.
Beauty & Cosmetics
Consumer Electronics
Fashion & Apparel
Food & Beverage
Home Furnishing
Sporting goods
Pricing
Volusion provides the following pricing plans:
Personal ($29/mo)
Professional ($79/mo)
Business ($299/mo)
Custom (contact vendor)
Volusion does not collect transaction fees. Trial period available; no credit or debit card needed. Each tier puts a restriction on maximum yearly sales and available goods that gradually grow.
Volusion provides the following features:
Secure payment
Drag & drop builder
Free & paid themes
Secure transactions
Inventory management
Discounts and promotions
Automatic tax calculator
SEO tools
Social media integrations
Ratings & Reviews
SKU import/export
Abandoned cart reporting
6. Yo!Kart
Yo!Kart is an agile multivendor e-commerce platform inherently designed to deliver ready-to-launch online marketplaces like Amazon, Etsy, or eBay. Launched in 2015, the platform has quickly grown into an industry-leading solution trusted by startups and billion-dollar enterprises. 
The platform comes with an intuitive user interface, all essential e-commerce features, and powerful integrations. Yo!Kart is self-hosted and highly scalable – making it an ideal platform for businesses of all sizes. The solution has individual vendor storefronts and separate dashboards for admin and seller.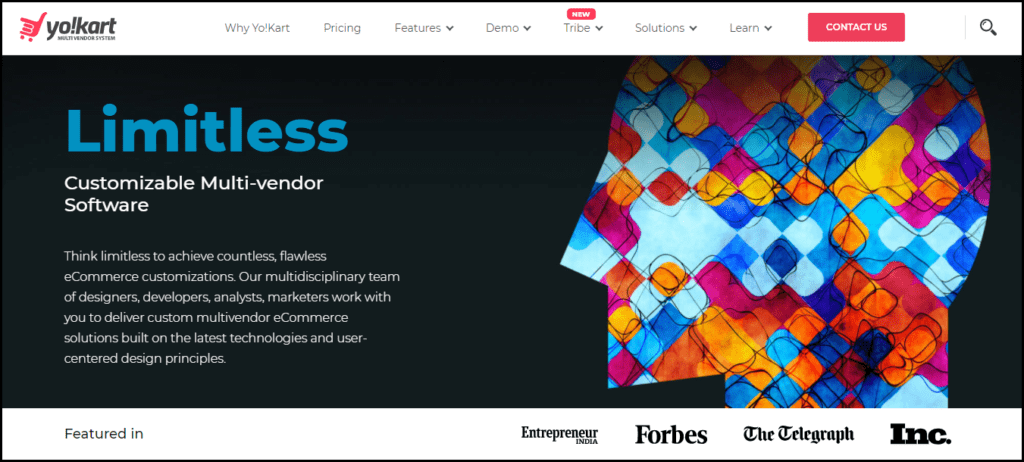 Highly Customizable
From customizing the front-end design to integrating local payment gateways, Yo!Kart can be custom engineered as per business requirements. It provides a curated user experience keeping in mind the business's target audience.
Intuitive Mobile Apps
Yo!Kart comes with feature-rich mobile apps for iOS and Android platforms. These mobile apps offer voice search, social sharing, push notifications, and several other intuitive mobile features.
Pricing
There are two compelling Yo!Kart packages – GoQuick (at $999) and GoCustom (at $6999). Both packages offer lifetime ownership, no recurring payments or processing fees, free installation, and free 1-month digital marketing consultation. 
Yo!Kart has in-built product catalog management, automated tax management, streamlined shipping management, abandoned cart recovery, and many other features. The solution is a perfect fit to start a multivendor e-commerce business.
7. Quick eSelling
Quick eSelling is a one-stop hosted eCommerce solution for B2B and B2C businesses. It offers robust features to launch successful online stores. 25000+ businesses have used the platform across the globe.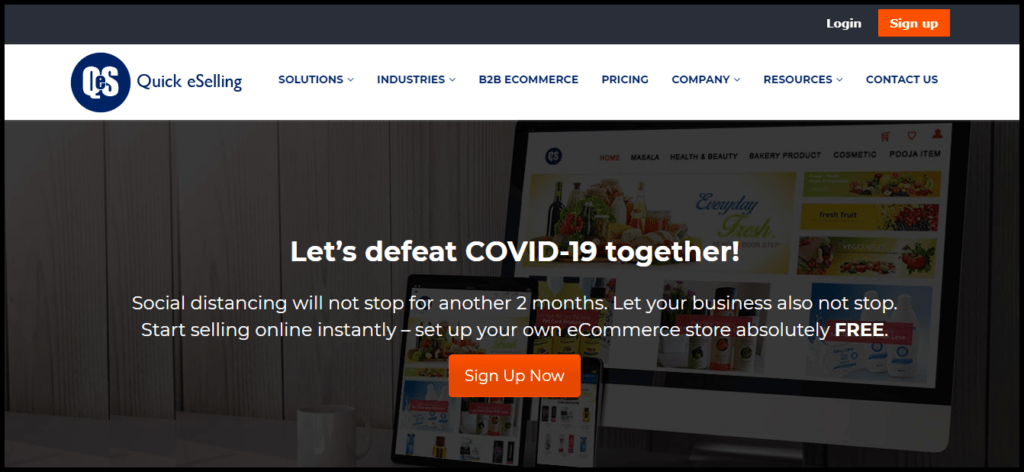 Ease of use
Quick eSelling offers zero coding experience to build a robust eCommerce store. Also, it has a drag-and-drop editor for themes customization that makes it a user-friendly eCommerce platform.
Mobile Apps
Quick eSelling has native Android & iOS mobile apps that offer an intuitive mobile shopping experience. The mobile apps have features like Wishlist, Deep Linking, store locator, Geolocation, etc.
Pricing
Quick eSelling has different pricing plans for B2C and B2B businesses. A B2C business has a free plan in which a 5% transaction fee is applicable. B2B businesses can ask for pricing on their website.
Conclusion
There is no one overall "best" eCommerce platform. Every company has its unique mix of requirements, money, and personnel, determining which online shopping application works the best for them.
Examine your requirements carefully, and don't be scared to conduct a few trials to determine which option you prefer most. Do your due research and don't cut shortcuts, and you will have an application that will take your company to new heights.