Definition
Business intelligence (BI) is the process of transforming data into actionable insights that help an organization make strategic and tactical decisions. BI tools access and analyze data sets and present analytical results as reports, summaries, dashboards, graphs, charts, and maps to provide users with comprehensive insight into the state of the organization.
The word "business intelligence" is also used to represent a group of tools that provide simple access to data-driven insights about an organization's current state.
How Business Intelligence (BI) Works?
Organizations and businesses have goals and questions. They collect the relevant data, analyze it, and decide which steps to take to achieve their objectives in order to answer these questions and track performance against these objectives.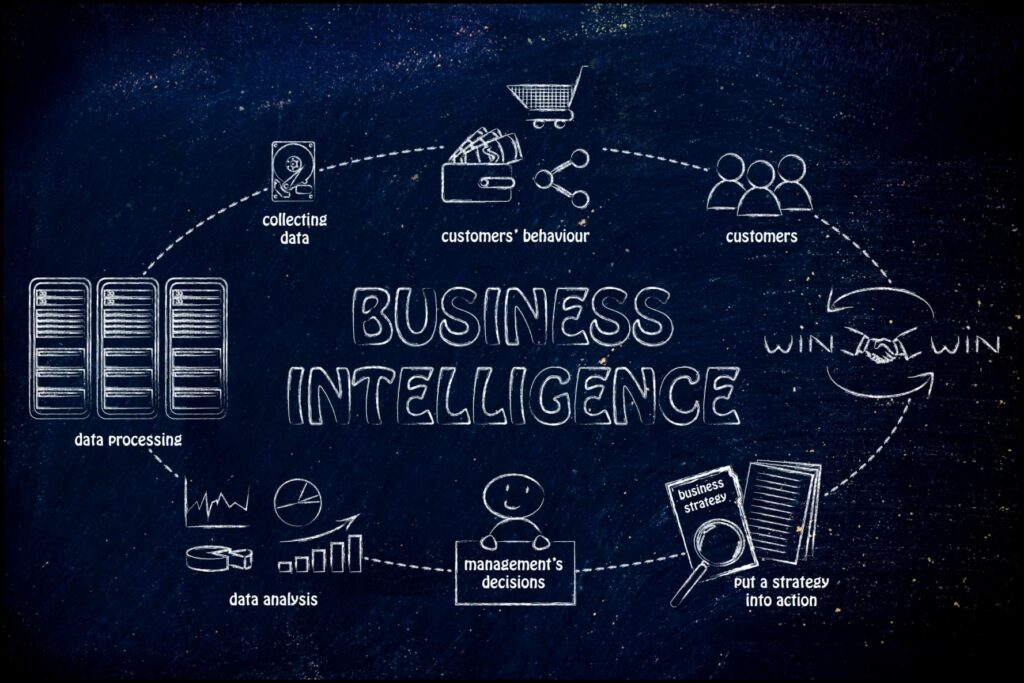 On the technical side, raw data is acquired from the business's activities. Before being stored in data warehouses, data is first analyzed. After the data has been stored, users may access it and begin the analysis process to answer business issues.
What Is The Relationship Between BI, Data Analytics, and Business Analytics?
Business intelligence includes data and business analytics. However, they are only used as part of the whole process. With the use of BI, users can conclude data analysis. Data scientists dig into data details, applying complex statistics and predictive analytics to spot patterns and predict future trends.
Business intelligence translates the outputs of such models and algorithms into actionable language. According to Gartner's IT glossary, "business analytics" includes "data mining, predictive analytics, applied analytics, and statistics." In short, businesses use business analytics as part of a broader business intelligence strategy.
BI is designed to respond to particular queries and analyze quickly for decision-making or planning. On the other hand, companies may utilize analytics to improve follow-up queries and iteration over time. Because addressing one question will almost certainly lead to further questions and iteration, business analytics should not be a linear process.
Consider the procedure as a cycle of data access, discovery, exploration, and exchange of information. This is known as the analytics cycle, a contemporary phrase that describes how companies utilize analytics to respond to evolving questions and expectations.
Why Is Business Intelligence (BI) Important?
Business intelligence aims to use relevant data to enhance an organization's business operations. Companies that effectively apply BI tools and methodologies may transform their collected data into meaningful information about their operations and plans. Such data can then be utilized to make better company decisions that boost productivity and revenue, resulting in faster growth and larger profitability.
Without BI, organizations will struggle to profit from data-driven decision-making. Instead, administrators and workers must rely on other criteria such as collected knowledge, prior experiences, intuition, and gut feelings to make key business decisions. While those procedures can lead to smart conclusions, they're also subject to mistakes and missteps due to the absence of facts on which they're based.
Examples Of Business Intelligence (BI)
The dashboard is probably the most well-known BI tool, and reporting is an important field component. Dashboards are web-based software tools that automatically compile accessible data into charts and graphs that depict the company's current state.
Although business intelligence does not tell users what to do or what will happen if they follow a specific path, it is also more than just reporting. Rather, BI streamlines the effort required to search for, merge, and query the data needed to make effective business choices, allowing individuals to explore data to discern trends and generate insights.
According to Chris Hagans, vice president of operations at WCI Consulting, a BI consultant, a company that wants to manage better its supply chain requires BI skills to discover where delays are occurring and where variances exist within the shipping process. That organization might also utilize its business intelligence skills to figure out which products are the most frequently delayed and which forms of transportation are the most commonly implicated in delays.
According to Cindi Howson, research vice president at Gartner, an IT research and advisory company, the possible use cases for BI go beyond the traditional business success measures of increased sales and lower expenses. She cites the Columbus, Ohio, education system's effectiveness in examining various data indicators — from attendance rates to student performance — to increase student learning and high school graduation rates using business intelligence tools.
A co-op might use BI to keep track of membership acquisition and retention.
From CRM data, BI systems might create sales and delivery reports automatically.
A sales team could utilize business intelligence to develop a dashboard showing each representative's prospects in the sales funnel.
Software And Systems For Business Intelligence
Business intelligence is a broad term that encompasses a wide range of technologies. SelectHub, a software selection service, breaks down some of the key categories and features:
Reporting
Data mining
Dashboards
Visualizations
Extract-Transfer-Load (ETL) tools move data from one datastore to another.
OLAP (online analytical processing)
Dashboards and visualization, according to SelectHub, are by far the most popular of these tools; they provide the quick and easy-to-digest data summaries that are at the heart of BI's value proposition.
Types Of Business Intelligence (BI) Tools And Applications
Business intelligence is a term that refers to a collection of data analysis programs that are used to address a variety of information requirements. Self-service BI software and traditional BI systems support most of them.
Some of the BI technologies available to businesses are as follows:
#1. Ad Hoc Analysis
Also known as ad hoc querying, this is a major component of self-service BI systems and one of the core pillars of current BI solutions. It is the process of creating and running queries to investigate specific business concerns. While ad hoc queries are often created on the fly, they are frequently executed regularly, and the analytics findings are often included in dashboards and reports.
#2. Online Analytical Processing (OLAP)
One of the first BI technologies, OLAP tools allow users to evaluate data across several dimensions, making them ideal for complicated queries and computations. Previously, data had to be retrieved from a data warehouse and placed in multidimensional OLAP cubes, but OLAP analyses can now be done directly against columnar databases.
#3. Real-Time BI
Data is evaluated as produced, gathered, and processed in real-time BI applications to provide users with an up-to-date perspective of corporate operations, customer behavior, financial markets, and other areas of interest. Streaming data is frequently used in real-time analytics, enabling decision analytics applications such as credit scoring, stock trading, and targeted promotional offers.
#4. Mobile BI
Thanks to mobile business intelligence, BI apps and dashboards are now available on smartphones and tablets. Mobile BI solutions are often developed with an emphasis on ease of use and are often used more to display data than to analyze it. Mobile dashboards, for example, may only show two or three data visualizations and KPIs to fit on the screen of a device.
#5. SaaS BI
Software-as-a-Service (SaaS) BI solutions take advantage of vendor-hosted cloud computing platforms to provide data analysis capabilities to customers in the form of a subscription-based service. The SaaS alternative, also known as cloud BI, is increasingly offering multi-cloud compatibility, allowing businesses to run BI apps across many cloud platforms to satisfy user demands and prevent vendor lock-in.
#6. Operational Intelligence (OI)
This type of real-time analytics delivers information to managers and frontline employees in corporate operations. It's also known as operational BI. OI apps are intended to assist in operational decision-making and enable rapid action on issues, such as helping call center operators resolve customer complaints and logistics management in alleviating distribution bottlenecks.
#7. Open Source BI
Open source business intelligence software usually comes in two forms: a free community edition and a subscription-based commercial release with vendor support. The source code is also available to BI teams for development purposes. Furthermore, several proprietary BI tool manufacturers provide free versions, mainly for individual users.
#8. Collaborative BI
This is more of a method than a technological solution. It entails combining business intelligence (BI) solutions with collaboration technologies to allow many users to collaborate on data analysis and exchange information. Users can, for example, utilize online chat and discussion platforms to annotate BI data and analytics findings with comments, questions, and highlights.
#9. Location Intelligence (LI)
This type of business intelligence allows users to examine the location and geographic data using map-based data visualization. Insights into spatial features incorporate data and processes are provided by location intelligence. Site selection for retail establishments and corporate buildings, location-based marketing, and logistics management are possible applications.
#10. Embedded BI
Embedded business intelligence software integrates BI and data visualization into business applications. This allows business users to examine data within the apps that they use daily. Application software providers are most likely to integrate embedded analytics tools, although corporate software developers can also include them in their own programs.
Advantages Of Business Intelligence (BI)
A good BI program brings plenty of business benefits to a company. For example, BI allows C-suite executives and department managers to continuously monitor business performance so that they can respond promptly to challenges or opportunities.
Customer data analysis aids in the improvement of marketing, sales, and customer support initiatives. Bottlenecks in the supply chain, production, and distribution can be identified before creating a financial loss. HR managers can better track employee productivity, labor expenses, and other workforce statistics.
Overall, the major advantages of BI software for enterprises include the capability to:
increase the speed of decision-making and enhance the quality of decision-making
Increase the Internal company procedures of your company.
Increase the efficiency and productivity of your operations.
Identify business issues that must be addressed.
Identify upcoming market and business trends.
Generate more effective business tactics.
increase sales and net income, and obtain a competitive advantage over competitors
Future Of Business Intelligence (BI)
Because business intelligence is always growing in response to changing corporate demands and technological advancements, we identify current trends each year to keep users informed about new developments. Recognize that Artificial Intelligence and Machine Learning will continue to advance and that businesses may include AI-derived insights into a larger BI strategy.
Companies' attempts to exchange data and cooperate will grow as they become more data-driven. Data visualization will become even more important as teams and departments collaborate. This article is only an intro to the subject of business intelligence.
BI helps customers track sales in near real-time, gain insights into client behavior, forecast revenues, and more. BI has been used by various industries, including retail, insurance, and oil, and more are joining every year. BI systems evolve in response to new technology and user creativity.