The world of business is constantly evolving, and one of the latest buzzwords to emerge is "blitzscaling." It's a term coined to describe a particular type of growth strategy that's becoming increasingly popular among startups and tech companies.
But what exactly is blitzscaling, and how does it differ from traditional growth models? More importantly, is it a strategy that's right for your business?
In this article, we'll explore blitzscaling in detail and the ins and outs of blitzscaling and provide you with the information you need to decide whether or not it's the right approach for your company.
---
What is Blitzscaling?
Blitzscaling is a term coined by Reid Hoffman and Chris Yeh, which refers to the growth strategy used by startups and tech companies to rapidly expand their business. It involves prioritizing growth over everything else, including profitability and stability. The goal is to quickly capture a large market share and become the dominant player in the market.
The term "blitzscaling" comes from the military strategy of blitzkrieg, which involves a quick and overwhelming attack to overcome the enemy. In the business world, it means rapidly scaling up a company's operations in order to dominate the market before competitors can catch up.
To blitzscale, a company typically invests heavily in hiring and marketing to attract more customers and increase their revenue. This often means taking on a lot of debt or raising large amounts of venture capital to fund the growth. The idea is that by growing as fast as possible, a company can create a network effect, where the more customers they have, the more attractive they become to other customers.
While blitzscaling can lead to rapid success and huge valuations, it also comes with risks. Because of prioritizing speed over efficiency, a company can quickly burn through its cash reserves and become overextended. This can lead to a situation where the company is unable to sustain its growth and must either cut back or go out of business.
---
Understanding The Concept of Blitzscaling
Uber's entry into the Chinese market is a great example of blitzscaling. In 2014, Uber launched in China with the goal of quickly becoming the dominant ride-sharing platform in the country. They invested heavily in marketing and incentives to attract both drivers and riders to their platform while also aggressively expanding their operations to new cities.
One of Uber's biggest challenges in China was competition from a well-established local competitor, Didi Chuxing. Uber spent on driver acquisition and passenger incentives to gain market share quickly, offering huge bonuses to both groups to encourage them to use the app, which led to huge losses for the company. In fact, Uber reportedly spent over $2 billion in China before ultimately selling their operations to Didi in 2016.
This strategy paid off as the number of Uber drivers and passengers in China grew rapidly. By early 2015, Uber had gained a significant market share in China, valued at over $8 billion.
Despite the massive financial losses, Uber's blitzscaling strategy in China was still considered successful in many ways. By rapidly expanding their operations and attracting millions of users, Uber was able to create a network effect that made it more difficult for competitors to enter the market. Additionally, Uber's success in China helped to solidify their position as a global leader in the ride-sharing industry.
However, there were also downsides to Uber's blitzscaling approach in China. The massive spending on subsidies and promotions ultimately proved unsustainable, and Uber was unable to achieve profitability in the market. Additionally, the intense competition with Didi led to accusations of anti-competitive practices and regulatory challenges.
---
The "Blitzscaling" Book
In 2015, Reid Hoffman, co-founder of LinkedIn, introduced the concept of Blitzscaling during a course at Stanford University. The term "Blitzscaling" is derived from the German word blitzkrieg, meaning lightning war, which refers to the rapid speed of the Wehrmacht's attacks during World War II.
The popularity of this concept grew after the publication of the book Blitzscaling – The Lightning-Fast Path to Building Massively Valuable Companies in 2018, co-written by Hoffman and Chris Yeh. 
This book provides a framework for companies that want to scale their business faster and more aggressively than their competitors.
It is backed up with examples from tech giants such as Amazon, LinkedIn, Airbnb, and Google, showcasing how Blitzscaling can lead to massive success.
---
When to Use Blitzscaling?
Blitzscaling is a high-risk, high-reward growth strategy that can lead to rapid expansion and domination of a market, but it's not the right choice for every startup or tech company.
When deciding if you should use blitzscaling, keep the following things in mind:
Market opportunity: It is recommended to use blitzscaling when there is a large market that grows rapidly. Blitzscaling might not be the ideal choice if the industry is oversaturated or there are no indications of considerable growth.
Access to capital: Blitzscaling needs large investments in order to fund growth, particularly in areas like hiring and marketing. Implementing an effective blitzscaling plan could be challenging if the company lacks access to the required funding.
Risk tolerance: Blitzscaling involves taking on significant risks, including the risk of burnout, mismanagement, and failure. If you're uncomfortable with this level of risk, it may be better to pursue other growth strategies.
Strong leadership and team: To successfully blitzscale, your startup needs a strong leadership team and a talented workforce that can manage the rapid growth and scale of the business.
---
5 Stages of Blitzscaling
Blitzscaling is a five-stage process that can help a business expand quickly. The stages are designed to aid with rapid growth and include: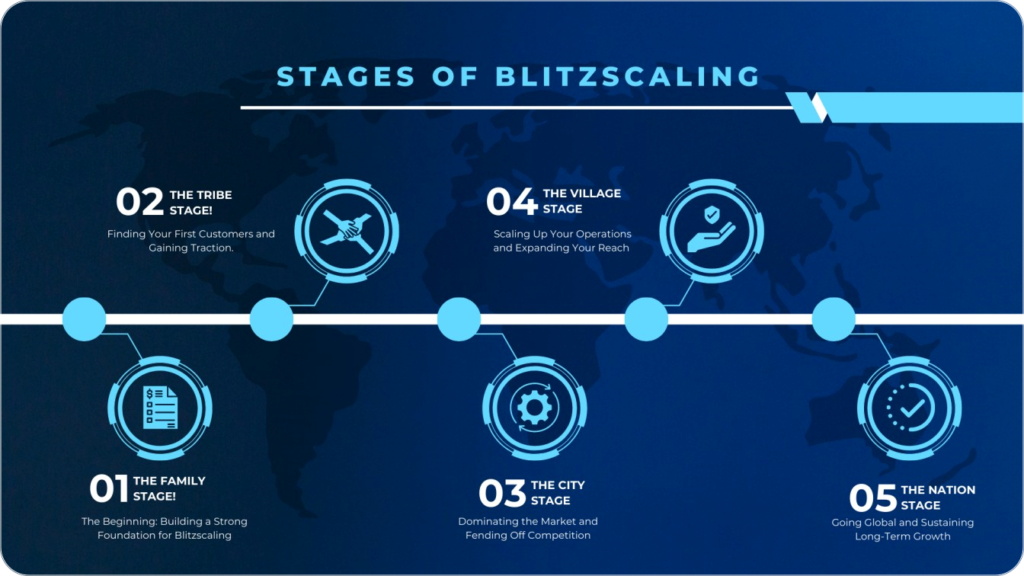 Family – Building a Strong Foundation
This is the earliest stage of blitzscaling, where the company is just starting and is still very small. The focus is developing a minimum viable product (MVP) and testing it in the market to see if demand exists.
At this stage, the team is typically composed of the co-founders and a few early employees who are passionate about the company's mission and willing to work long hours for little pay.
The reason why it's called the "Family" stage is because the team is like a tight-knit family, working closely together to build something from scratch.
Tribe – Finding Your First Customers
During the Tribe stage, a startup or a company experiences initial success and starts to gain traction in the market. At this point, the company has validated its Minimum Viable Product (MVP) and is gradually making progress by attracting early customers.
As the team starts to grow, there is a sense of shared culture and purpose among employees. Typically, a company may have between 20-100 employees at this stage.
The name "Tribe" is given to this stage because the team is still relatively small and closely knit but has started to expand beyond the founders and initial employees, indicating an emergence of a more extensive and diverse community.
Village – Scaling Up Operations
A rapid surge in growth and expansion of the company characterizes the Village stage. The company has achieved a significant market share and is extending its reach to new geographic markets or product lines.
As the company scales up, the team grows exponentially, which may create some organizational and cultural challenges. At this stage, the company may have between 100-1,000 employees.
This stage is called the "Village" stage because the company has grown to the point where it resembles a small village with a diverse workforce and multiple departments or business units.
City – Dominating the Market
This stage is where the company becomes a dominant player in the market and has achieved significant scale. The team has grown even larger, and the company may have multiple product lines or business units.
At this stage, the company may have between 1,000-10,000 employees. The company has grown to the point that it is like a small city, with a complex organizational structure and many moving components, which is why it is termed the "City" stage.
Nation – Going Global
In this stage, the company has achieved global dominance and established a lasting market position. The team is large and diverse, and multiple brands or business units may be under the company umbrella.
The company could have over 10,000 employees at this stage. It is known as the "Nation" stage because the organization has reached a size that is comparable to that of a small nation, with a massive workforce and a large effect on the global economy.
These five stages of business growth are named after the stages of human societies, as they reflect the different stages a company goes through as it grows.
---
Advantages of Blitzscaling
Blitzscaling gives a higher priority to rapid growth than to other factors like stability or profitability.
Using this approach has the following advantages:
Capturing the market: By growing quickly, a company can capture a large market share before competitors have a chance to catch up. This can give the company a significant advantage in the long term.
Network effects: Blitzscaling can create network effects, where the value of a product or service increases as more people use it. This can lead to exponential growth and dominance in a market.
Investor interest: Investors are often attracted to rapidly growing companies as they see the potential for high returns on their investments.
Talented workforce: Rapid growth can attract talented employees who are excited about the opportunity to work for a fast-growing company and be part of a successful team.
Innovation: Blitzscaling often involves experimentation and innovation to achieve rapid growth. This can lead to new ideas and approaches that can benefit the company in the long run.
Blitzscaling may, in general, provide considerable advantages for startups and IT companies seeking to swiftly become market leaders. But before using this strategy, it's crucial to carefully consider the risks and disadvantages that can arise.
---
Disadvantages of Blitzscaling
While blitzscaling can offer significant benefits, it also comes with its own set of challenges and disadvantages.
The following are some disadvantages to take into account:
Risk of burnout: Rapid growth can be stressful and exhausting for employees, especially if the company is not prepared to handle the increased workload. This can lead to burnout, high turnover rates, and a decline in productivity.
Lack of stability: Blitzscaling often involves prioritizing growth over stability and profitability. This can lead to financial instability and a lack of predictability in the company's revenue streams.
Operational challenges: Rapid growth can strain a company's resources and infrastructure, leading to operational challenges such as difficulty in maintaining quality standards or managing supply chains.
Regulatory hurdles: As companies grow rapidly, they may face increased scrutiny from regulators and legal challenges, particularly in heavily regulated industries such as healthcare or finance.
Increased competition: Rapid growth can attract competitors who are looking to capture a share of the same market. This can lead to increased competition and potentially erode the company's market share.
Before deciding to utilize blitzscaling, it is necessary to analyze the advantages and disadvantages and be ready to handle the difficulties that come with this type of accelerated growth.
The potential advantages of this strategy should be weighed against the potential risks before making a decision.
---
Conclusion
Blitzscaling has emerged as a popular growth strategy for startups and tech companies in recent years.
Prioritizing speed and growth over stability and profitability may seem risky, but it has proven successful for companies like Airbnb, Google, and Amazon.
However, it's important to note that blitzscaling is not for every company and comes with challenges and potential downsides. It requires a clear vision, a qualified team, and careful execution to be successful.