It's no secret that Google dominates the online search industry, but did you know that there are other search engines?
Furthermore, several of these other search engines are extremely popular in their own right — they simply don't appear to be as popular compared to Google, the enormous behemoth.
Some of these alternative search engines seem to be antique relics from the early days of the internet.
Some popular search engines rule a specific region, such as China, South Korea, or the Czech Republic.
So strap your seatbelts.
---
The Top 10 Most Popular Search Engines in The World as of 2023 are;
---
#1 – Google
The immensity of Google is impossible to comprehend. The search engine is so popular that it surpasses all other search engines in the globe combined. Google, in particular, presently controls 92.18% of the global search engine industry.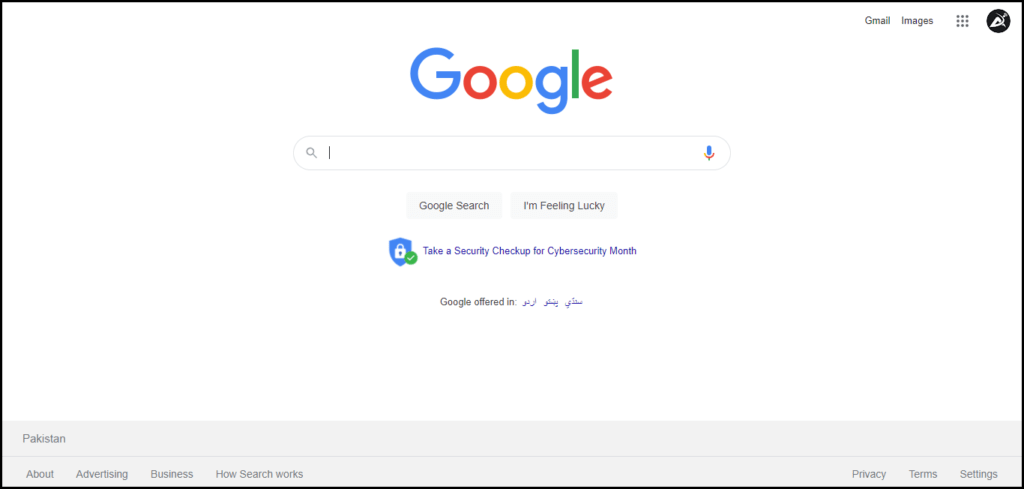 Sergey Brin and Larry Page founded the search engine in 1996, but here's the exciting part: in 1999, the two partners proposed to sell Google to internet business Excite for only $750,000.
Excite turned down the offer and has been blaming themselves for the past two decades. Google and its parent company, Alphabet, are now valued at more than $750 billion. Consequently, Larry Page, Alphabet's CEO, has a reported net worth of $53.5 billion, while Sergey Brin, Alphabet's President, has a reported net worth of $52.1 billion.
More about Google;
Fun fact: the word "Google" is derived from the name "googol." A googol is a mathematical word that means "10 raised to the power of 100" or "1 with 100 zeros after it."
Google is now much more than a search engine. Many additional software solutions, such as Google Drive, have been developed by the business. It owns YouTube, has a brand of smartphones and laptops, and even has self-driving cars under development.
Other search engines are powered by Google, including Ask, the world's sixth-largest search engine.
Google's search engine results page(SERP) is also constantly updating to include a variety of helpful information forms, such as Google's Featured Snippets, Knowledge graphs, "People also ask" section, Carousels, and much more.
---
#2 – Bing
With an 8.04% market share, Bing is the world's second-largest search engine. While Bing is a little player compared to Google, it has a significant market share in many countries.
Microsoft owns and operates the search engine, which evolved from the earlier search engines MSN Search and Windows Live Search. The search engine, like Google, organizes search results into tabs such as pictures, videos, maps, and news.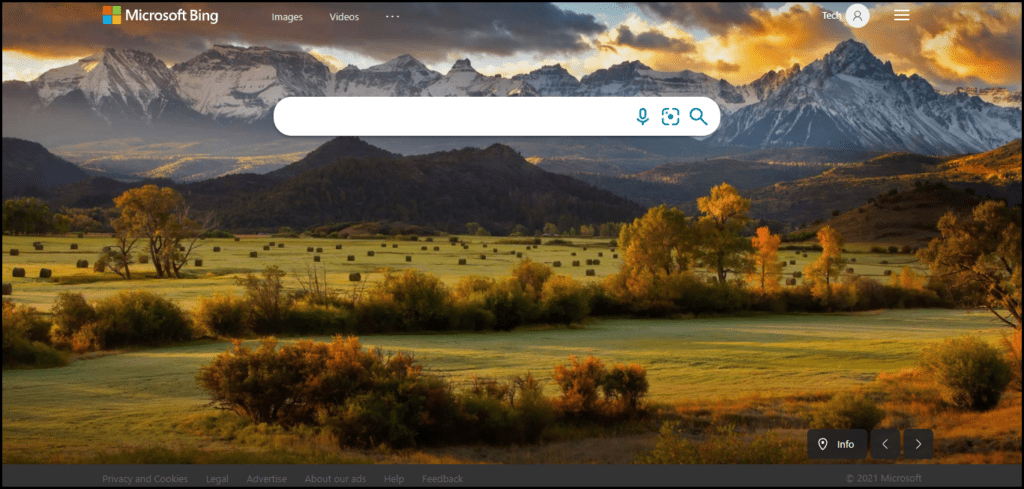 More about Bing;
In July 2009, Microsoft and Yahoo! announced a partnership where Bing will power Yahoo! Search engine, which is now the world's fourth-biggest. This is a search engine that should not be overlooked by businesses. Bing receives 1.3 billion visitors every month, despite not having as many people like Google.
Furthermore, because most businesses and professionals are focused on Google, there is less rivalry on Bing.
As a result, Bing advertising and SEO are both worthwhile considerations.
---
#3 – Baidu
Meet Baidu, the world's third-largest search engine, with a market share of 7.34%.
This is China's most used search engine. In contrast, Baidu has a total monopoly in China, with 74.73 percent of the market in February 2019. On the other hand, Google has only a 2% share of China's search engine market.
Baidu was founded in the year 2000 and is headquartered in Beijing, China's capital.
It is one of the world's most considerable Artificial Intelligence (AI) and internet service providers. Outside of China, however, Baidu has relatively little influence.
China has the world's "largest and most sophisticated online censorship operation in the world," according to the report.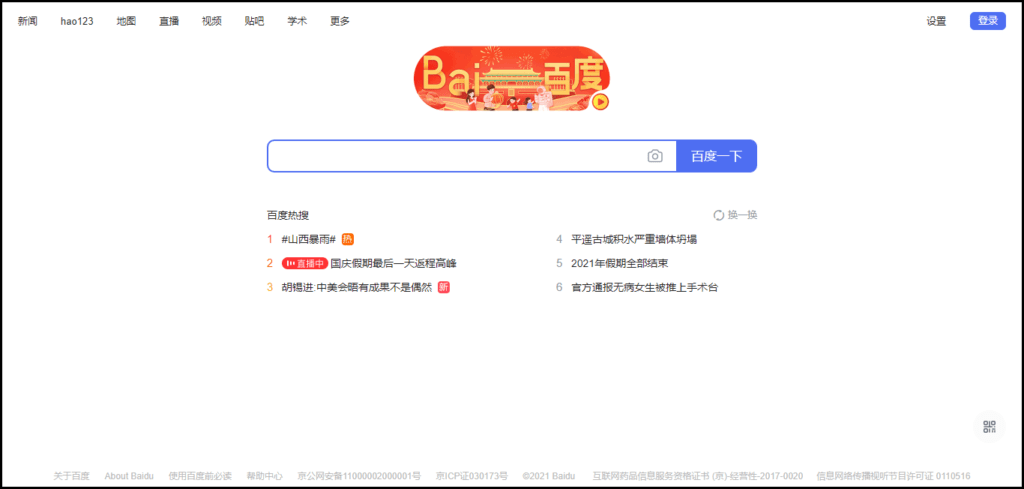 More about Baidu;
This is commonly referred to as "China's Great Firewall."
As a result, for Western search engines such as Google to access the Chinese market, they must adhere to stringent censoring rules and restrictions.
---
#4 – Yahoo!
With 3.39% of the worldwide search engine market, Yahoo! ranks fourth among the world's major search engines.
Yahoo! 's story is both fascinating and humiliating. Jerry Yang and David Filo started the company way back in 1994. Jerry and David's Guide to the World Wide Web was the initial name for the website, but it was shortly renamed Yahoo!, which stood for "Yet Another Hierarchical Organized Oracle."
In 2000, Yahoo! Mail and other web services pushed the company to a $125 billion value. Then things started to go downhill.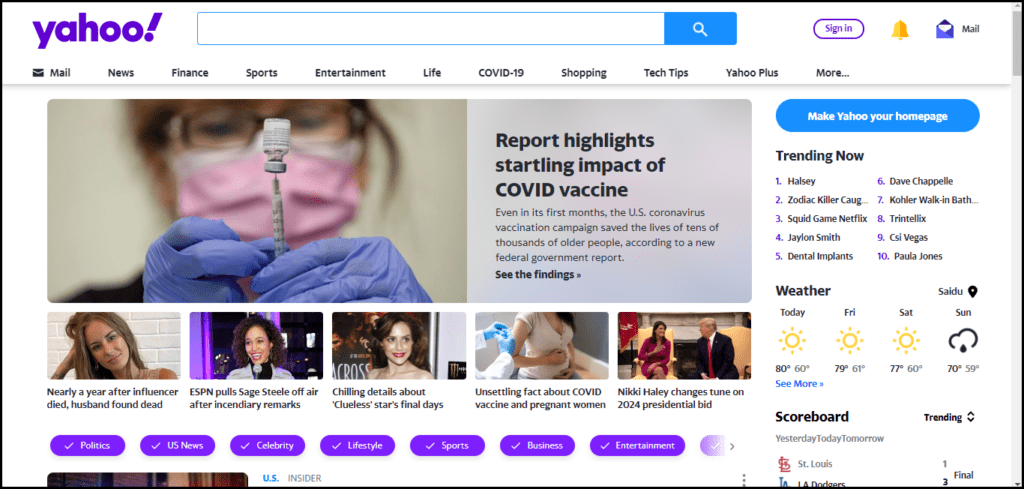 More about Yahoo!
In 1998, Google founders Larry Page and Sergey Brin offered to sell Google to Yahoo! for a pittance of $1,000,000. They were turned down by Yahoo!
Yahoo! Mail lost to Gmail, Yahoo! Answers lost to Quora, and Yahoo! Flickr lost to Instagram, despite having a big head start and considerably more resources.
Today, Microsoft's Bing search engine is used to power Yahoo! 's search engine. As a consequence, both search engines' results are pretty similar.
---
#5 – Yandex
With a global market share of 1.53%, Yandex is ranked fifth among the top ten search engines. With 55 percent of all Russian search traffic, it is the most popular search engine in Russia, closely followed by Google.
Yandex is also popular and used in Ukraine, Belarus, Kazakhstan, Uzbekistan, and Turkey. Yandex offers over 70 different services, including Yandex Disk, a cloud-based storage solution comparable to Google Drive.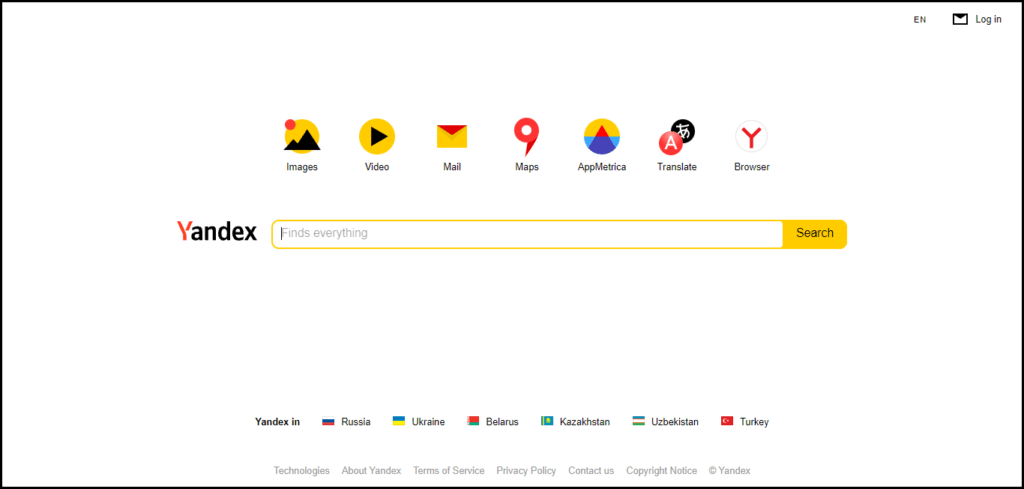 More about Yandex;
The term "Yandex," which stands for "Yet Another iNDEXer," was introduced in 1993. Its ability to comprehend Russian inflection in search queries is one of its main advantages for Russian-language users.
To express their relationship to one another, Russian nouns can take on more than 20 different ends. According to MIT linguistics expert David Pesetsky, "although this makes the language accurate, it makes search extremely difficult."
Yandex went public on the New York Stock Exchange in 2011 with an IPO of 1.3 billion dollars, making it the second-largest in the sector at the time after Google.
---
#6 – Ask
With a 0.72 percent market share, Ask is the world's sixth-largest search engine, 100 times smaller than Google and ten times smaller than Bing.
The site was initially known as "Ask Jeeves" and was founded in 1996 by Garrett Gruener and David Warthen in California.
The aim was to develop a question-and-answer service, similar to a virtual concierge, rather than another directory or search engine. The founders named the company after the character Jeeves the Butler from P.G. Wodehouse's novel.
When the company relaunched to "Ask" in 2006, it deleted "Jeeves" from the name.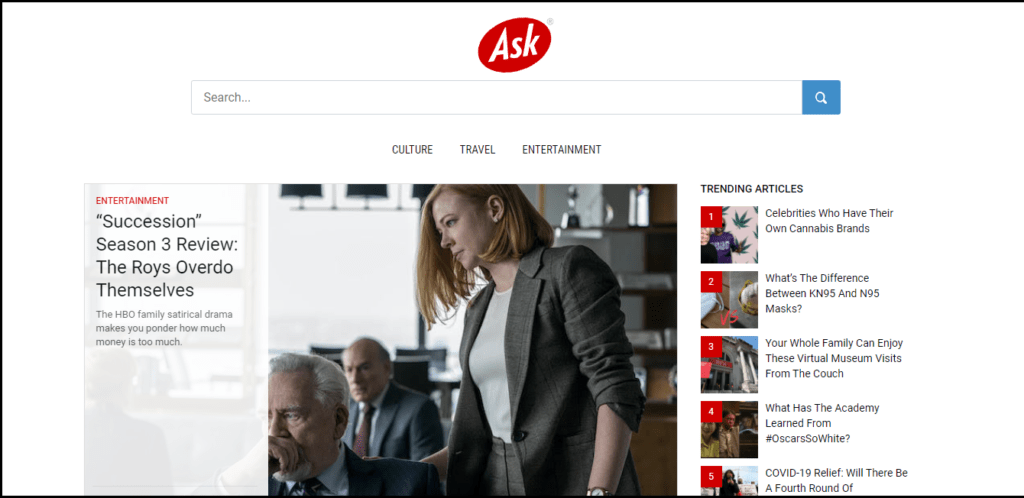 More about Ask;
After encountering overwhelming competition from more popular search engines like Google, Ask.com gave up on the search engine business in 2010.
Ask.com's search results are now powered by Google.
---
#7 – DuckDuckGo
DuckDuckGo is the seventh most significant search engine in the world, with a 0.39 percent market share. This search engine is devoted to protecting your personal information. There are several Google privacy issues these days. The behemoth is well-known for tracking, monitoring, and collecting vast amounts of information about its users.
If you're concerned about your data being stolen and retained, or if you don't like targeted advertising, DuckDuckGo could be worth a try.
"Privacy, simplified" is the tagline of the search engine.
"The Internet privacy company that allows you to easily take control of your personal information online, without any compromises," the company says.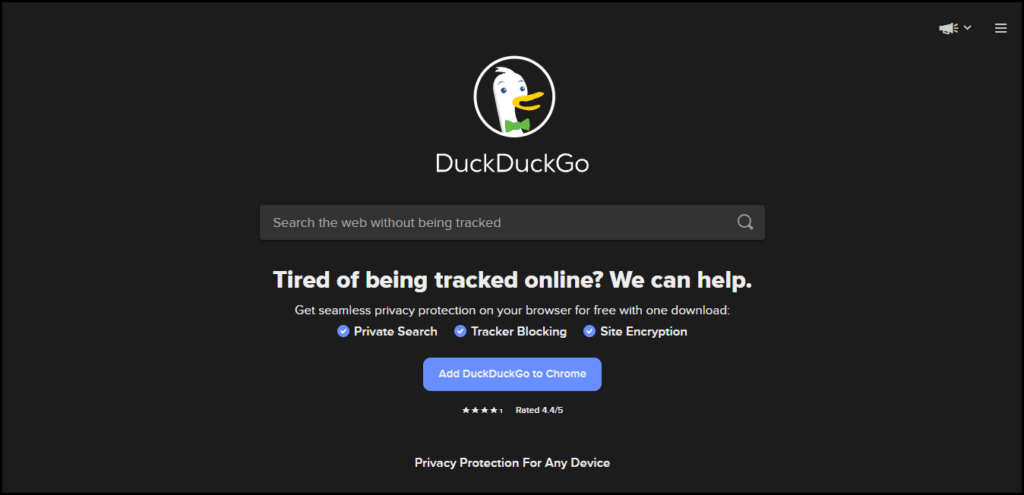 More about DuckDuckGo;
DuckDuckGo does not keep track of your personal information or show you advertising. This implies that you won't be inundated with shoe advertising for the following two weeks if you look at a pair of shoes.
To make switching more accessible, there's a Google Chrome extension. In essence, it's the ideal option for anyone concerned about the privacy of their personal information and surfing history.
DuckDuckGo currently gets 27.4 million daily search queries, with the number steadily increasing.
---
#8 – Naver
With a 0.13 percent market share, Naver is the world's eighth most successful search engine. In South Korea, this famous Korean search engine has a market share of 75%. As a result, it's sometimes referred to as "South Korea's Google."
Naver was the first Korean online site to create and utilize its own search engine, which it launched in 1999. Naver now offers various services, including an email client, an encyclopedia, a children's search engine, and a news web portal.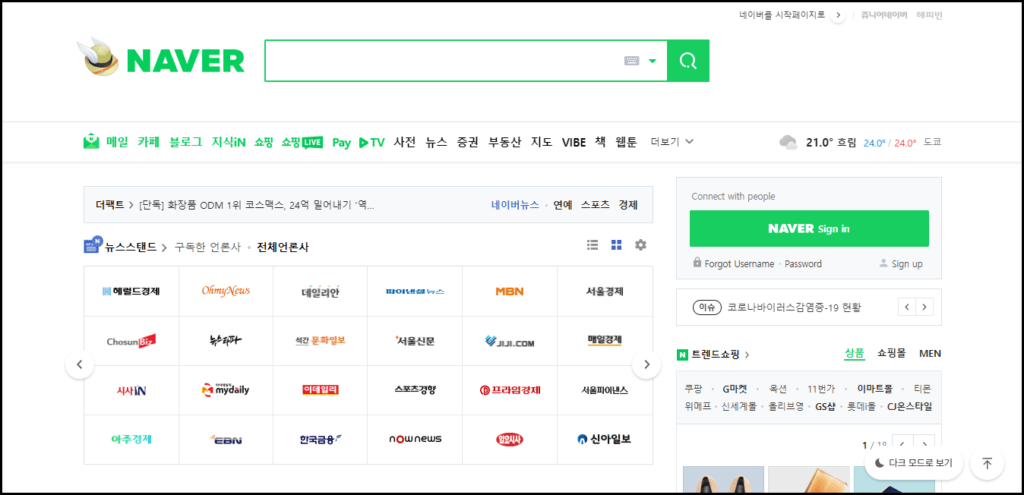 More about Naver;
Despite how successful the search engine is in South Korea, it does not appear likely to expand worldwide shortly.
---
#9 – AOL
AOL's share of the global search engine market is presently 0.06 %. When you consider that AOL was once an internet pioneer, this is shocking.
AOL, which stands for "America Online," was founded in 1985. In the mid-1990s, the web portal and online service provider located in New York City was one of the early internet pioneers.
It offered a dial-up service, a web portal, email, and instant messaging at first. If you didn't grow up during the dial-up period, it was a time when you had to dial in via a phone line to access the internet.
It was always a thrilling experience.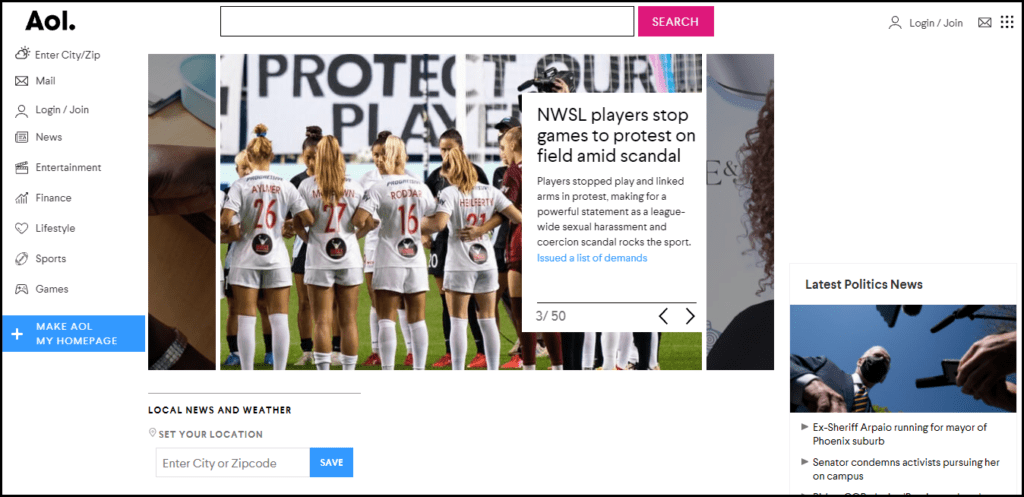 More about AOL;
AOL paid $165 billion for Time Warner, a conventional media giant, in 2000. AOL was at the top of its game. During this period, AOL had its own branded search engine called NetFind, which was rebranded "AOL Search" in 1999.
However, when new competitors like Google flooded the market, AOL's dominance on the internet waned. As a result, AOL focused on purchasing large online media companies.
It bought TechCrunch for $25 million in 2010, The Huffington Post for $315 million in 2011, and many other well-known online companies. Then, in 2015, Verizon Communications bought AOL for $4.4 billion.
Although it is only a small part of AOL and Verizon's overall business, AOL Search exists today.
---
#10 – Seznam
Seznam comes in last on our ranking of the best search engines in the world.
In the Czech Republic, this search engine and online site are pretty popular. In fact, until Google came along, it was the most used search engine in the country.
Google controls 84 percent of the Czech Republic's market share, leaving Seznam and others with only 16 percent.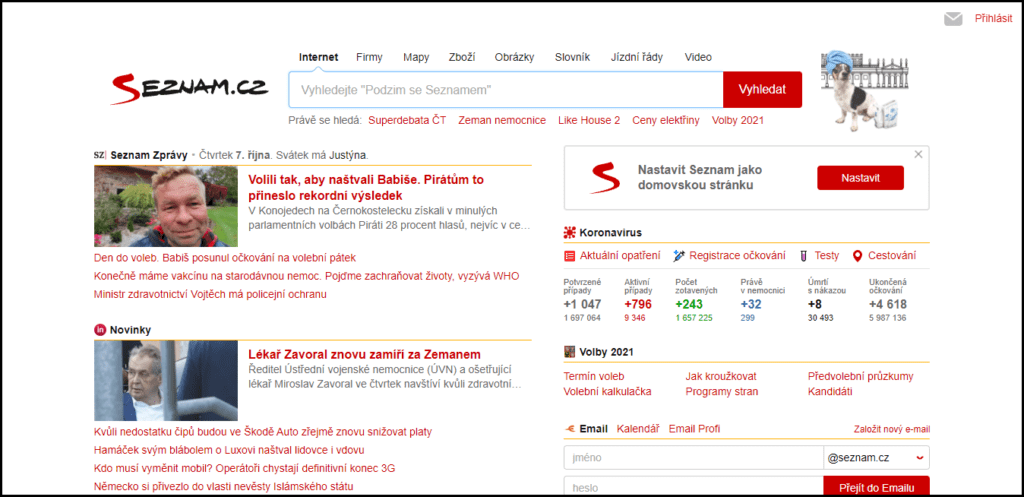 More about Seznam;
Ivo Lukačovi founded Seznam in Prague in 1996.
It began as a simple internet directory and search engine. Seznam created financial, social, and political news and TV shows, dictionaries, maps, and weather predictions by 2001.
Seznam now owns and operates over 15 distinct online businesses and trademarks.
---
Conclusion
This ranking of the top ten search engines in the world is likely to alter in the upcoming decades. Although one thing appears to be sure: Google's rule will be long and lucrative.
If you're a Google user, would you consider switching to a different search engine, such as Bing, DuckDuckGo, or Baidu? Please let us know in the comments section below!