Overview
You need to get your online business as high in the search engine rankings as possible if you want to build a profitable brand. However, there are cases when you have no idea how well your website performs. Even if you believe you're doing everything correctly, your website isn't ranking as high as you'd want in search results.
In this case, you may look at your domain authority (DA) to see how your website is evaluated. The Domain Authority score is a search engine ranking number that indicates how successful a website is in terms of search engine results. It was developed by Moz, a software development company, and it provides an overview of expected search engine performance.
It assigns a score to websites ranging from 1 to 100, with the higher end of the scale indicating a better outcome. Finding out your score helps in the development of your brand and the creation of a website that you know your clients and customers will enjoy. It will also assist you in identifying areas that may require more attention.
What Is Domain Authority?
The Domain Authority (DA) metric was developed by Moz that estimates how likely a domain will appear in the SERPs compared to its rivals.
It's important to note that Google does not consider Domain Authority a ranking element when determining how websites are ranked. Consequently, it isn't a statistic that will help you boost your search engine results page ranking (SERPs). Domain authority, on the other hand, is a valuable metric for evaluating your website's performance in comparison to rivals.
This measure is no longer limited to Moz. Different SEO tools, such as SEMrush and Ahrefs, have established their own Authority metric, which is an algorithm that determines the Authority score based on data from backlinks, referring domains, and search traffic, among other things. Although it isn't a Google ranking criterion, it is a good measure to understand your site's health compared to your competitors.
How Website's Authority Is Calculated?
When Moz calculates the DA score, they look at 40 different parameters. Root domains and inbound links are examples of this. The latter is particularly significant in determining the score, as a site with many inbound links from authoritative and relevant sites would be rewarded with a higher score.
Suppose you're the CEO of a broadband company. It won't be enough to talk about your products simply; you'll need inbound links to blog articles, product pages, and more to improve your ranking. The authority score of a site with no inbound links is usually around one.
Domain Authority vs. Page Authority
The main difference between Domain Authority and Page Authority is that 'Page Authority' evaluates the predicted ranking strength of individual pages, whereas 'Domain Authority' measures the strength of entire domains or subdomains.
This helps to evaluate the performance of specific pages, such as articles or product pages, to decide which ones may require some fine-tuning to get a higher score.
How To Boost Your Domain Authority?
As Google points out, the quality of those backlinks, the ones that are relevant to understanding what your website is about, is more important than the overall number of links to your site or the total number of domain backlinks.
Here are a few suggestions to keep in mind as you work to increase your Domain Authority:
#1. Audit Your Backlink Profile
A link profile is a collection of all your website's backlinks. If the links come from sites with high Authority, Moz will give you a better score. So, whether your links are about Technology or answering the question "What are YouTube Competitors?" they should come from more reliable sources. An SEO tool will help determine which backlinks are healthy and which should be removed.
#2. Create High-Quality Content
Bounce rate and organic traffic are two engagement indicators that might affect your score significantly. As a result, in order to improve your rating, you must generate high-quality content that will attract and keep visitors to your site.
#3. Outsource For High-Quality Backlinks
This is an important aspect of improving your DA score. To achieve this efficiently, you might apply a technique known as "the skyscraper approach." It's a content marketing strategy that entails analyzing your rivals' content and ensuring that yours is superior. It will be more likely to gain more useful backlinks this way. You can also request backlinks from high authority websites or offer them guest posts in return for a backlink.
How To Check Your Domain Authority?
The Free Domain SEO Analysis Tool on Moz allows you to analyze your website's Domain Authority for free. Simply input your Domain's root URL (for example, TechABU.co), and the Domain Authority score for your webpage will show instantly.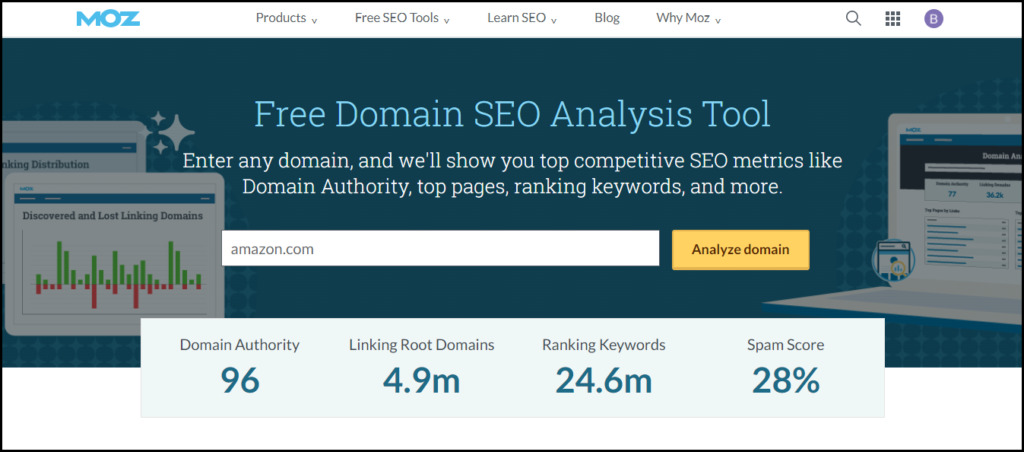 There are some other domain authority checker tools available there that you can use to check your website's Authority.
Some of the popular domain authority checker tools are listed below:
Ahref's Website Authority Checker (https://ahrefs.com/website-authority-checker)
Semrush's Domain Overview (https://www.semrush.com/analytics/overview/?searchType=domain)
WebsiteSEOChecker (https://websiteseochecker.com/domain-authority-checker/)
Conclusion
Increasing your Domain Authority is a long-term approach that requires patience and does not yield quick returns. Following these guidelines, on the other hand, can help you improve your website's visibility on search engine results pages (SERPs), with the goal of generating traffic to your site.
Instead of focusing on your Domain Authority score, work on these strategies to improve the quality and number of leads.