You spent a lot of time creating the content for your amazing WordPress website before launching it for website visitors.
Search Engine Optimization, often known as SEO, is the required next step to drive organic website traffic (i.e., traffic that does not result in paid advertisements).
Although SEO is a complicated and ongoing process, WordPress thankfully provides a number of resources to help.
You can choose a top-notch WordPress theme and a WordPress SEO plugin to help you apply your SEO strategy in order to optimize your WordPress website.
In this post, you'll learn about the top WordPress SEO plugins, what they perform, and how and why they could benefit your website.
---
The Essentials of WordPress SEO Plugins
You will find articles that list dozens of plugins while reading WordPress SEO guidelines or looking for the "best free WordPress SEO plugins."
For non-technical users and newbies, this can be extremely difficult.
You don't need a lot of top SEO plugins to improve your position in search engine results pages (SERP).
While most blog posts, like this one, will list the best SEO plugins, you must understand the functions of each plugin.
Never use more than one SEO plugin at a time on your WordPress website.
We'll discuss Yoast SEO, SEOPress, Rank Math, and many more in addition to All in One SEO (formerly known as All in One SEO Pack). To prevent plugin conflicts, you must choose just one.
Now that all essentials have been mentioned let's look at our expert selection of the top WordPress SEO plugins.
---
Best WordPress SEO Plugins 2023
All in One SEO for WordPress (AIOSEO)
Yoast SEO
SEOPress
Rank Math
The SEO Framework
---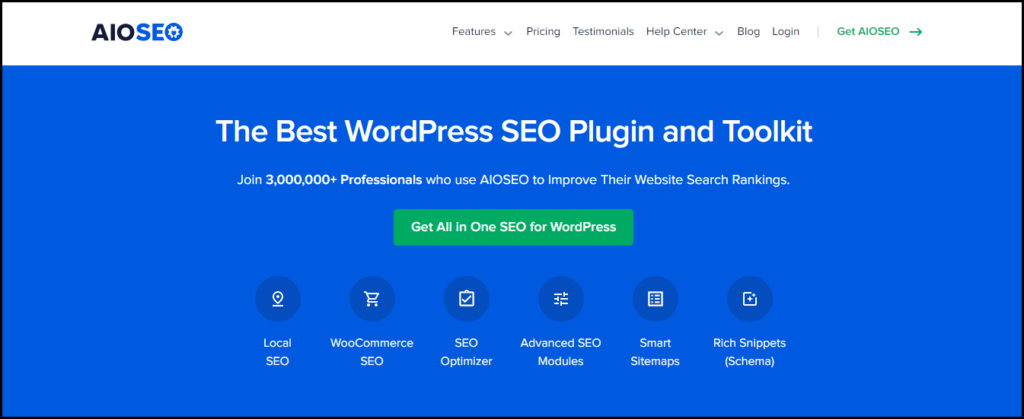 The top WordPress SEO plugin available is the All in One SEO for WordPress (AIOSEO).
It is the complete SEO toolkit used by more than 3 million people, and it helps improve search ranks without requiring you to master challenging SEO techniques.
The free edition of AIOSEO contains all the necessary capabilities, but the premium version equips you with all the tools required to outrank your rivals.
It has the most straightforward setup wizard that guides you in selecting the ideal SEO settings for your website.
AIOSEO provides you with a practical checklist for optimizing your articles and pages.
A smart meta tag generator is included in the on-page SEO checklist so you can utilize dynamic data in your SEO title and meta description, such as the current year, month, day, custom fields, author information, and more.
As a result, you are not required to update an article only to modify the SEO titles.
Rich snippet schema markup, smart XML sitemaps (with sophisticated controls), an SEO health check, and other helpful tools are included in AIOSEO to increase your search engine ranking.
Additionally, an integrated social media integration contributes to Open Graph data.
This implies that when your pages are shared on social networking platforms like Facebook, Twitter, Pinterest, etc., you can select whatever picture or thumbnail.
For eCommerce sites, AIOSEO also has integrated WooCommerce SEO solutions.
This offers helpful tools to increase organic traffic to your online stores, such as dynamic optimizations, specific product page optimizations, product image SEO, and other useful features.
It offers complete control over RSS feeds, a Robots.txt editor, local SEO, breadcrumbs, Google News sitemaps, video SEO, a sophisticated redirect manager, 404 tracking, IndexNow integration, and more for users who are more knowledgeable about SEO.
It has SEO user roles for company owners, allowing you to regulate access to key SEO capabilities without giving up control of your website.
A Link Assistant, just introduced by AIOSEO, is revolutionary for internal linking.
It assists you in finding link opportunities, provides real-time linking ideas, and allows you to create internal links in bulk quickly.
---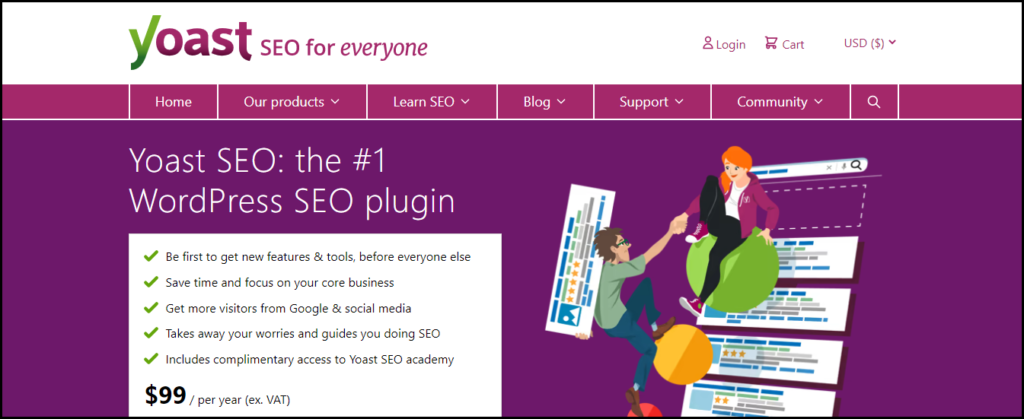 With the well-known Yoast SEO plugin, you can improve your WordPress website for search engines.
It enables you to quickly create SEO titles and descriptions for all of your website's posts and pages.
It can also be used to add social media images and Open Graph data to your posts.
Yoast SEO creates an XML sitemap for every piece of content on your website, making it simpler for search engines to crawl and index it.
If you previously used another SEO plugin, it also makes it simple for you to import your SEO data.
Other benefits for a better user experience include readability analysis, Google and social previews, and quicker load times.
---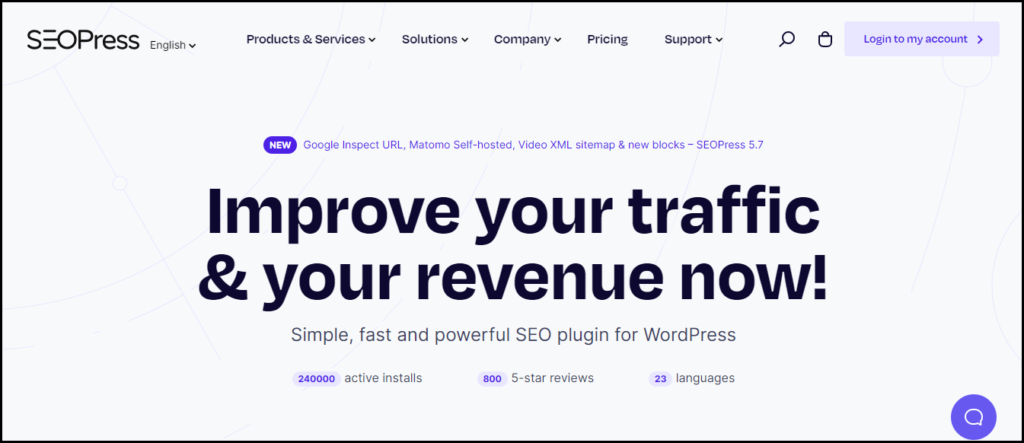 There are no advertisements in the freemium SEO plugin for WordPress called SEOPress.
Even in the free edition, it is entirely white-labeled and has no traces.
You can handle all of your post/page/post type/term titles and meta descriptions with it since it is straightforward, quick, and effective.
Create XML and HTML sitemaps, use Google Analytics to track visitor data (with RGPD compatibility), and enhance tags (Open Graph and Twitter Cards) for social media sharing.
The free edition also offers content analysis to assist web admins in creating better content. More than 75 APIs are available for developers to use while configuring the plugin.
---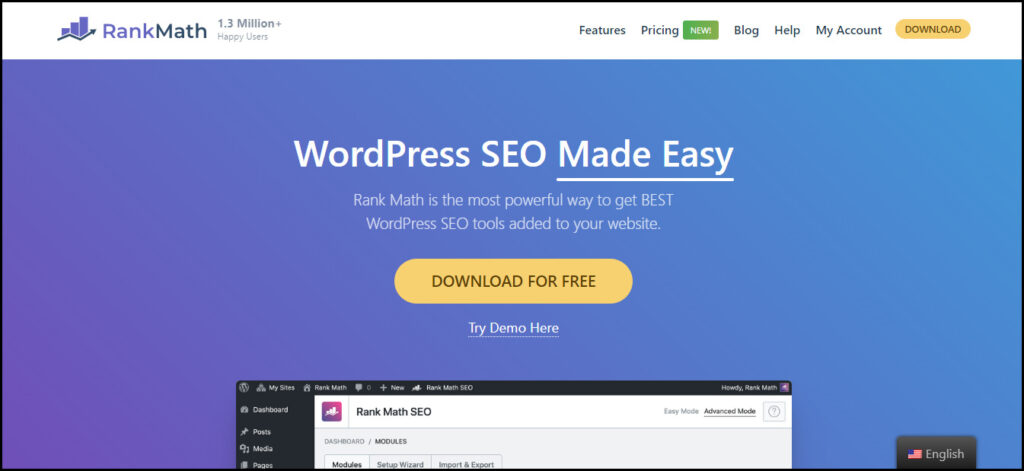 By giving instant data about your posts without requiring you to leave the WordPress interface, Rank Math helps you optimize your website as you create content.
With a snippet preview, you can also improve titles and meta descriptions, which will decrease the possibility of SERP display problems in Google.
The most remarkable aspect is that this plugin has been speed-optimized; it loads quickly so that it won't interfere with your site's SEO efforts.
It also provides extra SEO features like 404 tracking, redirections, and SEO for WooCommerce websites.
---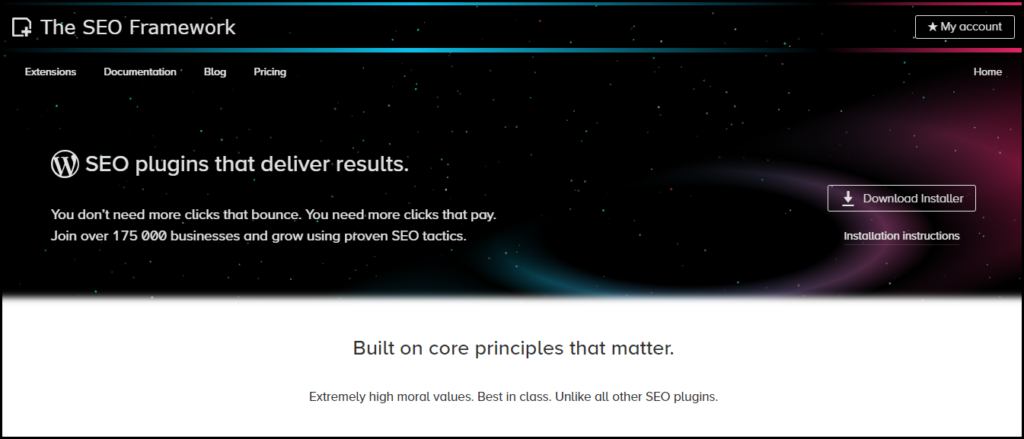 The SEO Framework plugin works well if you're looking for a quick, lightweight SEO plugin for WordPress that doesn't include any ads or upsells.
It eliminates some of the extraneous features you probably won't use. It focuses on assisting users who are more concerned with maintaining fast site loading times while spending less time reading complex SEO articles.
It is frequently regarded as Yoast's best alternative.
The visible form of SEO ratings and more adaptable choices for keyword targeting significantly contribute to this (like slightly off words or synonyms).
A colorful scale is used in one of the tabs that manage the post SEO settings to indicate how close you are to having your content be search engine-ready.
In contrast to some of the more complex versions of Yoast, the scale allows you to see right away where you need to focus on your SEO.
The interface is ideal for beginners.
Advanced users can also get their hands dirty using the API.
The plugin was once a WPMUDEV community effort, but it was subsequently made available to everyone for free.
The SEO Framework plugin is comprehensive and provides more sophisticated functions with extensions.
---
Conclusion
Without the proper tools, SEO might appear time-consuming and complex.
Tasks like keyword planning, competitor analysis, and reporting will become a joy after you identify the finest WordPress SEO plugins and invest some time learning how to utilize them.
We hope that this post was helpful in your search for the top WordPress SEO plugin.
Let us know if you have a better plugin in your mind in the comment section below.