One of the techniques you can use to categorize your articles based on similar data is the WordPress tags.
Tags are usually found below a post or in the sidebar.
When a visitor clicks on a tag, WordPress opens an archive page (tag page) that indexes all posts and custom post types with that tag.
Tags are essential for organizing your content.
They influence your user experience (UI) and search engine optimization (SEO).
Here's an all-in-one resource to educate you on all you need to know about tags and some WordPress SEO recommendations for tag pages.
WordPress Tags vs. Categories: What's The Difference?
Tags and categories are both types of taxonomies on a technical level.
A taxonomy is a fancy word for a classification system (like your WordPress posts).
Aside from the fact that tags are required for every WordPress post, the main difference between tags and categories is as follows:
The difference between categories and tags is that categories are hierarchical, but tags are not.
Essentially, this means that a parent category can have child subcategories.
Tags, however, never have parent/child relationships; each tag is a completely independent entity.
While categories should include a wide range of topics that can be applied to various posts, tags are typically more specific and relevant to the content of that post.
Let's say you write a blog article on the Metaverse.
Here's an example of how the tags and categories might be set up:
Category: Technology
Tags: Metaverse, AR, VR, Blockchain, Meta, etc.
How to Add Tags in WordPress?
It's simple to add tags to your article.
However, keep in mind that tags can only be added to posts.
In WordPress, there are two ways to add tags.
To begin, create tags for new blog articles. Follow the instructions below to do so.
Go to Posts and click on Add New from your admin dashboard.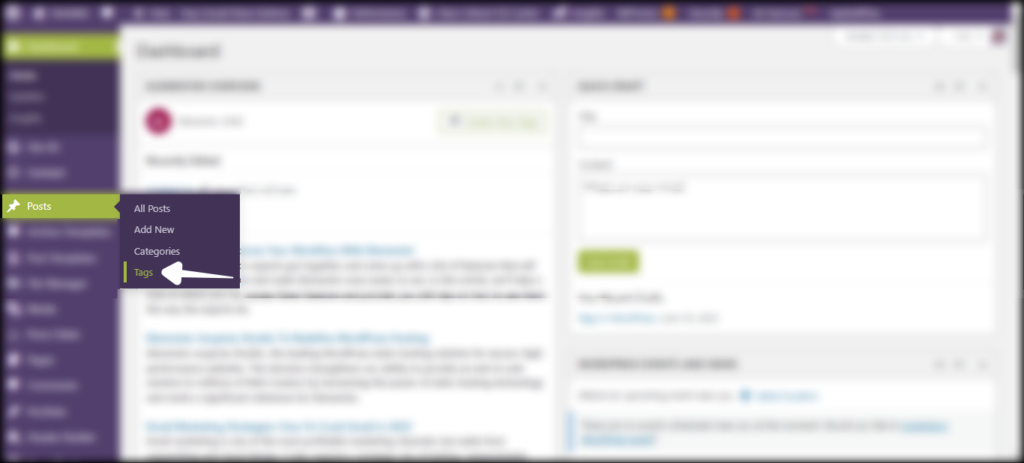 Find the tags box on the right side of your visual editor.
2. Fill in the blanks with the tags you'd want to use. A comma must be used to separate each tag.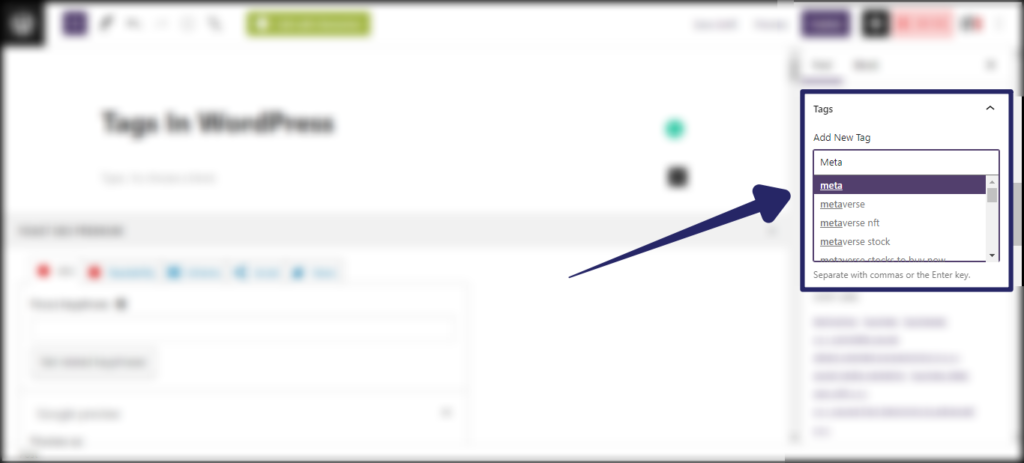 3. Secondly, you can add tags to posts that have already been published.
Because you can add a slug to your tags, this also helps you enhance your SEO.
Go to Posts -> Tags from your admin dashboard.
On a name form, add a new tag.
Fill in the tag's slug.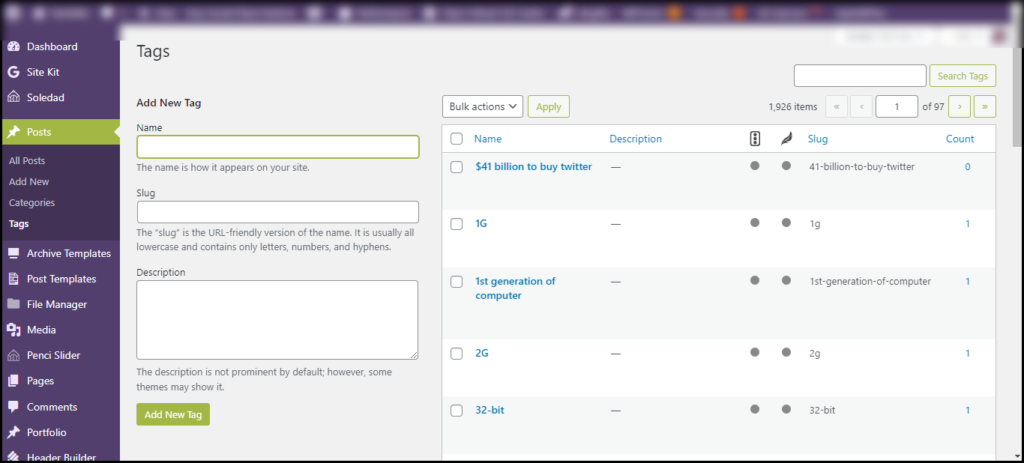 SEO and WordPress Tags
Tags in WordPress are also important for SEO.
When done correctly, a well-managed taxonomy such as tags can help you improve your SEO ranking.
However, you must keep in mind that tags can affect your SEO.
WordPress is the most SEO-friendly CMS available today.
WordPress comes with built-in SEO tools to deal with search engines after you install it.
All search engines use these preset features to index your site's articles, pages, categories, and tags and store the information in their databases.
However, this indexing process will be harmed by various flaws in using tags.
For starters, it's not unusual for people to give a category and a tag the same name.
This will result in two pages with the same categories and tags.
If you have "Recipes" as a tag and a category, search engines may be confused about which to prioritize.
You may see a similar duplication issue if you used single or multiple words as tags. The terms "recipes" and "recipe" are identical.
You must pick one and use it as your tag regularly.
Furthermore, tag pages do not include any original content.
They include excerpts from the articles, while the original text is found on the individual post pages.
Search engines prefer to browse through different post pages rather than tag pages.
Remember that when you add a new tag to WordPress, it automatically creates a tag page.
In the next section, you'll discover how to use tag pages to aid user navigation while not compromising your SEO.
Noindex WordPress Tag Archive Pages
The noindex WordPress tag is the most effective way to solve tag page and SEO issues.
You're instructing search engines to ignore your tag pages while crawling data when you do this.
The Yoast SEO plugin is an excellent option for accomplishing this.
To noindex WordPress tag pages, follow the steps below:
Click on Search Appearance.
Select the Taxonomies tab.
Find the Tag section.
Select no for Show Tags in Search Results.
To finish, click the Save button.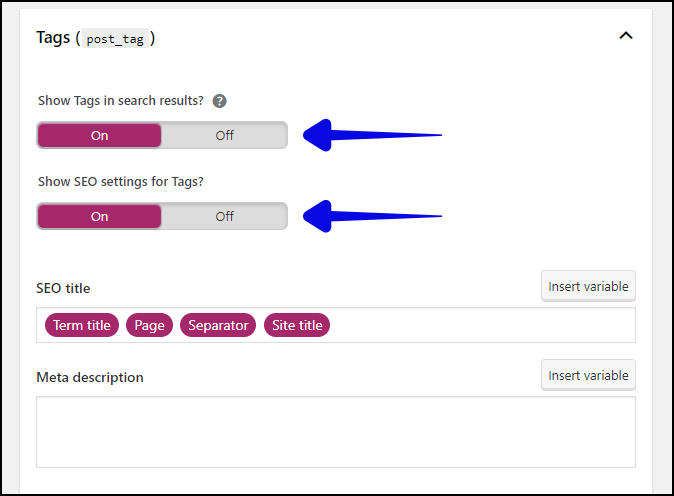 The Bottom Line
Tags in WordPress are a great method to organize your content.
It can assist your readers in quickly and easily finding their favorite topics.
As a result, your entire user experience improves.
However, even minor mistakes in tag usage will hurt your SEO.
Use the suggestions offered to improve tag usability while limiting SEO effects.