These are the two most frequently asked questions about Google Analytics 4 at the moment. GA4 has been heavily promoted by Google to both new and existing users. They've made the Universal Analytics (Google Analytics 3) option difficult to find if you're starting up a new property. If you use Universal Analytics, you've undoubtedly received several emails from Google asking you to set up a GA4 property.
Keeping this in mind, we will address what Google Analytics 4 is and should you use GA4 in this article.
What Is Google Analytics 4 (GA4)?
GA4 is the most recent version of Google's widely used analytics platform. In the same account, it may track both a website and an app. It also includes various new reporting options that provide you with more specific information about how visitors interact with your site.
The way data is stored and handled (data architecture) behind the scenes in this edition of Analytics differs from previous versions, giving us all-new ways to track and evaluate traffic flow for years to come.
Google Analytics 4 has a different appearance than Universal Analytics, and the navigation has also changed. If you're a Universal Analytics user who just set up a new GA4 property, you could have trouble locating some of the reports you've had before.
Because the new platform is the future of Analytics, Google wants everyone to utilize it as soon as possible. Any new features they develop will be released exclusively there instead of in Universal Analytics.
Differences Between Google Analytics 4 & Universal Analytics
While Google Analytics 4 and Universal Analytics (Google Analytics 3) are similar, there are some significant changes. If you've used Universal Analytics before, you'll notice a number of improvements in the way it appears and works straight away.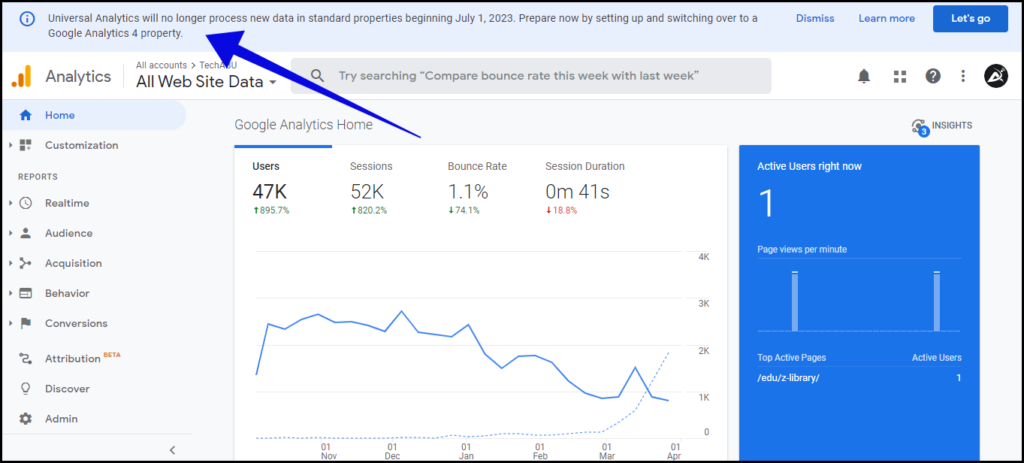 Aside from the appearance and functionality, there are a few important changes. Google is always adding more reports and features to GA4, but here are some of the big differences as of right now:
Bounce Rate Missing In GA4: Google's team came up with the term "engaged sessions" to replace the term "bounce rate." As a result, you'll get statistics on those who did rather than seeing the percentage of people leaving your site without further interaction. The Engagement Rate is the new measure Google wants you to pay attention to.
GA4 replaces goals with events: Google Analytics now only tracks events and conversions instead of goals. By toggling a switch, you may specify which events count as conversions. It will also track various events for you without requiring you to change your website's code.
GA4 is missing your historical data: If you've previously used Universal Analytics and established a GA4 property, all of your past data will not be transferred. You begin with a blank slate. Your data is kept safe in Universal Analytics, but you must move between the two to see it.
Luckily, there is a way to get around these significant differences, which we'll discuss in a moment.
Should I Use Google Analytics 4?
In simple words, yes, a Google Analytics 4 property should be set up. Is it really necessary to use it? You are not forced to do so if you do not wish to. You'll be ready for any upgrades or new features Google delivers as long as you have it set up and collecting data.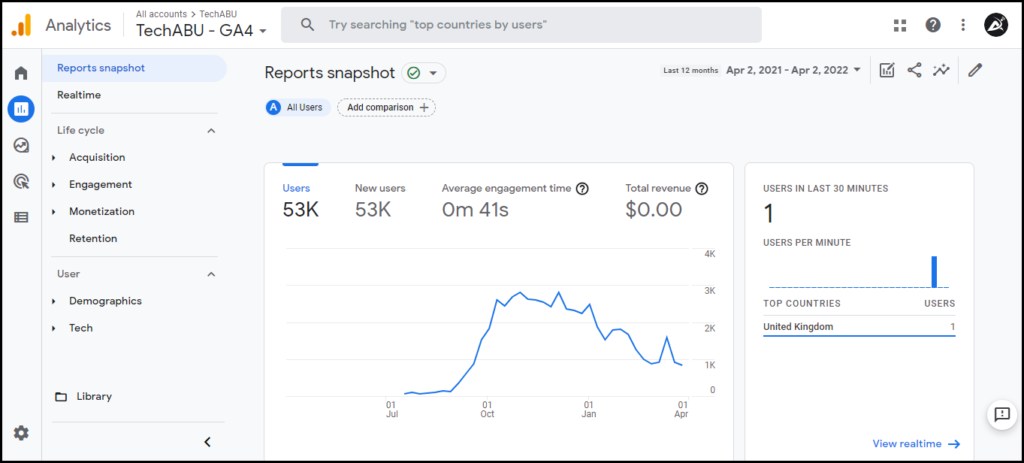 While GA4 may be frightening and difficult to use, it is apparent that it is the future of Analytics, and you should be prepared.
However, there's no reason you can't run a Universal Analytics property and a Google Analytics property simultaneously to get the benefits of both. In fact, we recommend that you run both of them!
Google Will Take Out Universal Analytics
Google said on Wednesday that Universal Analytics would be taken out next year. On July 1, 2023, Universal Analytics properties will stop processing new hits, while Universal Analytics 360 properties will stop processing hits on October 1, 2023.
After the deprecation dates stated above, previously processed data in Universal Analytics will be kept for at least six months.
Why is Google Making The Change?
According to Russell Ketchum, director of product management at Google, "Universal Analytics was created for a generation of online measurement that was rooted in the desktop web, separate sessions, and more easily viewable data from cookies." "This way of measuring is quickly becoming outdated."
Google Analytics 4 (GA4) is different from its predecessor in that it works across platforms, doesn't require cookies, and measures data using an event-based data model. It also does not keep IP addresses, which can help brands comply with privacy rules.
Conclusion
Now is the time to set up your GA4 properties if you haven't already. Despite the fact that we have had GA4 for well over a year, configuring it now will allow it to begin tracking the metrics you care about, ensuring that historical data is available when you need it.
When it comes to using GA4, many search marketers have been hesitant. That will no longer be an option in a little over 15 months. Therefore the more comfortable you get with GA4's interface and functionalities, the better prepared you will be to manage the transition for your businesses.