Ahrefs is a link-building, keyword research, competitors analysis, rank tracking, and site auditing software suite. The majority of Ahrefs' features are targeted toward marketing professionals.
In a nutshell, Ahrefs is a well-known SEO tool that individuals and businesses use to improve their Google rankings.
What is the purpose of Ahrefs?
Ahrefs is primarily used to evaluate the link profile, keyword rankings, and SEO health of a website. Keyword research for Google, YouTube, and Amazon can also be done with Ahrefs. Many individuals use Ahrefs to discover content that has performed well on a specific topic regarding social shares and links.
When Ahrefs initially launched in 2011, it was primarily a backlink analysis tool. And its feature set has expanded significantly over time. Ahrefs has evolved from a link analysis tool to a full-fledged SEO suite that now competes directly with Moz Pro and SEMrush.
Who Uses Ahrefs?
Nowadays, Ahrefs is primarily used by:
Owners of small businesses that perform SEO on their own websites.
SEO companies that work with a variety of clients.
"In-house" marketers that run marketing for their employer's site.
Affiliate marketers that run multiple websites.
SEO experts that help clients with their search engine optimization approach.
How Much Does Ahrefs Cost?
The cost of Ahrefs is based on the plan you select. And if you want to pay on a monthly or annual basis. While Ahrefs currently does not provide a free trial, they offer a $7 for a 7-day trial.
However, Here's a glimpse of Ahrefs pricing: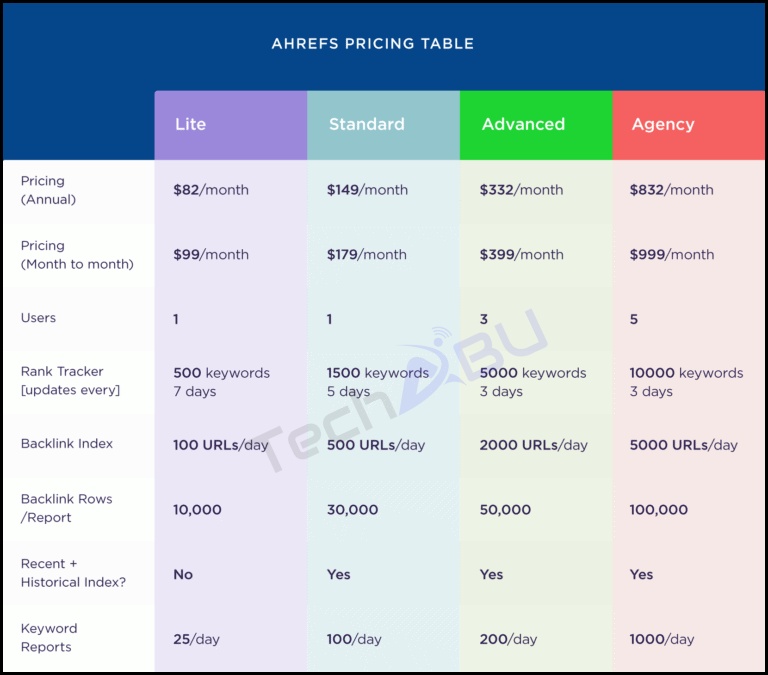 Terms and Metrics from Ahrefs
If you spend more than 1-minute using Ahrefs, you'll discover that it has a lot of different terms and metrics.
Here's an overview of the terms you'll come across when using Ahrefs.
Domain Rating (DR): The URL Rating is applied to the entire site (this is basically the equivalent of Moz Domain Authority).
URL Rating (UR): The number of authority that a webpage has in terms of links. A mix of the quality and number of backlinks pointing to that page is used to calculate the score.
Anchors: It shows the widely used text for a backlink to your site.
Referring Domains: The number of unique websites that link to the page or site you're browsing. Higher Google ranks are associated with a large number of referring sites.
TLDs Distribution: The links on a website are subdivided by the top-level domain (.com, .edu. .de, etc.)
Ahrefs Rank: The link profile of a website is ranked globally. The lower the number, similar to Alexa ranking, the better the link profile.
Parent Topic: The overall topic under which a term falls (for example, "link building" falls under "SEO").
Traffic Potential: The volumes of traffic you'd get if you were on the first page of Google for that keyword.
Keyword Difficulty: How difficult or easy it will be to rank on Google's first page for a particular keyword.
Also Rank For: A collection of keywords that appear in the top ten results (for example, pages that rank for "digital marketing" may also rank for "what is digital marketing").
Conclusion
So, that's it! It was a quick overview of the most popular SEO Software available. I hope you've now understood the tools the SEO tool is providing.
Are you using this tool or planning to use it after reading this quick guide? Let us know in the comment section below.