There are very few plagiarism checkers that can compete with Turnitin. This software gives the user access to plagiarism detection, automatic grading, sources of data copies, and the ability to compare multiple files in an easy-to-use interface.
Despite its many benefits, it doesn't fit in every situation and makes us search for Turnitin alternatives. Would you like to check your content for plagiarism using some best Turnitin alternatives? Then you are at the right place to learn about some valuable tools through this blog post.
What Is a Plagiarism Checker Software?
Plagiarism checker software, at its most basic level, examines a body of text to determine whether there are any instances of plagiarism there. Free and paid plagiarism checkers notify the writer if their work contains the same material (also known as plagiarized text) within a body of text. To assist in identifying instances of plagiarism, most technologies cross-reference public websites and web pages. Some plagiarism detector software, especially those developed for academic use cases, uses a vast online database of published work for cross-referencing.
Other aspects of a more extensive paid plagiarism checker include:
Informing the writer when a part of their work requires a citation.
Offering citation formatting instructions or tools.
Assigning a grade to a document based on its originality.
Certain advanced technologies check for plagiarism in several languages
Utilize Artificial Intelligence (AI) to detect duplicate and paraphrased text.
What Is Turnitin?
Turnitin is a plagiarism detection and protection software that examines your writing for citation errors and illegal copying. Turnitin compares your paper to text in its enormous database of student work, blogs, books, journals, and more when you submit it.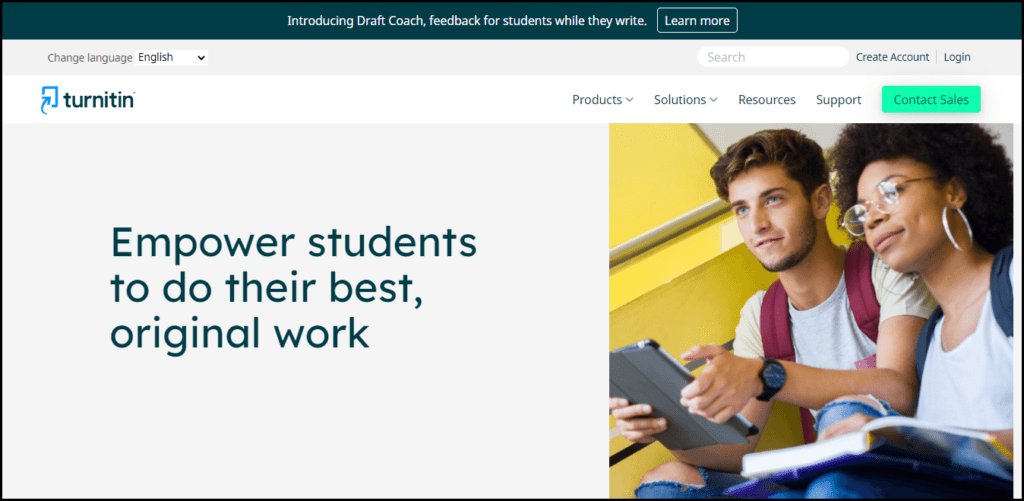 Many AMU and APU classrooms have Turnitin included in the Assignments tool. This means that when you upload your work to your classroom for grading, it will be immediately uploaded to Turnitin's repository, and you won't have to check in to Turnitin.com individually. The Similarity Report it creates will aid in the detection of suspected plagiarism.
Why Look For Turnitin Alternatives?
The technology will be of limited value for blog owners who get material from paid writers since it is designed for academic reasons. Turnitin does not have as many databases as some of the other tools available, and as a result, it may overlook plagiarism if there isn't a database available.
It is widely favored by students and instructors alike, yet it has several drawbacks, prompting many to seek Turnitin alternatives to replace it. Look at the disadvantages of Turnitin for a moment.
Refreshing time is inefficient and detrimental to the development of writing abilities.
It is necessary to have a certain level of internet connection.
A plagiarism-free checker is an expensive piece of software.
It is unable to distinguish between referenced material and plagiarism.
Figures and tables in the material were unable to be checked.
What Are The Best Turnitin Alternatives?
Prepostseo, Check Plagiarism, Grammarly, Editpad Plagiarism Checker, and Quetext are some of the best Alternatives to Turnitin.
#1 – Prepostseo
Prepostseo Plagiarism Checker tool enables you to perform duplicate content detection in minutes. Turnitin does not work as well as this. To check for plagiarism, it scans available data in search engines in addition to the archived thesis of the student.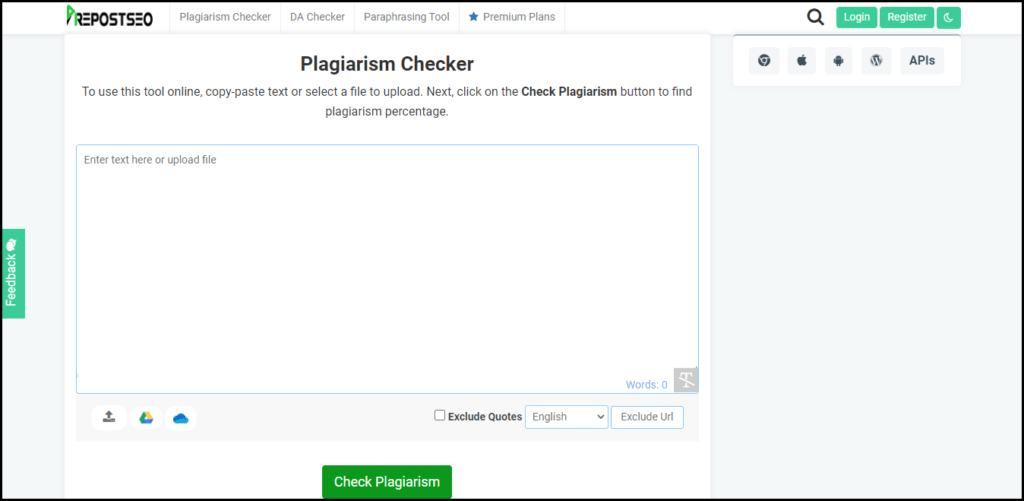 The plagiarism detector employs an advanced algorithm to detect copied content or paraphrased text. This online plagiarism checker tool provides links to plagiarized sources after it finds plagiarism. In addition to identifying accidental plagiarism, incremental, and patchwork plagiarism, this plagiarism checker is also designed to identify other types of plagiarism.
Features;
It offers different file extension upload options such as (doc, Docx, pdf, txt, etc.)
It has a chrome extension.
You can download your plagiarism report in HTML and PDF format.
Content Security is Ensured.
Sources and Percentage Results.
#2 – Check Plagiarism
Check plagiarism is a free online plagiarism checking tool, which checks your text against billions of web pages & documents. Free searches for 10,000 – 15,000 words are available. (For Premium members, it is a plagiarism scanner without a word limit).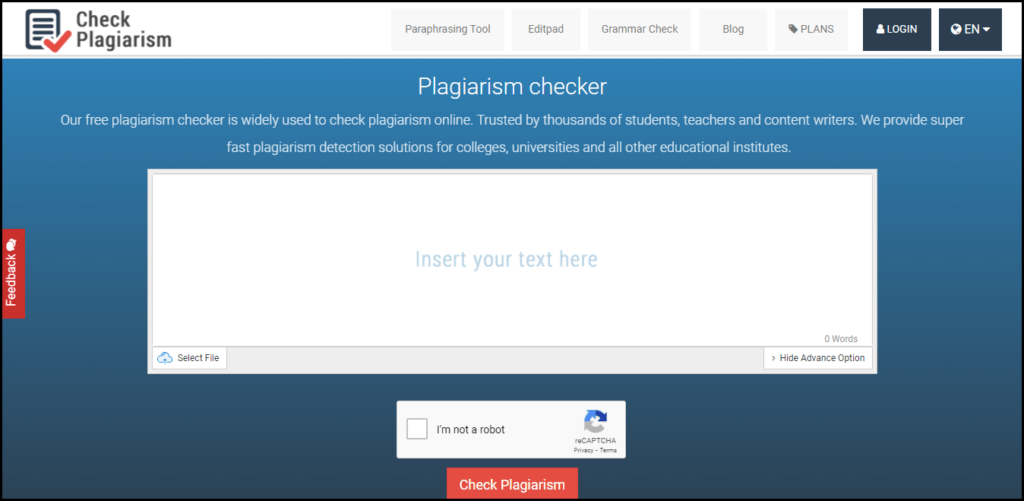 Your data is not saved. Free plagiarism checker checks all files and documents for confidentiality and security. There is an instant deletion of the reports. Neither your documents nor your texts are stored in the tool database.
Features;
You can check up to five documents (.doc,.docx,.txt, or.pdf) simultaneously.
You can compare two papers to see whether they contain any plagiarism.
This plagiarism checker is designed in such a manner that users can comprehend the findings of the material that has been tested for plagiarism.
The results of the text will be shown in real-time.
You may also create reports for the material that has been reviewed.
#3 – Grammarly
When it comes to the finest proofreading tools available on the market, Grammarly is one of the most sophisticated tools available. If you are not a native English speaker, Grammarly may benefit you in various situations. Grammarly stands out from other tools because it scans and offers recommendations based on 400+ grammatical rules, distinguishing it from the competition.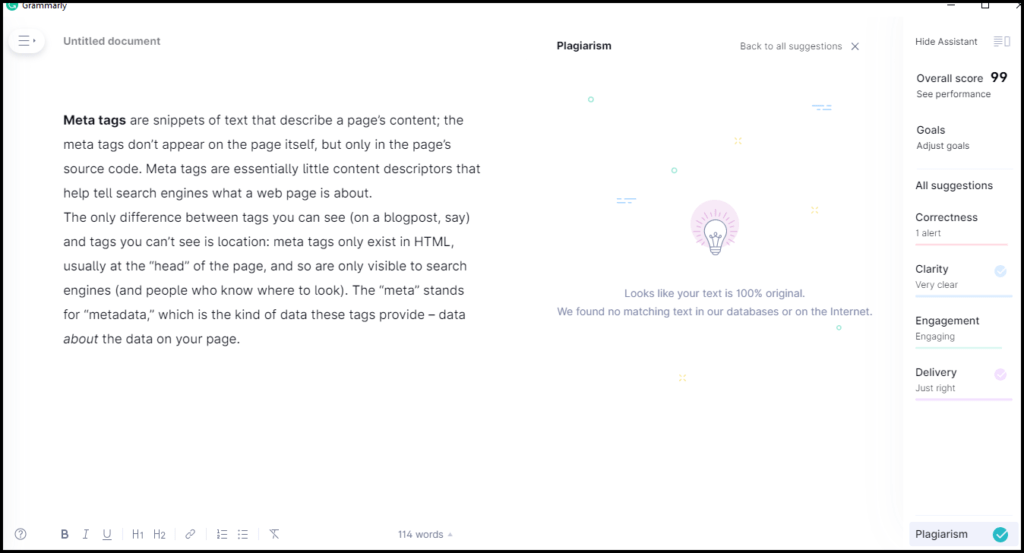 Grammarly is more than just a proofreading tool; it also has a noteworthy feature that has earned it a spot on our list of the best alternatives to Grammarly. Yes, it has an excellent plagiarism detector based on 16 billion pages and ProQuest's databases, among other things.
Features:
It aids with the elimination of grammatical, spelling, and punctuation mistakes.
It improves the readability of the piece by making each phrase concise and straightforward to comprehend and follow.
It enhances the readability of the article by recommending exciting words.
Grammarly checks the plagiarism of your content against 16 million databases.
#4 – Editpad Plagiarism Checker
There is a free online plagiarism detector on Editpad that lets users check their text for plagiarism. As an alternative tool to Turnitin, it allows you to check for plagiarism in text online for free.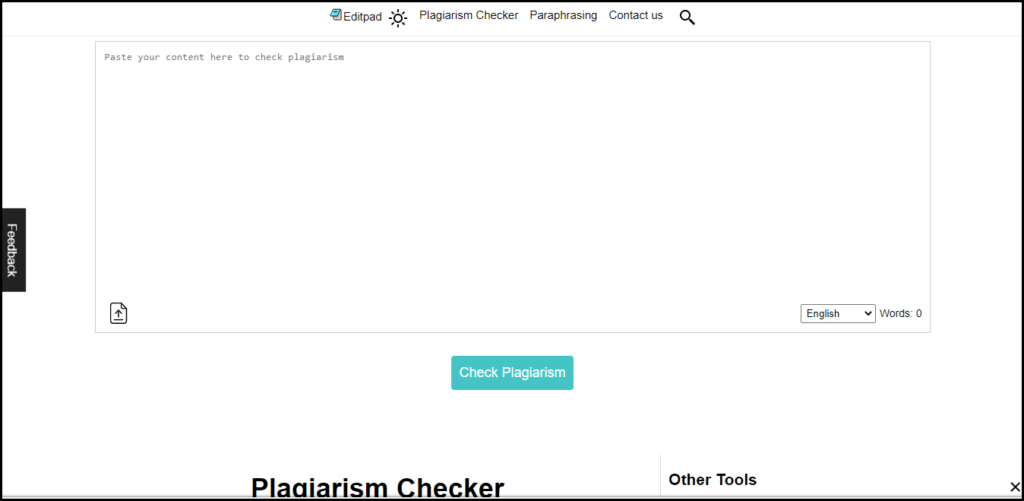 This tool will find duplicate content, add sources of non-quoted text and download plagiarism reports for students, teachers, and freelancers.
The plagiarism checker detects plagiarism by scanning your content and comparing it with online databases and published content on the internet.
Features
Support uploading of different files extension.
Show results with percentage and detected sources.
Word limit and ability to download the report.
Using Advanced Technology for deep search.
#5 – Quetext
Over 2 million users use Quetext, a well-known plagiarism checker. The tool is an excellent alternative to Turnitin primarily because it is simple and uses deep-search technology.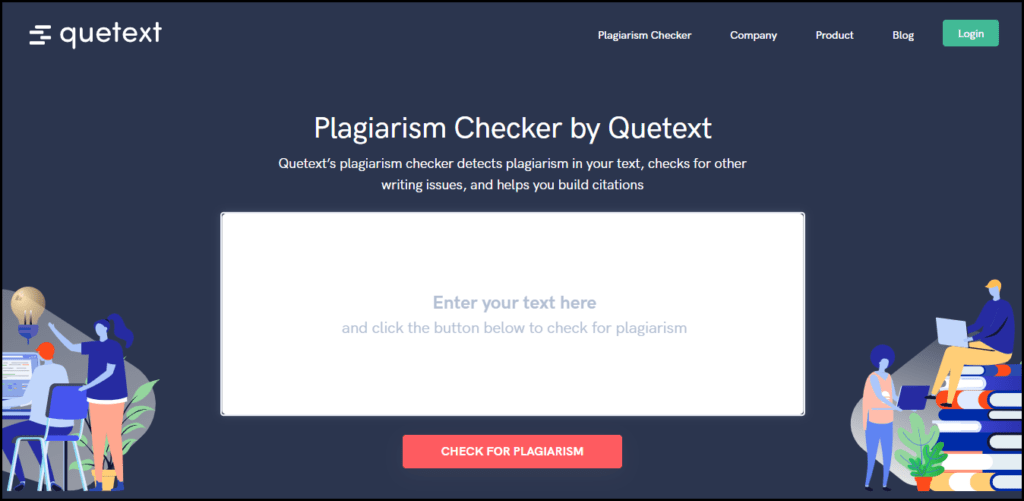 There are 35 billion web pages, 20 million books, and more than 1 million journals in their vast database. In this sense, Quetext ensures the originality of content quite effectively. The Quetext Deep Search mechanism looks for more than matches between words in sentences.
According to the algorithm, the context of the other sentence identifies if a correction is plagiarized or if the sentence can appear essentially plagiarized but can still be deemed plagiarized due to its context. In other words, it's an effective tool in fighting plagiarism since most people change a few words to avoid plagiarism.
Features;
QueText provides a comprehensive plagiarism database that includes information from websites, books, and journals.
The plagiarism detector is simple to use and offers a solid reporting mechanism and good customer support.
Plus, using this plagiarism detection tool is a lot more fun.
The Bottom Line;
Above is a list of Turnitin alternatives. You can choose an option according to your requirements and needs. In my opinion, Turnitin provides a fantastic plagiarism detection service with an easy-to-use interface designed to assist teachers in grading student homework. You can choose any one of these for just checking plagiarism if you are searching for alternatives.
However, if you prefer an alternative to Turnitin that offers a comprehensive database and better plagiarism detection, then we recommend you to choose plagiarism checkers from the above five plagiarism detectors because all are amazing with their distinctive features and work equally well as Turnitin.