If you want to boost your earnings from your blog, you'll probably put advertisements on it.
You'll need an advertising network, which is a service that links online advertisers with website publishers, to do this.
You've probably come across Google AdSense when looking for an advertising network.
It is the most widely used pay-per-click (PPC) platform on the internet, with over 10 million websites.
AdSense is a simple, efficient way that pays publishers a fair amount of click-through earnings.
However, it isn't the only option; you might want to look at AdSense alternatives.
In this article, we'll go through why you might want to use a different ad network for your site.
Then, outside of AdSense, we'll look at the top ad networks for quickly monetizing your site.
Why Use an AdSense Alternative?
Google's platform has a number of drawbacks that make it inappropriate for some bloggers.
Here are some good reasons to use a competitive ad network instead of Google AdSense:
#1. Requirements for Eligibility:
Before becoming a partner, several networks, including AdSense, demand applicants to meet specified criteria on their website.
If Google refuses to approve your website for an AdSense account, you'll need to find a network with less stringent approval standards.
Your AdSense account may have been deactivated due to the platform's strict click fraud control.
For example, you may have placed an ad on a website where it wasn't supposed to be or accidentally clicked one of your own advertisements.
If you're not paying attention, it's simple to break the terms of service, and you might require a more lenient alternative.
#2. Revenue Share
Most ad networks utilize an automated system to display ads in certain places on your website.
You earn a share of the commission when people interact with these advertisements – for example, by viewing, clicking, and making a purchase through the ad — and the rest goes to the network.
Publishers earn 68% of the money earned by advertisements on their websites when using Google AdSense.
Although this is a competitive price, several alternative networks provide a higher percentage.
You'll need a high-quality website with consistent and high traffic to qualify, but it'll be well worth it if you make the cut.
#3. Ad Personalization:
Some ad networks allow you to customize your advertising style to match the concept of your website, making them blend in more naturally with your quality content.
Customization varies per provider; however, many let you change the color and size of a unit, which is more versatile than AdSense.
#4. Minimum Payout:
The minimum payout for a network is the amount of earnings required before receiving money.
The minimum payment for AdSense is $100, which is more than other alternatives.
If your website is new or less known, reaching $100 in revenue may take longer than you'd want.
Partnering with a provider that has a smaller minimum payment may be a better option.
#5. Customizing Your Blog
Large ad networks, such as Google AdSense, are designed to serve any form of a content-heavy website, including blogs, news sites, video publishers, and everything in between.
It makes sense to look for an alternative to AdSense if you want an ad company that will work directly with you and designs a custom-fit solution for your blog.
Ways of Additional Revenue:
Instead of replacing AdSense, you might consider a partner network that works alongside AdSense to give an extra revenue stream.
As long as you follow the AdSense terms of service, there's nothing wrong with it.
If any of these scenarios apply to you, there are several worthwhile alternatives to consider. Let's take a look at the top ones.
10 Best Google AdSense Alternatives:
Let's have a look at some of the Google AdSense alternatives to see how you can monetize your website or blog even more: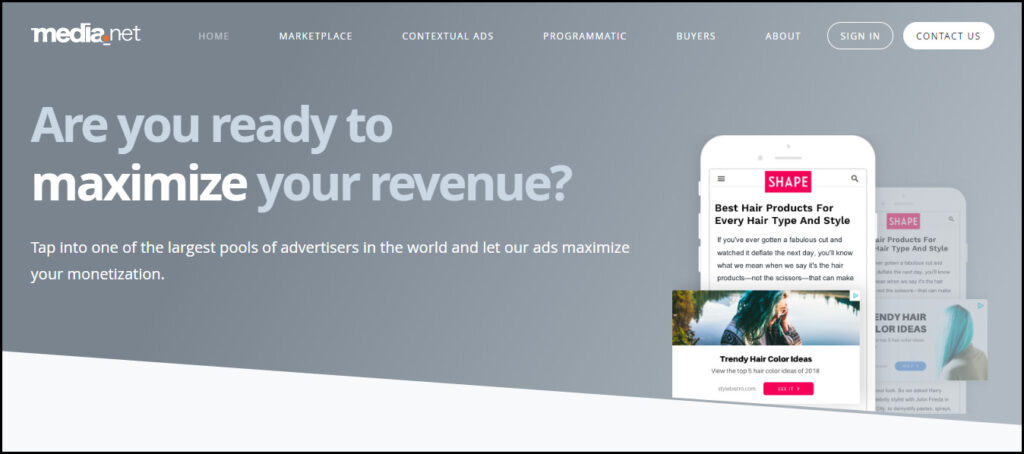 In contextual advertising, Media.net is a leading company.
Bing and Yahoo collaboratively operate the service, widely regarded as the best AdSense alternative for publishers and advertisers.
For desktop and mobile, Media.net offers a variety of display and native advertisements, and you can potentially earn around the same amount as you would with AdSense.
How To Approve Your Blog on Media.net?
Your blog must have high-quality content and a neat, professional appearance to be accepted.
According to Media.net, your traffic source is also significant: Most of your visitors must be from the United States, the United Kingdom, or Canada, according to Media.net.
Do We Recommend Media.net?
Yes! Media.net is an excellent place to start if you're searching for a service equivalent to AdSense in terms of features, quality, and payout rate.
The minimum PayPal payout is $100, and payments are sent monthly.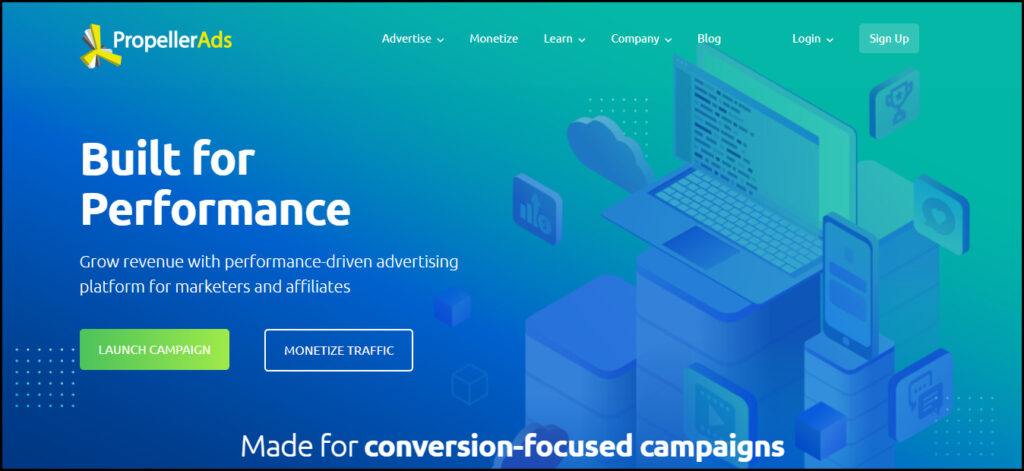 PropellerAds is a rapidly expanding monetization platform for new and established blog sites.
PropellerAds is well-known for their popunder ads, which load behind the current web browser and show when it is closed.
PropellerAds also offers additional targeted and non-targeted ad solutions for desktops, such as native ads, banners, and video ads, if popunders seem too aggressive for your site.
PropellerAds also offers mobile sites and applications with a push notification ad type.
How To Approve Your Blog on PropellerAds?
There is no minimum site traffic requirement, and your account is activated immediately after setup.
Do We Recommend PropellerAds?
Yes! PropellerAds is suitable for both established websites and new websites.
Through PayPal, the minimum payout is only $5. These payments are made every month.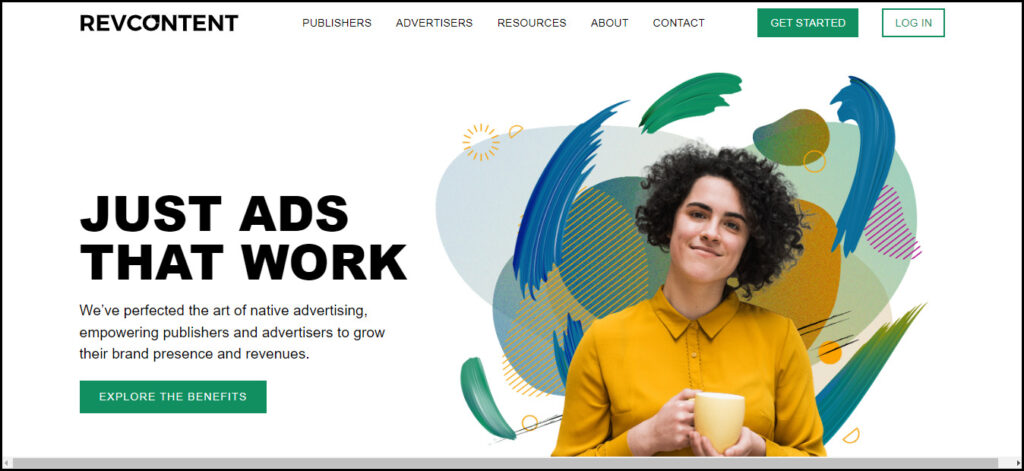 Native advertisements, which are created to match the feel and look of your blog content, are a hallmark of Revcontent.
These ads are precisely tailored to blend in with the pages of your website.
Ads in various media, such as display, mobile, and video, are also available through Revcontent.
Revcontent has a reputation for outstanding clients on both the publisher and advertiser sides.
It collaborates with publishers expected to create a high volume of ad clicks, attracting advertisers ready to pay higher fees.
How To Approve Your Blog on Revcontent?
Your site must have at least 50,000 monthly visitors and consistently provide valuable content to be selected.
There's a possibility you'll be rejected, but with Revcontent's guarantee of greater engagement rates, it's worth a shot.
Do We Recommend Revcontent?
Yes, we do! Revcontent is more selective than Google AdSense.
Publishers are paid on a monthly basis, with a $50 minimum payout.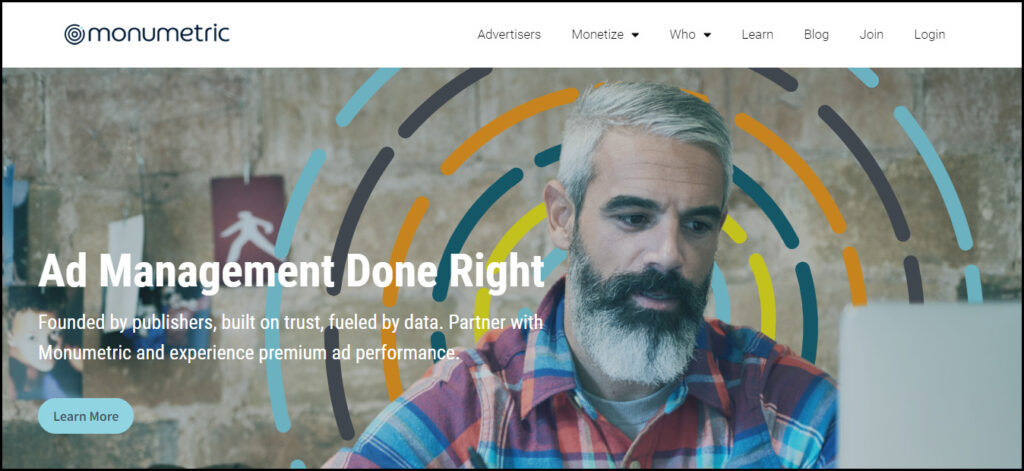 Monumetric (previously The Blogger Network) is a blogger-focused advertising network that prioritizes content creators and ensures that the advertisements displayed on your site are of high quality and relevant to your viewers.
They achieve this by talking directly with their consumers and providing assistance when needed.
Monumetric uses a cost-per-impression approach rather than a cost-per-click strategy, which means you are paid when people view your advertisements rather than when they click them.
While impressions pay less than clicks, Monumetric compensates by serving highly tailored advertising.
How To Approve Your Blog on Monumetric?
A minimum of 10,000 monthly page views is required for approval, which is lower than some of the other networks on this list and may be met by mid-sized blogs.
Also, websites with less than 80,000 monthly visits must pay a $99 setup cost in advance.
Do We Recommend Monumetric?
Yes! Monumetric is known for its four monetization plans, which are tiered based on monthly visits and increase in support as your site grows.
The minimum payout from Monumetric is $10 via PayPal or direct transfer.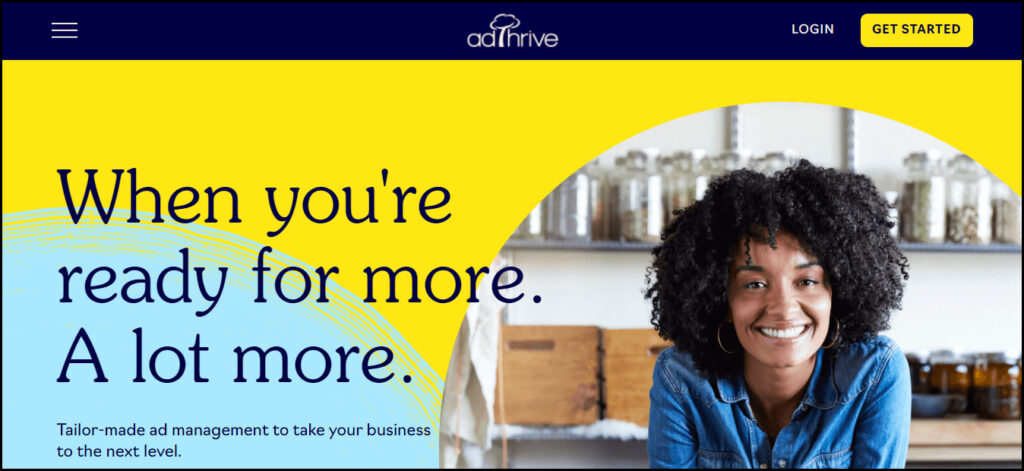 Another well-liked ad network that cares about its publishers is AdThrive.
This cost-per-impression network works closely with publishers and advertisers to guarantee that advertising for excellent products by extraordinary businesses appears on your blogging site.
The AdThrive team will help you develop a monetization plan and put your advertising in the most effective locations.
The payment guarantee – you'll always get paid in full, on time, even if AdThrive doesn't receive payment from its advertisers on time — is possibly the most significant incentive to join AdThrive.
How To Approve Your Blog on AdThrive?
It needs at least 100,000 monthly pageviews, with the majority coming from the United States. This service should be considered by established bloggers.
Do We Recommend AdThrive?
Yes, for established bloggers and a surrounding NO for freshers because it requires a lot of organic traffic from the US, which is challenging for new bloggers.
For PayPal and direct transfer, the minimum monthly payment is $25.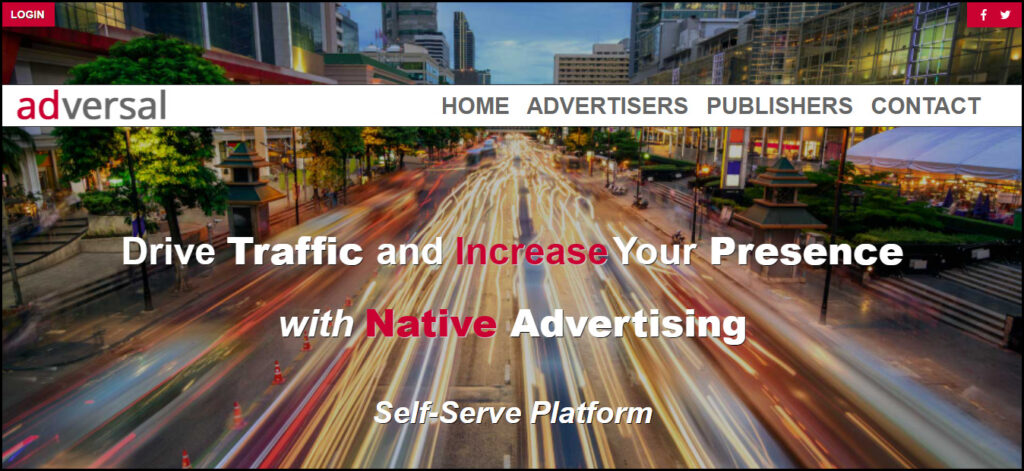 Adversal is a self-serve advertising platform, which implies that publishers can purchase and publish ads without the help of a human.
Adversal and other self-service systems provide you the entire control over ad content and placement, which is ideal for people who want more control over advertising on their websites.
Adversal strives to simplify the setup process and quickly get your advertising up and running with its simple UI.
With only a few clicks, you can manage your campaigns, and the platform offers display, video, and native advertisements to pick the best match.
How To Approve Your Blog on Adversal?
Your site must receive at least 50,000 monthly visitors, have its own domain name, and not be restricted by login to be eligible for Adversal.
Do We Recommend Adversal?
Yes, but only for publishers with significant traffic who want to pick their own advertisements and ad placement.
The minimum payout is $20, paid out every month. Payments can be made via wire transfer, PayPal, ACH, or cheque.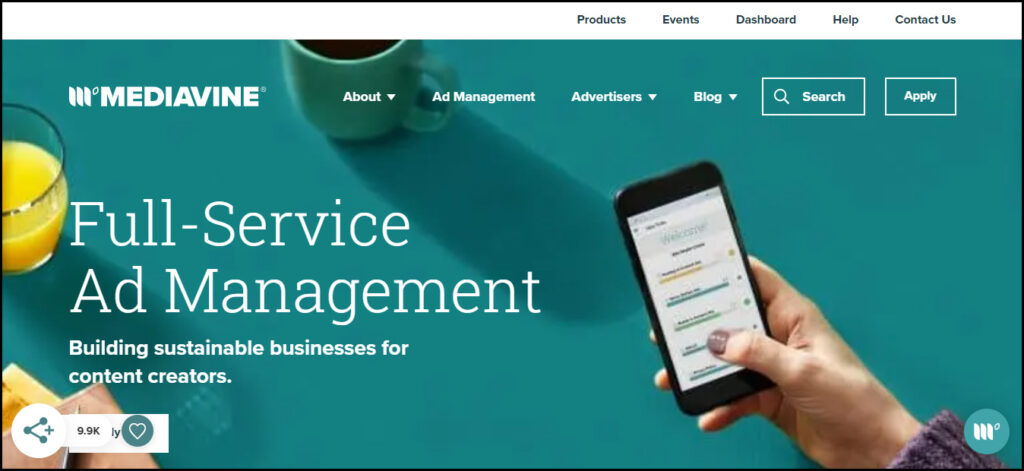 Mediavine is similar to AdThrive in terms of income share with bloggers and highly-tailored ad placements, but it just requires half the number of monthly page views (50,000).
This ad network works with a vast pool of lifestyle advertisers.
In addition, Mediavine empathizes with your cooperation, which is quite rare in this industry.
It was founded by bloggers who understand the need for fast-loading, high-quality ads, and transparency: the organization will answer any queries you have regarding advertisements on your site.
How To Approve Your Blog on Mediavine?
It needs at least 50,000 monthly pageviews, with the majority coming from the United States.
Do We Recommend Mediavine?
It's targeted toward lifestyle bloggers. If you create long-form content in this category, you should absolutely apply.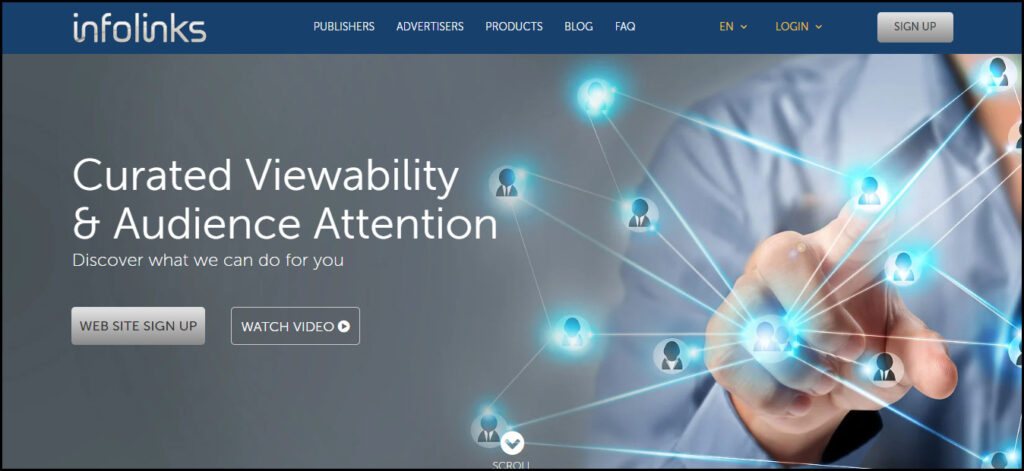 This is another excellent alternative to display advertisements because it focuses on in-text advertising.
This Ad Network automatically matches advertising with relevant text snippets by searching for keywords in the body of your blog content.
A suitable ad displays next to this specific text when a visitor hovers over it.
Because there are more words on a page, in-text advertisements perform well on blogs because there are more options for relevant advertisements.
How To Approve Your Blog on InfoLinks?
All blogs, old or new, can be monetized.
There is no registration charge, and there are no minimum page view requirements.
You can rapidly add in-text advertisements (or targeted display ads, if you like) and gain insights from the reporting dashboard after everything is set up.
Do We Recommend InfoLinks?
Yes! Bloggers and publishers, especially, are searching for an in-text advertising solution that is adaptable to new websites.
InfoLinks pays every 45 days by PayPal, Western Union, and Payoneer (minimum payout is $50).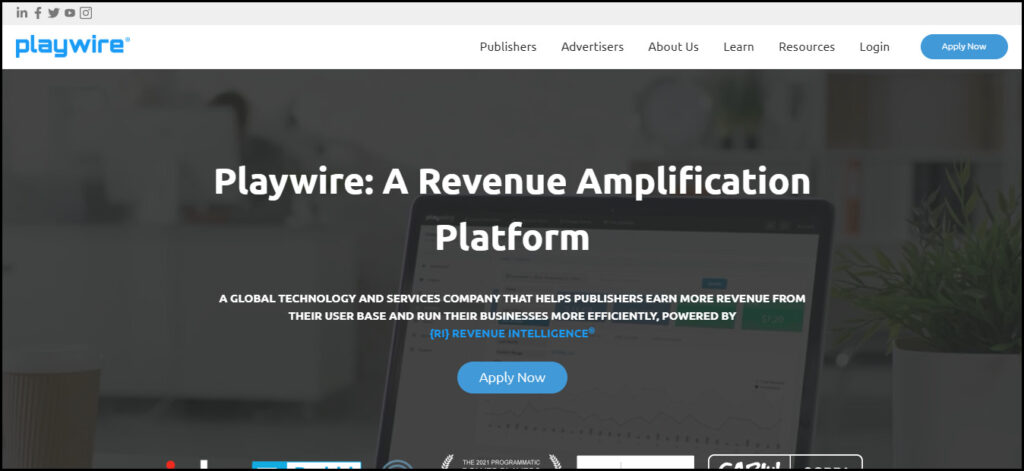 The Revenue Amplification Managed by Professionals (RAMP) Platform from Playwire combines the best ad tech into one smart platform.
RAMP delivers access to the market's most comprehensive set of demand sources, as well as predictive analytics to boost payments.
Finally, this aids high-traffic blogs in driving ad revenue through engaging and high-impact ad units.
How To Approve Your Blog on Playwire?
To approve your blog on Playwire, your blog must have over 500,000 monthly page views.
Do We Recommend Playwire?
Yes, Playwire's worldwide direct sales team has established relationships with some of the world's most well-known brand advertisers, allowing them to secure lucrative direct partnerships.
Every 60 days, a minimum payout of $100 through PayPal or $500 via wire transfer is issued.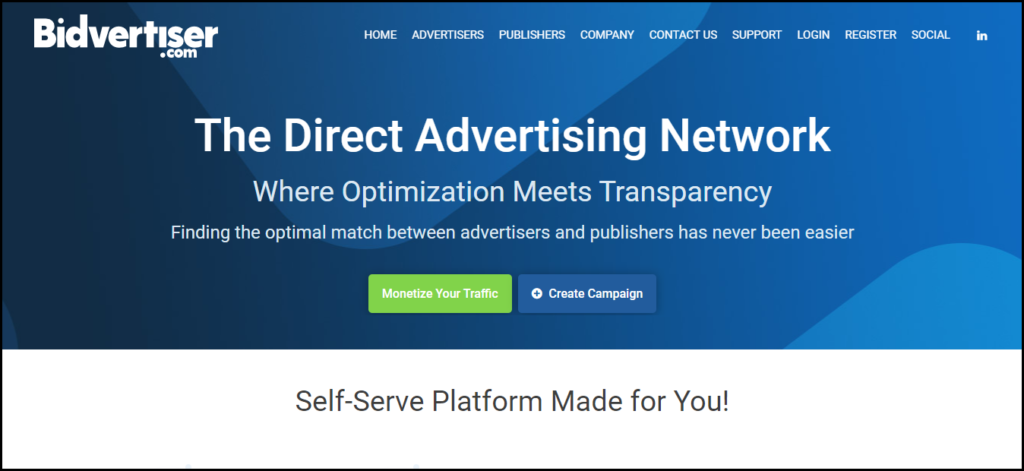 Bidvertiser uses a bidding campaign method, which means that rather than putting advertisements automatically, it sells display ad space on your website to the highest bidder.
A system like this has both advantages and disadvantages.
Advertisers will strive to outbid one other for space if your site receives enough traffic, and you may end up earning far more from the bidding than you would via AdSense.
However, if advertisers are unfamiliar with your website, you may not receive any bids at all.
How To Approve Your Blog on Bidvertiser?
There are no special requirements to approve your blog o Bidvertiser.
Bidvertiser's straightforward ad customization tool, zero approval limits, and payment for clicks and conversions are all available after signing up.
Do We Recommend Bidvertiser?
Yes, but before you try Bidvertiser, consider which of the following categories your blog falls to.
Websites that would instead use a bidding campaign system than a more traditional ad placement platform should try Bidvertiser.
Conclusion
One of the most well-known ways of monetizing your website is through AdSense.
If you're not receiving the results, you desire or want to diversify your revenue streams. There are many alternatives to consider for Google AdSense.
We discussed the best AdSense alternative in this guide. You can pick one from this list that you think is more appealing.
If you think there are some other well-known and excellent AdSense alternatives that we've missed to add in this guide, you can mention them in the comment section and share them with our readers.