When blogs started in 1994, they were more of a personal diary that individuals posted online. You might write about your daily life or discuss what you were up to in an online blog. People saw an opportunity to exchange knowledge in a new way via the Internet. As a result, the wonderful world of Blogging was established.
I know you're here to know what a blog is and how it varies from a regular website?
We'll look at the definition, common types, and what you need to know to create a blog in this article.
What is a Blog? (Definition)
A blog is a website (or a part of a website) with frequently updated content on one or more topics. The word is an abbreviation for "web log," which refers to the act of logging information on a website.
The content on a blog is generally in the form of blog posts, which are articles on single web pages. One such example is the article you're reading right now.
What is Blogging? (Definition)
Blogging is a set of skills required to manage and maintain a blog. This involves providing tools to a web page to facilitate the process of creating, uploading, linking, and sharing content on the Internet easier.
Who is a Blogger?
A blogger is a person who maintains a blog. They create and publish blog posts, update information regularly, and respond to comments.
Difference Between a Blog and a Website
Some people are confused about what distinguishes a blog from a website. Many businesses use both, generally by adding a blog section to the company website, which adds to the confusion. On the other hand, a blog has two characteristics that distinguish it from a typical website.
A blog updates its content regularly, whereas a static website gives information on a person, a group, or a subject.
The main content includes pages describing the company's writing and editing services to visitors. Unless the situation demands an update, such information can remain unmodified for a long time.
Meanwhile, new blog posts are posted every few days to the blog section to educate readers about book writing and publication. Compared to the company website, the blog typically receives more regular updates.
Additionally, most blog posts have a comment box where readers and authors can communicate. This is a rare feature on a standard web page because it doesn't usually encourage audience participation.
How does Blogging work?
Getting a website and publishing unique content on it is all it takes to start blogging. Tech-savvy bloggers can purchase a domain name and develop their own website. Those who aren't familiar with HTML can register an account on sites like WordPress, making the online creation and publishing process more accessible.
The majority of blogs are simple web pages. Older posts may be preserved in other portions of the site, and there may be a separate page with contact details or a profile. Still, the blog is generally just a single page that can be browsed through, similar to the news feed on social networking sites like Facebook. Like a Facebook news feed, a blog puts the most recent information at the front of the page.
Different Types of Blogs
Let's start with the five most common types of blogs and some examples of each. It's worth noting that a blog can be classified into several categories.
#1. Personal Blog
This type of blogging site focuses on the Blogger rather than the audience. Journal-like entries or commentary about the writer's life, interests, or hobbies are common.
Because this is a personal blog, it rarely focuses on a single subject. The Blogger can cover a wide range of topics as long as they are relevant to the writer's interests.
#2. Niche Blog
A niche blog focuses on a particular set of topics, generally connected to the Blogger's interests, skills, and knowledge. For example, if you're a voracious reader, your blog may focus only on book-related topics.
The Blogger's interests decide the niche's scope. In the case of book blogging, the writer might further specialize by focusing on only one or two categories.
In the blogging world, the following niches are trendy:
Fashion Blog
Health Blog
Lifestyle Blog
Travel Blog
Food Blog
#3. Company/Business Blog
Any company website with a blog section counts as this type of blog.
The main aim is to attract the target market by posting content relevant to their needs or interests. Some companies also use blogs to keep their customers informed about improvements within their company.
#4. Affiliate Blog
Affiliate marketing is the process of advertising a third party's products and services on an online website, and this type of blog is based on it.
In most cases, the Blogger includes a link to the company's online store in their blog postings. The blog owner will get a commission if someone clicks on it and purchases something.
Product reviews, selling advice, and "best-of" listicles are all common topics seen on affiliate blogs.
#5. Reverse Blog
In a reverse blog, the content is created by a group of guest writers rather than the site's owner. Although the owner may write articles themselves, their primary responsibility is to filter and edit incoming submissions.
This blog form is popular among freelance writers since it allows them to expand their network and visibility. Some blogs may also pay them a monetary fee for each article they write.
Structure of a Blog:
The look of blogs has evolved through time, and they now incorporate a wide range of things and widgets. Most blogs, however, still include certain common features and structures.
A typical blog will have the following features:
The menu or navigation bar is in the header.
Highlighted or most recent blog posts in the main content area.
Social profiles, favorite content, or a call-to-action can all be found on the sidebar.
Footer includes valuable links such as a disclaimer, privacy policy, contact page, and so on.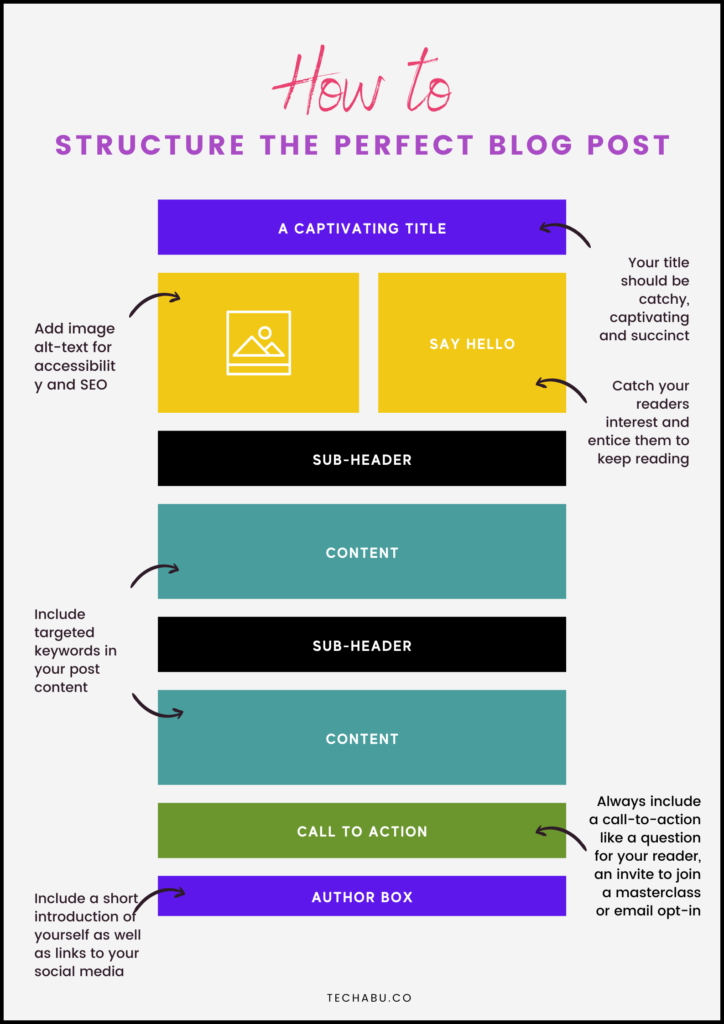 How Do Bloggers Earn Money?
While some people choose to blog for fun, many others want to make a part-time or full-time career from it.
The monetization tactics that a blogger uses are one factor that influences their earnings. A greater pay is frequently associated with having several sources of income.
Here are some of the most frequent ways bloggers make money:
Advertisement (i.e., Google AdSense): Most bloggers add Advertisement on their site. Most commonly, bloggers use Advertising networks like Google AdSense, Ezoic, Adsterra, etc., or approach different companies directly.
Sponsorship: They'll partner up with a company relevant to their target market and write a blog post about their product or service.
Affiliate Marketing: Bloggers may join platforms such as Amazon Associates, which will offer them links to their partners' products and services, which they can promote on their blogs.
Sell Products/Services: Bloggers can sell different products or services on their sites. They may promote their freelance services on their site or some products like T-Shirts, Mugs, etc., on their blog.
Donation/Patreon: This is a common monetization method for bloggers that merely need money to keep their website running.
Blog traffic is another factor that influences a blogger's earnings. Blogs with thousands of page views, on the whole, have an easier time partnering with brands and generating revenue from their audience.
What You'll Need to Get Started with Blogging?
If you want to start blogging, you must first prepare several things. We recommend that you start with the following elements:
Required For Starting a Blog:
Domain Name: To begin, choose a name for your blog, also known as a domain name.
Web Hosting: In the next step, you need to buy a hosting service for your website. In simple words, hosting or web hosting is the process of renting or purchasing space on the Internet to house a website.
Blogging Platform: Now that you have a Name for your site and online space where you can store your blog content. Now you've to choose the right blogging platform to start right away. A content management system, such as WordPress.org, is a great option. Because it's free and open-source, it's a popular choice among personal and professional bloggers.
Blog Niche: While a niche isn't specifically required, it is highly recommended for people who wish to turn their blog into a company. It might help you define the scope of the content you'll create and make sure it's still relevant to your intended audience.
Content Writing Skills:
Researching: The ability to get data from reliable sources Your blog content will become considerably more in-depth and authoritative due to this. Reading current information on a topic may also provide insight into what your readers might appreciate and how your content relates to your rivals'.
Communication: You must present your thoughts in a way that connects with your target audience to establish a relationship with them. Make sure you and your readers follow your thoughts and ideas by organizing them in a natural and easy-to-follow manner.
Linguistic Accuracy: Your content will be simpler to comprehend if you master your language's grammar, spelling, and punctuation. It will also give the blog a more credible appearance.
Tools & SEO Skills:
Your website will not show on search engine result pages (SERPs) if you lack fundamental SEO skills, which means it will not reach your target market.
Consider using the following tools to assist you with SEO:
Moz: It's a free SEO software that you can use to research keywords, analyze competitors, and find popular content in your niche.
GSC: Google Search Console (GSC) is a tool that displays the ranking of blog posts on Google's search results pages (SERPs). It can also show performance issues on a website, which might be an SEO roadblock. It's a great tool provided by Google to Bloggers.
Google Analytics: A website traffic tracking tool. It can also give you information on how people interact with your website, such as how long they spend on each page and how many posts they read.
Yoast SEO: A WordPress plugin that will provide you with a checklist of things to accomplish for your content to rank on search engine results pages (SERPs). It can also produce an XML sitemap to help search engines find the web pages more efficiently.
Grammarly: It's an excellent tool for writers since it highlights potential issues in the text and provides context-specific suggestions for grammar, spelling, use, wordiness, style, punctuation, tone, and even plagiarism.
Conclusion
We hope you've gained some helpful knowledge about the world of blogging from this article. If you've succeeded in starting a blog, the next step is to focus on the content to keep your prospective readers satisfied and interested.
If you've any questions or doubts, you can ask them in the comment section below, and we will reply to them at the earliest.