YouTube is the largest video-sharing network on the internet, with a huge amount of free content to watch. So, why is a premium version available, and what does it include?
YouTube Premium is a premium membership service on the platform. It succeeded YouTube Red and had various advantages, the most notable of which being the removal of all advertisements across all YouTube services. Here's what you receive when you subscribe to YouTube Premium:
Ad-Free Videos: There will be no annoying ad breaks on any content on any device registered into your Premium membership.
Background Play: With your screen locked, you can listen to long films, podcasts, and music.
Offline Playback: You can save videos and watch them later.
YouTube Music Premium: ad-free access to the exclusive music app and its million-song library.
YouTube Originals: ad-free Originals and access to premium content that isn't available anywhere else.
Although YouTube Originals were previously only available to Premium subscribers, many are now available to everyone. Granted, YouTube Premium is the only way to see them without ads.
How much does YouTube Premium cost?
You've probably seen the pop-ups promoting a free month trial of YouTube Premium by now, but how much does it cost once the trial period ends?
Three different options are available, with the regular plan costing $11.99 per month. There is also a $17.99 family plan. A special student plan of $6.99 is also available. There is no yearly plan available.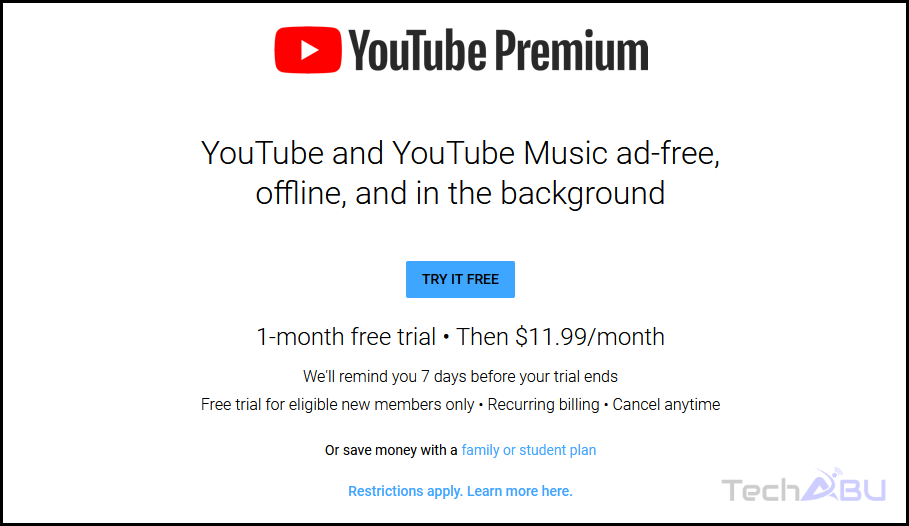 You will, of course, need to provide some student credentials for the less expensive plan, which offers an extended two-month free trial on top of the discounted pricing. The family plan includes coverage for up to five family members in the same household, making it the greatest value for individuals with children or bigger families.
Here are the plans in brief again:
Standard: $11.99/mo
Family: $17.99/mo
Student: $6.99/mo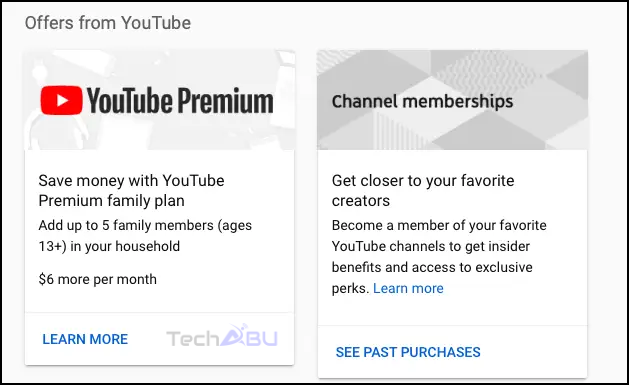 YouTube Premium Is Not the Same as YouTube TV:
Because the titles of YouTube's premium services are so similar, it's easy to get them mixed up. We've mentioned that YouTube Premium includes YouTube Music Premium and that you can sign up for YouTube Music Premium independently of YouTube Premium.
However, you should be aware that none of these services is the same as YouTube TV. YouTube TV is a television streaming service that allows you to view live television stations. It has a DVR and other functions related to TV streaming.
YouTube Premium does not grant access to YouTube TV, and YouTube TV does not contain YouTube Premium features. On the other hand, subscribers to YouTube TV get full access to YouTube Originals, as stated above.
Channel subscriptions are a separate YouTube subscription from Premium. These enable you to support a channel while also reaping a few perks directly. However, the benefits of YouTube channel membership do not include the removal of ads from a channel.
YouTube Premium Isn't Required
YouTube Premium has been available for a while, but it hasn't actually changed the way YouTube works. If you don't want to pay, you can still watch video content from your favorite channels as usual.
The most significant advantage of YouTube Premium is, without a doubt, the removal of all advertisements. If you watch YouTube on a daily basis, it may be worth the money only for that reason. If you want to catch up on your Watch Later list offline during a trip or flight, you can join for one month and then cancel. And as previously said, obtaining YouTube Music Premium is useful if you don't currently subscribe to a premium music service.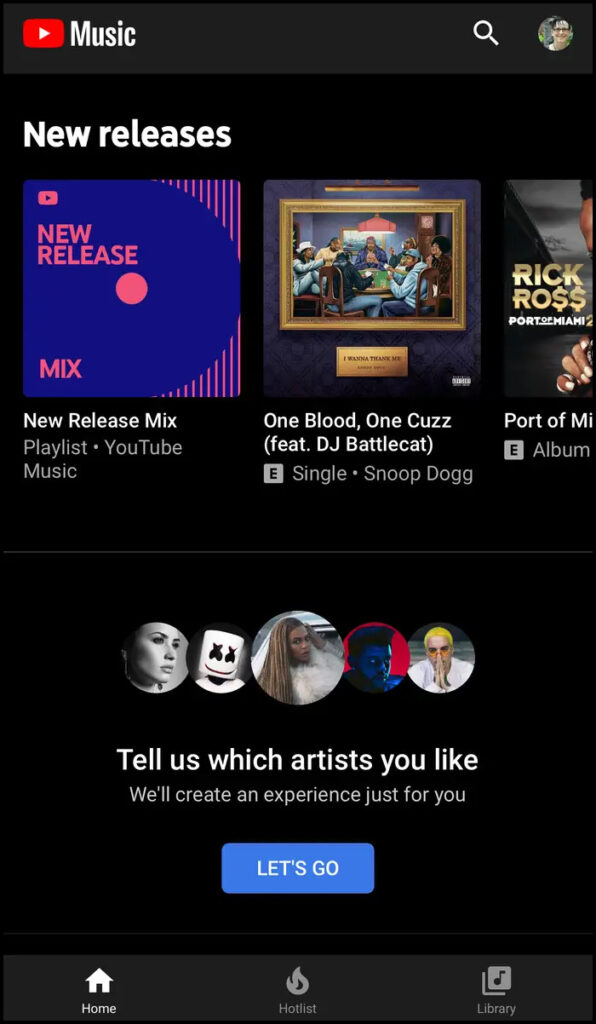 Otherwise, there isn't much need to pay for YouTube Premium. The majority of the Originals no longer require a membership. Cobra Kai, possibly the most popular YouTube Original, is now available on Netflix. And if you generally follow fewer channels, it's quite unlikely that any of them will be chosen to make a YouTube Original that will be available behind a paywall.
A Netflix membership gives significantly more high-quality series and movies than YouTube Originals for around the same price. Amazon Prime, which costs $10 per month if paid annually, provides access to Prime Video, Prime Music, free delivery, and other perks. In comparison, YouTube Premium appears to be far less appealing.
There's also an argument that sponsoring YouTube Premium helps YouTube gain control over traditionally user-generated content, which is what YouTube was all about in the first place.
How To Sign Up For YouTube Premium?
To join up for YouTube Premium, simply click on one of the many pop-up boxes for a free trial on YouTube on your computer or smartphone.
If you don't see a pop-up, try the following steps:
You must log in if you are not already logged in to YouTube.
Click on your Profile Picture.
Select Paid memberships from the option that appears.
On the following page, select YouTube Premium.
Even though the first month is free, you will be required to set up a payment method. You will not be charged if you cancel before the end of the month.
Download the app to access YouTube Music on your phone. You can sign in and start listening to music right away by tapping the music button in the YouTube app. To begin receiving personalized playlists, enter your music choices.
You may also use your computer's browser to view YouTube Music.
Should You Join YouTube Premium?
The fact is that YouTube Premium is a mixed bag that will only appeal to a select group of individuals. You don't require Premium if advertising doesn't annoy you. Premium isn't worth it unless you're a big fan of YouTube Originals. Furthermore, if you do not frequently use YouTube's mobile applications, you will not benefit from all of the Premium features.
However, if you want to get rid of YouTube advertisements and use YouTube Music Premium on a daily basis, YouTube Premium is a great choice. Whether you join the service or not, you can benefit from useful YouTube tips to get the most out of it.