A recent online survey conducted by Opinium Research for Direct Line revealed that WiFi has become an indispensable aspect of our daily lives. People rely heavily on this technology and consider it the most crucial component they cannot go without. Despite its significance, internet connectivity problems continue to persist on a global scale.
Introducing LiFi, a groundbreaking wireless technology that offers lightning-fast internet speeds up to 100 times faster than traditional WiFi connections.
LiFi revolutionizes internet connectivity by using light instead of radio waves to transmit data. With the flick of a light switch, high-speed internet becomes accessible, providing advantages like interference-free operation in sensitive environments like hospitals and airplanes and faster transmission speeds through higher bandwidth utilization.
LiFi technology is currently being developed by numerous organizations worldwide.
---
What is LiFi Technology?
LiFi, which stands for Light Fidelity, is an advanced technology that enables communication through light signals. After years of dedicated research and development, LiFi has evolved to provide users with a reliable, high-speed, secure, and health-friendly connectivity solution.
LiFi operates by modulating a light beam emitted from a transmitter device, which is connected to the Internet network through a wired connection. This light beam is then received by a receiver device, which can either be connected to another device or integrated directly into it. This innovative approach allows for efficient data transmission via light signals.
---
How Does LiFi Technology Work?
Imagine you're in a dark room, and someone outside is flashing a flashlight on and off to send you a message in Morse code. If the flashlight is on, it means one thing (say, "dot"), and if it's off, it means something else (say, "dash"). This is a simple way of communicating information, right?
Well, LiFi, short for Light Fidelity, is a bit like that, but instead of a flashlight and Morse code, it uses LED (Light Emitting Diode) lights and the language of computers – binary code, to send information. LED lights are those really efficient light bulbs you might have in your home.
Now, imagine you have an LED light in your room. When the light is on, it means "1," and when it's off, it means "0." This is binary code. But instead of turning the light on and off slowly like our flashlight, it can blink super quickly – millions of times per second, faster than the human eye can see. When we change the pattern of the light being on and off (the blinking), we can create different sequences of 1s and 0s, which is how computers talk to each other.
So, how do we get the internet from this? Well, suppose you're watching a cute cat video online. The video is sent from the internet as a sequence of 1s and 0s to your LED light. The LED light blinks in a specific pattern based on these 1s and 0s. Your computer or smartphone has a special sensor that can 'see' this blinking pattern and translate it back into the cat video. It's like your device understands the Morse code that the LED light is flashing.
And there you go, you have LiFi! You're using light to get internet. Cool, huh? But remember, because it uses light, if something blocks the light (like if you put a book in front of the LED light), your device won't 'see' the light and won't get the message. Also, it won't work in a room with the lights off because, well, no light, no LiFi.
---
Who Introduced LiFi Technology?
Dr. Harald Haas, a wireless communications expert with two decades of experience, introduced an innovative technology known as LiFi. In 2011, during his TED talk Global, he coined the term LiFi, which combines "light" and "fidelity." This name reflects the technology's reliance on light as a medium for wireless communication.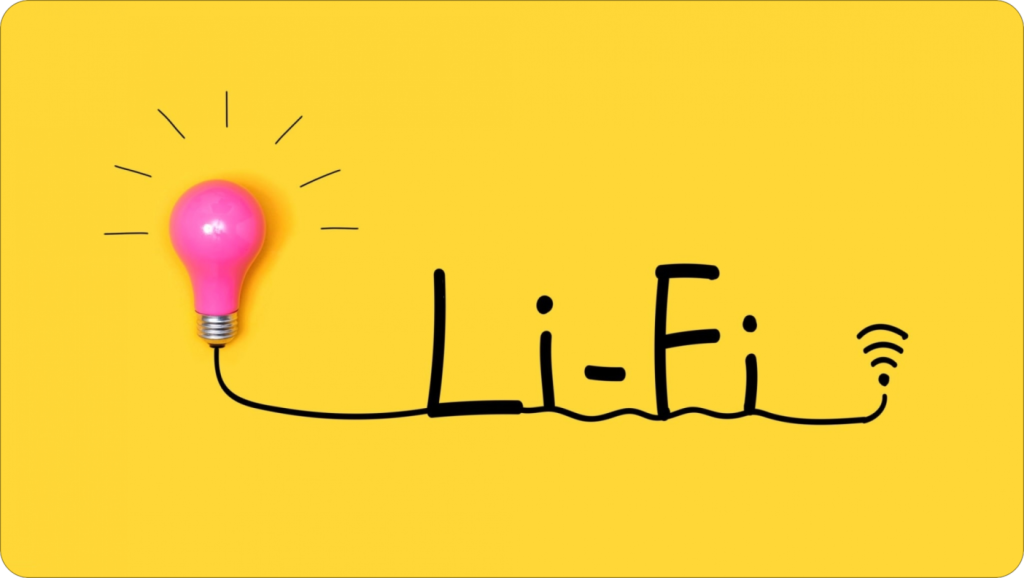 The choice of "light" emphasizes the fundamental role of light in transmitting data, while "fidelity" draws inspiration from the tradition of mid-20th-century technological acronyms, such as WiFi (Wireless Fidelity) derived from HiFi (High Fidelity).
Dr. Haas's groundbreaking work earned him recognition, including a listing in TIME Magazine's 50 Best Inventions in 2011.
---
| Advantages of LiFI | Disadvantages of LiFi |
| --- | --- |
| Speed: LiFi can provide faster data transfer speeds than traditional WiFi, which is like having super-fast internet that lets you download movies or large files in just a few seconds. | Limited Range: Since LiFi uses light to transmit data, it doesn't work through walls or other physical barriers. This is similar to how you can't see the light from a flashlight when you're in a different room with the door closed. |
| Density: LiFi can support more users in a given area without the signal clogging up. Think of it like having a big highway with many lanes, so many cars (or, in this case, data) can travel simultaneously without slowing down. | Light Dependency: LiFi requires light to operate, so it might not work well in bright sunlight or in dark conditions without artificial light. It's like trying to read a book in the dark or under too bright sun – you need just the right amount of light. |
| Security: Since light can't pass through walls, it's harder for someone outside your room to intercept or hack your internet connection. | Interruptions: Any object that comes between the light source and the receiver can interrupt the data transfer. Even something as simple as your hand or body passing through the light beam can cause interruptions. |
| No Radio Frequency Interference: LiFi devices don't interfere with radio signals. So, in places like hospitals or airplanes where WiFi can cause problems, LiFi could be a safer alternative. Imagine being able to use the internet on a flight without affecting the plane's communication system! | Infrastructure: While it's true that we have a lot of lights, they're not all equipped for LiFi. Upgrading them could be expensive and time-consuming. |
| Utilization of existing infrastructures: As lighting systems are installed everywhere, we can use them for lighting and data transmission. | Outdoor Use: LiFi is more suited for indoor use due to the issues with sunlight interference and the need for a direct line of sight. So while you might have great internet inside your house, you might not have the same experience in your backyard. |
| Environment-friendly: Light bulbs consume less power compared to RF signal towers, so LiFi could help reduce energy usage. | Compatibility: Currently, most of our devices are designed to use WiFi, not LiFi. We would need to equip them with special adapters or sensors or even replace them entirely. |
---
Conclusion
The rapid replacement of WiFi with LiFi is not a simple task and comes with its own set of challenges and costs. However, it is anticipated that LiFi will become accessible to the general public in early 2022.
A grocery store in France has already adopted LiFi technology to track customer locations within their premises, providing personalized coupons and incentives accordingly.
Recognizing the potential, Apple is reportedly making plans to equip their future devices with LiFi capabilities.
In addition to these developments, pureLiFi is actively engaged in various sectors such as defense, healthcare, lighting, IT infrastructure, telecommunications, and device integration. They are conducting research and working towards product development and commercialization.
LiFi is undeniably a technology of the future that has the potential to revolutionize businesses worldwide. However, it is important to acknowledge that not only businesses but also researchers, writers, and readers will greatly benefit from this fast internet technology.
The transition from WiFi to LiFi for enhanced communication is coming. It is crucial to prepare for this change as it approaches swiftly.