Analytics firm Similarweb has reported that Microsoft's search engine Bing, which integrated OpenAI's technology, experienced significant growth in page visits.
The integration of OpenAI's technology helped Bing compete better with Google, which currently leads the market in search engines. Before the integration, Bing was not frequently used for searches.
Data until March 20th reveals that Bing's page visits have increased by 15.8% since the launch of its AI-powered version on February 7th, while Google's page visits experienced a decline of nearly 1%.
These statistics indicate Microsoft's advantage over Google in the competitive pursuit of generative AI dominance. This is due to the integration of OpenAI's ChatGPT technology, which has been referred to as the "iPhone moment" for AI by industry experts.
The data also highlights a unique opportunity for Microsoft to gain ground in the search market, valued at over $120 billion and largely dominated by Google for many years, holding a share of over 80%.
DA Davidson & Co analyst, Gil Luria, predicts Bing will capture a larger search market share in the upcoming months. This is especially likely if Google continues postponing generative AI implementation into their product.
Although Bing's AI has been accessible to most users globally since February, Google only recently began to make its chatbot, Bard, publicly available, starting on Tuesday.
According to Luria, "Bing has less than a tenth of Google's market share, so even if it converts 1% or 2% of users, it will be materially beneficial to Bing and Microsoft."
Data.ai, an app research firm, reports that app downloads for Bing have increased by eightfold worldwide since the integration of AI technology. In contrast, during the same period, app downloads for Google Search declined by 2%.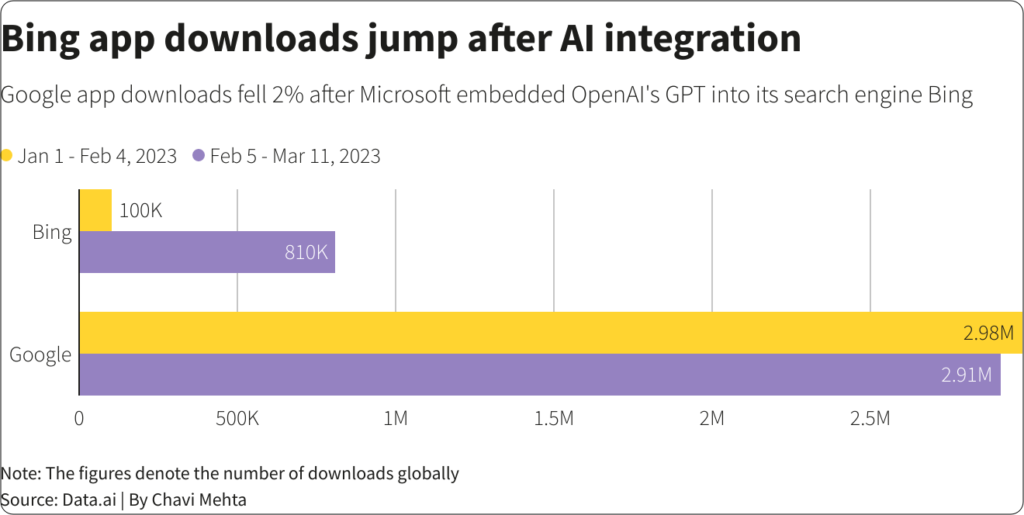 Despite the recent setbacks, some analysts believe that Google, which became the dominant search engine after surpassing Yahoo in the early 2000s, has the potential to overcome these challenges and retain its lead in the market.
Yongjei Jeong, an analyst at Mirae Asset Securities in South Korea, stated, "Google's ranking algorithm can have a competitive edge over that of competitors." He referred to how Google's algorithm was instrumental in surpassing Yahoo Search in the past.