WhatsApp is testing a new feature enabling users to hide specific chats. This update introduces the ability to set a secret code, allowing users to keep selected conversations hidden from their main chat list.
As of now, WhatsApp lets you reveal hidden chats by swiping down in the chat list. However, the upcoming feature will take this further by preventing these chats from appearing until the secret code is entered.
Additionally, WhatsApp is in the process of creating a feature that will enable users to set a username for channels.
Once you've updated to WhatsApp beta for Android version 2.23.24.20, the new feature allows you to establish a secret code for hidden chats within the messaging app.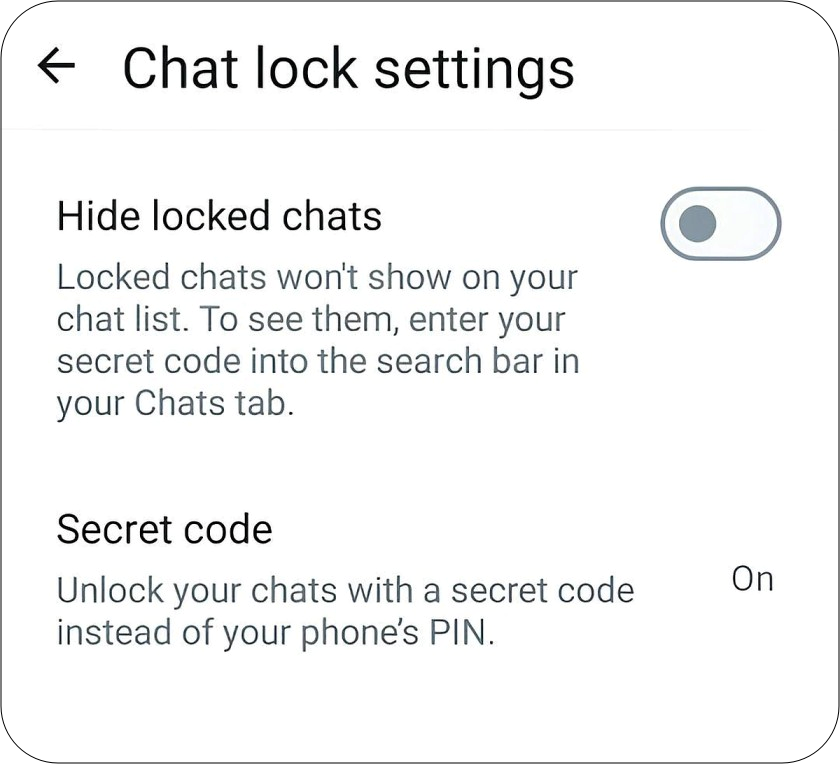 To activate this feature,
Open WhatsApp and go to the list of locked chats.
Tap the three-dot menu in the top right corner.
Select "Chat lock settings" from the menu.
Toggle the option to "Hide locked chats" on or off.
If you turn the option on, you will be prompted to enter a secret code.
Enter a secret code that you will remember and tap "OK."
Note: It's important to note that WhatsApp emphasizes selecting a memorable code, as resetting it will result in the clearance of all locked chats.
Once you've hidden your locked chats, they won't appear in the Locked Chats category when you swipe down on the home screen.
To access the hidden (and locked) chat list, you'll need to enter the secret code directly into the search bar.
This additional layer of security ensures that only those with the correct code can reveal and access the hidden chats.
The introduction of the hide locked chats feature serves as a safeguard, making it more challenging for someone using your phone to discover the presence of locked chats. Instead of simply swiping down, they would need to enter your secret code to access the hidden chats.
If you prefer to return to the previous locking mechanism that secured chats with your fingerprint, you can easily do so by toggling off "Hide locked chats." Follow the mentioned steps, enter your secret code, and your locked chats will reappear with a simple swipe down on the main chat list.
In the meantime, WABetaInfo, a feature tracker, has identified an upcoming development where users will soon have the ability to assign a username to their channels on WhatsApp.
This feature will enable channel subscribers to access the channel by entering the designated username.
It's worth noting that this feature is currently in the developmental phase, and beta testers will have to wait until it is officially released on the beta channel at a later date to explore and try it out.