YouTube is a popular place to watch videos, music, and your favorite creators. You can use it for free, but you'll see ads. If you don't want ads and want to watch videos without interruptions, you can pay for YouTube Premium.
Some people decide not to pay for YouTube Premium and instead use free ad-blockers to avoid ads on YouTube. However, YouTube has started to limit the use of these ad-blockers, and they are now making a global effort to stop these extensions. This means that users may have to either subscribe to YouTube Premium or watch ads on the site.
Based on a report in The Verge, YouTube is making a bigger push to make ad blockers less useful on its platform. Christopher Lawton, the communications manager at YouTube, mentioned that they have started "a global effort" to encourage users to either enable ads or sign up for YouTube Premium.
The official statement from the platform states, "The use of ad blockers violates YouTube's Terms of Service. We've launched a global effort to urge viewers with ad blockers enabled to allow ads on YouTube or try YouTube Premium for an ad-free experience. Ads support a diverse ecosystem of creators globally and allow billions to access their favorite content on YouTube."
YouTube is now stopping videos from playing if you have ad-blockers turned on. When you try to watch a video, you'll see a message that says, "Video playback is blocked unless YouTube is allowlisted or the ad blocker is disabled." This message also gives you the option to either allow ads or consider using YouTube Premium.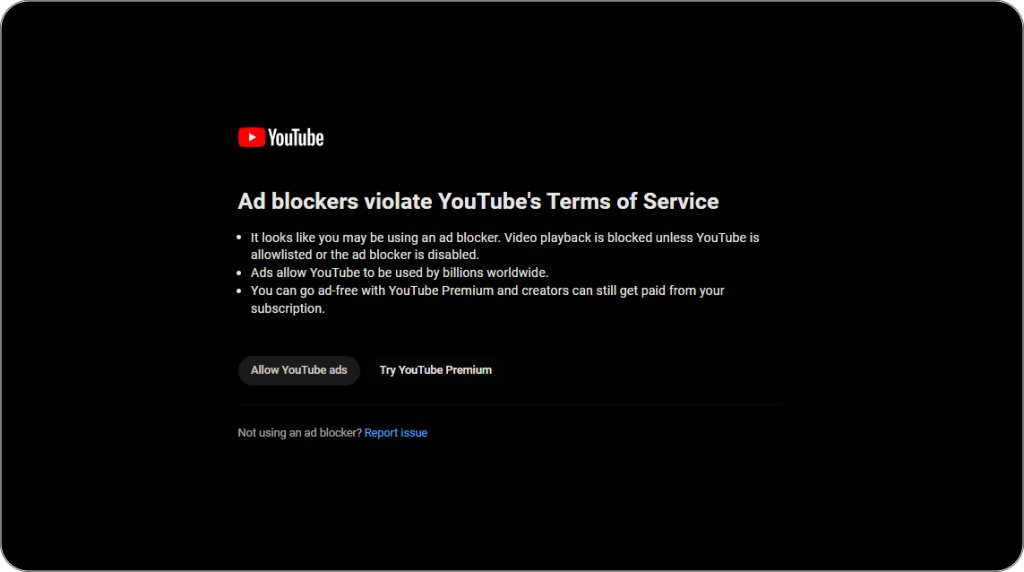 In June, YouTube announced that it was trying out a three-strike rule for users who use ad-blockers. YouTube had stated that it was conducting a "small experiment" worldwide to prompt users to either enable ads or explore its ad-free Premium subscription.
In May, during its Brandcast 2023 event, YouTube revealed that they were adding 30-second ads to YouTube Select on smart TVs. Instead of displaying two 15-second ads, viewers in the United States would now see a single, non-skippable 30-second ad.
The platform had been testing video blocking for users with ad blockers turned on. Now, it appears that their efforts have grown, and many users can't play videos on the platform if they have ad blockers enabled.
YouTube Premium offers three subscription plans:
Individual plan at $13.99 per month.
Family plan at $22.99 per month.
Student plan at $7.99 per month.
All plans come with a 1-month free trial.
The Individual plan is for a single user and includes all of the features of YouTube Premium, such as ad-free videos, background play, offline downloads, and YouTube Music Premium.
The Family plan is for up to 5 family members (ages 13+) in the same household. Each member gets their own YouTube Premium account and all of the features of the Individual plan.
The Student plan is for eligible students only and requires annual verification. It includes all of the features of the Individual plan at a discounted price.
YouTube Premium also offers an annual subscription option for the Individual plan. The annual subscription is $139.99, which saves you 15% compared to the monthly price.