An HDD, or Hard Disk Drive, is a fundamental computer component responsible for data storage. HDDs are non-volatile memory. Non-volatile memory means that the data remains stored even when the power is turned off.
HDDs are commonly found in desktop computers, mobile devices, and various electronic gadgets, as well as in the storage systems used in big data centers. They use magnetic disks to store operating systems, software, and other important data.
They are a primary or secondary storage solution for a computer and are usually located in the drive bay inside your computer.
To communicate with the computer, they use different types of cables like ATA, Serial ATA, parallel ATA, or SCSI. These cables connect the HDD to the computer's motherboard.
Additionally, the HDD requires power from the computer's power supply unit to function properly, and it can store your data even when the computer is turned off.
A hard disk drive, often abbreviated as a hard drive, and a hard disk are not exactly the same, but they are often bundled together as one unit. So, You can use either term to refer to the entire unit.
---
Why Do Computers Need a Hard Disk Drive (HDD)?
Computers need hard disks to store operating systems, programs, and other important files. These devices can keep data even when the computer is off. Without them, we couldn't save anything on our computers. That's why every computer needs at least one storage device to hold onto our stuff for as long as we want.
---
How Do Hard Disk Drives Work?
A typical HDD design consists of a spindle that holds flat circular disks, also called platters, which hold the recorded data. HDD platters are spun at speeds varying from 4,200 rpm to 15,000 rpm for high-performance servers. Today, most HDDs operate at the speed of 7,200 rpm.
Information is written to and read from a platter as it rotates. The read-and-write head is used to detect and modify the material's magnetization immediately under it.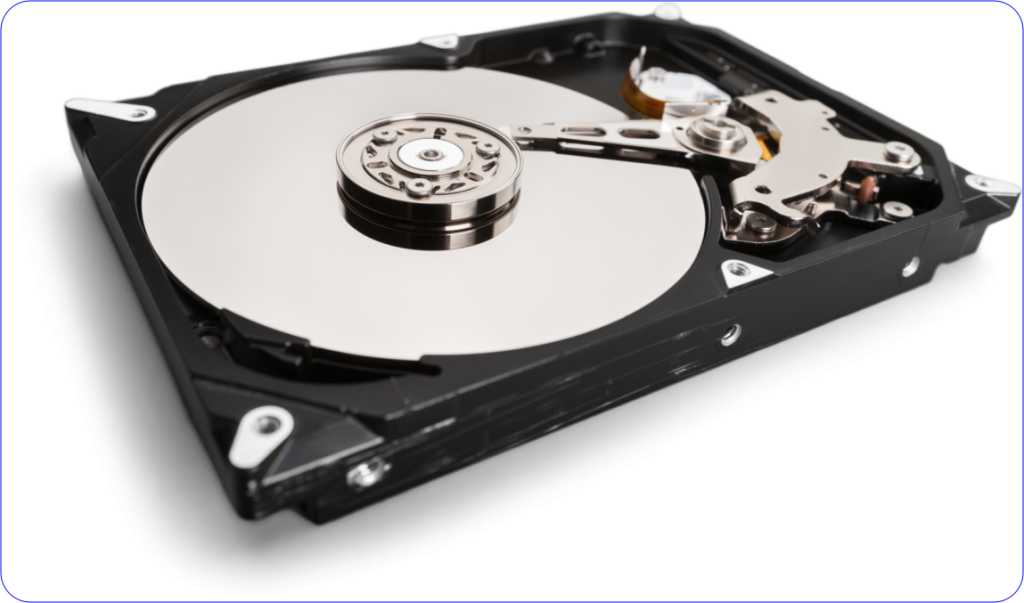 An actuator arm (or access arm) moves the heads on an arc across the platters as they spin, allowing each head to access almost the entire surface of the platter as it spins.
A typical HDD has two electric motors: a disk motor that spins the disks and an actuator (motor) that positions the read/write head assembly across the spinning disks.
The surface of the disk is divided into tracks and sectors before writing data.
Tracks are concentric circles (circles within circles). The data bits are recorded as tiny magnetic spots on the tracks.
Sectors are the further divisions of tracks, which hold a block of data that is read or written at one time. Modern disks have more sectors in the outer tracks than the inner ones because the outer radius of the platter is greater than the inner radius.
---
Storage Capacity of Hard Disk Drives
The following are some of the most common hard disk drive capacities:
You can often find hard disk drives with sizes like 16 GB, 32 GB, and 64 GB. These are considered small and are usually found in older or smaller devices.
Hard disk drives with capacities of 120 GB and 256 GB are often seen as a starting point for devices like laptops and computers that use traditional hard drives (HDDs).
500 GB, 1 TB, and 2 TB are popular storage sizes. For everyday users, having at least 500 GB of HDD storage is usually sufficient to store music, photos, videos, and other files. However, if you play games that require a lot of space, you might find 1 TB to 2 TB of storage more suitable.
Storage drives with capacities exceeding 2 TB are a good choice for individuals working with high-resolution files, those needing to store a massive amount of data, or those wanting extra space for backup and security.
The largest capacity you can find in HDDs today is around 20 TB. But, it's important to know that the actual usable space is a bit less than what's advertised because the operating system, file system structures, and certain data redundancy processes take up a portion of that space.
---
Form Factors and Hard Disk Drive Components
The main components of a hard disk drive (HDD) include:
Spindle: This is like the HDD's motor. It spins the disk platter.
Disk Platter: These are the actual disks where data is stored. They're stacked on top of each other.
Actuator: This component helps position the read/write head accurately.
Actuator Arm: It's the arm that moves the read/write head.
Read/Write Head: This is what reads and writes data on the electromagnetically charged surface of the disk platter.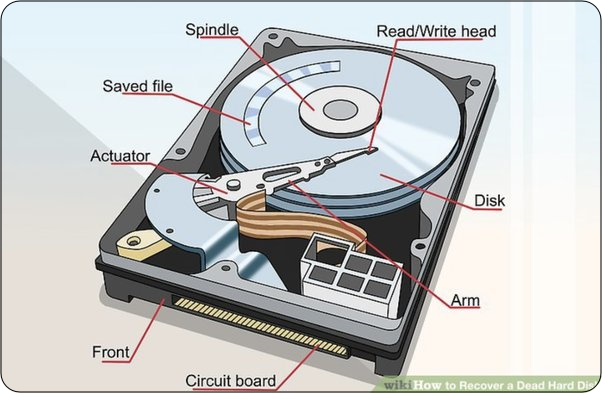 When people say "hard disk," they're usually talking about the stack of disks where data is stored on the HDD.
The term "HDD form factor" describes a data storage device's physical size and shape. It adheres to industry standards that specify its dimensions (length, width, and height) and the location and orientation of the connector that links it to a computer. These industry standards ensure compatibility with various computing devices, making it easier to use the storage device across different systems.
The two most common HDD form factors in enterprise systems are the 2.5-inch and 3.5-inch sizes, often called small form factor (SFF) and large form factor (LFF). These measurements correspond to the diameter of the platter contained within the drive enclosures.
By 2009, manufacturers had ceased producing products with 1.3-inch, 1-inch, and 0.85-inch form factors. The decreasing cost of flash storage made these alternative form factors nearly obsolete. It's worth mentioning that although these sizes are described in inches, their actual measurements are specified in millimeters.
Many solid-state drives (SSDs) are designed to fit into the same form factors as HDDs. These SSDs typically use either the SATA or serial-attached SCSI (SAS) interface to transfer data between the drive and the host computing system. This allows users to upgrade their existing HDD-based systems with faster SSDs without needing to change the physical size or shape of the drive.
---
External HDDs: What are They?
While most HDDs are typically found inside a computer and operate as described earlier, individuals can also buy external hard drives.
These external hard drives serve two primary purposes: they can increase a computer's storage capacity and act as portable devices for backing up data.
External drives connect to a computer or device using interfaces like USB 2.0, USB-C, or External SATA (eSATA). It's important to note that external hard drives may have slower data transfer rates than internal HDDs.
One of the primary benefits of an external hard drive, in addition to increasing a device's storage capacity, is its portability. Users can store data from various devices and carry it wherever they need.
---
History of Hard Disk Drives
The hard disk drive was invented in 1953 by IBM engineers who aimed to offer cost-effective random access to large amounts of data. The initial disk drives were massive, about the size of refrigerators, and had a storage capacity of 3.75 megabytes. They became available for purchase in 1956. Other early pioneers in hard disk drive technology included companies like Memorex, Seagate Technology, and Western Digital.
As technology advanced, the size of hard disk drive form factors continued to shrink. By the mid-1980s, the 3.5-inch and 2.5-inch form factors were introduced and quickly became the standard in personal computers.
The density of hard disk drives has significantly increased since their initial development. The earliest HDDs could only store megabytes of data, but today, they can hold terabytes of data. For example, Hitachi Global Storage Technologies (HGST), now part of Western Digital, introduced the first 1 TB hard drives in 2007.
In 2015, HGST announced the first 10 TB hard drive, and in 2021, Western Digital unveiled two 20 TB HDDs, demonstrating the remarkable growth in storage capacity over the years.
---
Evolution and Technology Development of HDD
In 2013, Seagate Technology introduced hard disk drives utilizing a technology known as shingled magnetic recording (SMR). SMR enhances the storage density in hard disk drives by arranging the magnetic tracks on each disk in a layered fashion instead of positioning them side by side in parallel. This approach is called "shingled" because the tracks overlap, resembling the way shingles are arranged on a roof.
In 2012, HGST made a breakthrough by creating the first hard drive filled with helium instead of regular air. Helium is a gas that's lighter, cooler, and takes up less space than the air we breathe. Using helium in hard drives makes them more efficient because they use less power, hold more data, and work better than the older ones. In 2016, Seagate also introduced its own 10 TB helium-filled hard drive.
In 2021, Western Digital, a company that makes hard drives, introduced two massive 20 TB HDDs: the Ultrastar DC HC560 and WD Gold HDD Enterprise-Class SATA HDD. Right now, 20 TB is the biggest size you can get for an HDD. Both of these hard drives are the standard 3.5 inches in size, but they serve different purposes.
The Ultrastar DC HC560 is intended for cloud storage providers and is used in business servers, security systems, and network-attached storage devices.
On the other hand, the WD Gold HDD is designed for big businesses that need to run demanding applications and workloads.
---
HDDs vs. SSDs: What's The Difference?
Solid-state drives (SSDs) are the primary alternative to hard disk drives (HDDs).
SSDs differ from hard disks in that they don't have any moving components. They also tend to have lower latency, making them a preferred choice for storing important data that requires quick access and for applications with high input/output demands.
SSDs are designed to provide fast read/write speeds for both sequential and random data requests. Unlike HDDs, SSDs don't store data magnetically, ensuring consistent read performance, no matter where the data is located on the drive. SSDs also offer faster boot times, contributing to quicker system startup.
Due to the advantages of faster performance, durability, and lower vulnerability to breakdowns, HDDs are gradually being replaced by SSDs in many applications.