Microsoft is integrating ChatGPT-like technology into its search engine, Bing, changing the way it operates and enabling it to compete with Google by providing a new way to communicate with AI.
Microsoft is attempting to modernize its second-best search engine to gain a competitive edge versus other tech giants in harnessing the enthusiasm of people worldwide for ChatGPT. This AI tech breakthrough has opened up a realm of possibilities.
On Tuesday, Microsoft announced the latest chatbot technology at an event in its headquarters in Redmond, Washington.
This new technology will be integrated into the Edge browser and added to Bing.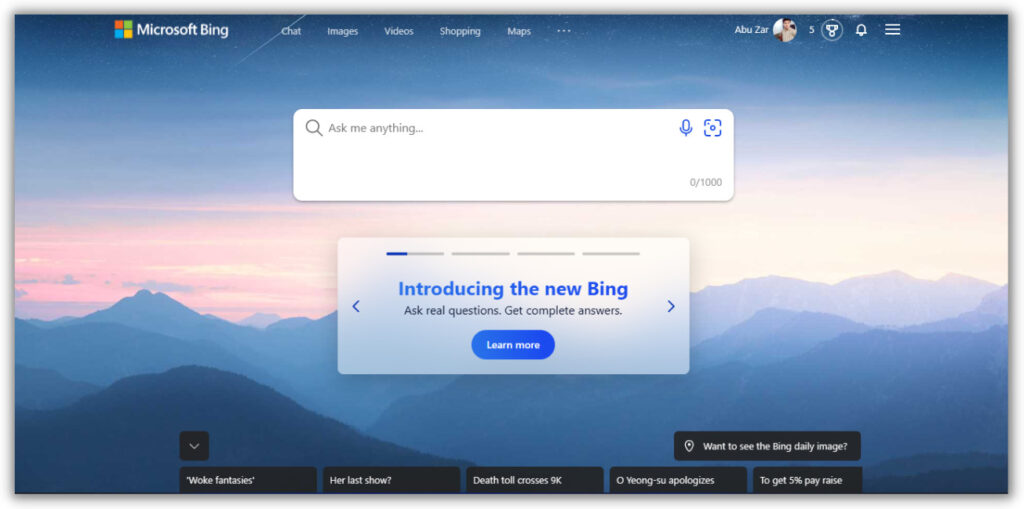 "Think of it as faster, more accurate, more powerful than ChatGPT," Yusuf Mehdi, head of Microsoft's consumer sector, stated in an interview. He added that the technology is from OpenAI's ChatGPT but is tailored to fit search inquiries.
On Tuesday, a public preview of the new Bing was made available for people who have registered for it on desktop devices.
According to Mehdi, the technology will soon be accessible to millions of users and available on smartphones' Bing and Edge browsers.
For now, limited queries can be tried out by everyone.
Microsoft's ties with OpenAI have been growing for quite some time, beginning with their billion-dollar investment in 2019.
This investment enabled the building of a supercomputer geared towards training the San Francisco-based AI company's models.
ChatGPT has an impressive command of language and grammar, which it has acquired by ingesting an enormous amount of digitalized books, Wikipedia articles, encyclopedias, how-to guides, newspapers, and other online written works.
CEO of Microsoft, Satya Nadella, stated on Tuesday that Artificial Intelligence advancements would have a profound effect on every type of software, similar to how personal computers and cloud computing did.
He emphasized the importance of creating AI which respects human preferences and social conventions, which cannot be achieved in a laboratory but needs to be done in the real world.
The development of conversational search engines — instead of providing links to other sites, they can accurately answer queries — could have a major effect on the advertisement-driven search industry but also raise concerns if the AI technology fails to provide correct information.
It is also difficult to locate the original human-created pictures and texts that the AI is essentially memorizing, even though the recent Bing includes labels that refer to the source data.
The bottom of Bing's new homepage preview has a disclaimer that says, "Bing is powered by AI, so surprises and mistakes are possible." "Make sure to check the facts."
Mehdi provided an example of how the new Bing works by asking it to compare the most influential Mexican painters. It gave typical search results but also displayed a fact box on the right side of the page that summarised details about Diego Rivera, Frida Kahlo, and Jose Clemente Orozco.
He also demonstrated its capability by taking a quiz about 1990s-era rap to distinguish between the song "Jump" by Kris Kross and "Jump Around" by House of Pain. Lastly, Mehdi illustrated how Bing could plan a vacation or facilitate shopping.
According to Gartner analyst Jason Wong, new technology developments may reduce the consequences of what led to Microsoft's disastrous 2016 launch of the experimental chatbot Tay, which users trained to spout racist and sexist remarks.
However, Wong warned that if Bing returns inaccurate answers or "AI hallucinations" that mix and jumble facts, "reputational risks will still be at the forefront" for Microsoft.
Sundar Pichai, CEO of Google, has responded to the increasing popularity of ChatGPT by introducing a new conversational service called Bard. This will be selectively available to a chosen group of "trusted testers" ahead of being widely available later this year.
Wong claimed that although the popularity of ChatGPT took Google off guard, Google still has an advantage over Microsoft in consumer-facing technologies and that Microsoft has an advantage in marketing to enterprises.
Chinese media said that Chinese internet giant Baidu also announced this week the release of a similar search chatbot later this year. Microsoft's most recent steps aim to place it at the center of the ChatGPT zeitgeist despite similar technologies being developed by other tech rivals like Facebook parent Meta and Amazon.
Microsoft revealed in January that it was investing billions more in OpenAI to integrate the technology behind ChatGPT, the image-generator DALL-E, and other OpenAI innovations into various Microsoft products linked to its cloud computing platform, its Office suite of workplace products, including spreadsheets, and email.
The integration with Bing, which ranks second in many markets but has never seriously challenged Google's dominant position, maybe the most surprising aspect.
Years before taking over as CEO, Nadella ran Bing for a while. Bing was a rebranding of Microsoft's older search engines. When Yahoo and Microsoft agreed to have Bing run Yahoo's search engine, providing Microsoft access to Yahoo's search market share, its significance was increased.
Similar agreements integrated Bing into the search engine for products manufactured by other companies, though customers might not be aware that Microsoft was handling the search engine queries.
The new version of Bing is now only available for desktops and does not yet have an interface for smartphones, where most people now access the internet. However, by making it a destination for ChatGPT-like conversations, Microsoft might encourage more users to give Bing a try.
A Bing integration appears to be very different from what OpenAI has in mind for its technology, at least on the surface. The new Bing experience "looks fantastic," said OpenAI CEO Sam Altman, who spoke at the Microsoft event.
It is based on lessons learned from its GPT series of massive language models. He said that getting OpenAI technology "into the hands of millions of people" is a primary motivation behind his startup's partnership with Microsoft.