According to Bloomberg News, Instagram, owned by Meta Platforms, is reportedly working on a text-based application that will directly rival Twitter. The app is expected to be launched as early as June, per sources familiar with the situation.
As per the Bloomberg report, the parent company of Facebook is currently in the testing phase of the text-based app with influencers and select creators.
Upon Reuters' request for comment, the company did not respond immediately.
As mentioned by Alex Heath in a newsletter, Meta has been reaching out to talent agencies and celebrities to gauge their interest in testing an early version of the app. This app will be integrated with Instagram, offering a seamless experience for users.
Lia Haberman, a social and influencer marketing instructor at UCLA in California, stated in her newsletter, "The decentralized app is built on the back of Instagram but will be compatible with some other apps like Mastodon."
According to the report, Meta has secretly made the new app available to a chosen group of creators for several months. While the app is separate from Instagram, it will still allow individuals to connect their accounts.
Lia Haberman's screenshot reveals that the upcoming app will enable users to connect with their friends through various means, including text messages, shared links, photos, and videos. Additionally, fans will have the convenience of easily joining the accounts of the influencers and creators they follow on Instagram with a simple tap.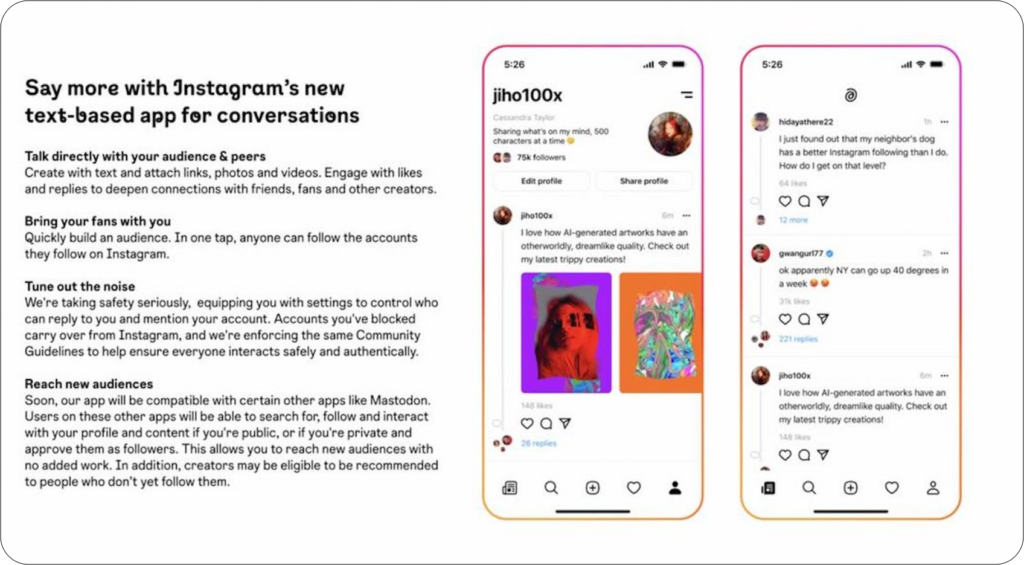 To enhance security, the app is undergoing updates to implement stricter measures. As part of these measures, blocked users on Instagram may soon be automatically carried over to the new app, ensuring the privacy of user accounts.
Furthermore, the developers of this new app are also focusing on establishing compatibility with Mastodon, a platform that competes with Twitter.