WordPress is an excellent choice for building a magazine website. It now powers more than 40% of all websites on the internet.
Content-rich websites require various designs that enable them to prominently display both new and important content. WordPress magazine themes are made specifically for this purpose.
You'll need web hosting and a domain name to create a news magazine website with WordPress. A domain name, such as techabu.co or youtube.com, is the web address for your website. Web hosting stores all of your website's files.
There is generally a lot of content on magazine sites, including pictures and videos. This is why you must find a WordPress hosting company that provides enough space to upload all of your files while properly handling your traffic.
If you are just starting, we recommend you read our article on the Best Web Hosting Providers that will help you select the best hosting for your website.
We'll go over some of the top WordPress magazine themes in this article to help your content stand out.
---
#1. Soledad
Soledad began as a WordPress theme for blogging and news. Soledad is definitely worth a closer look if you're in the middle of developing a dynamic blog or content-rich website.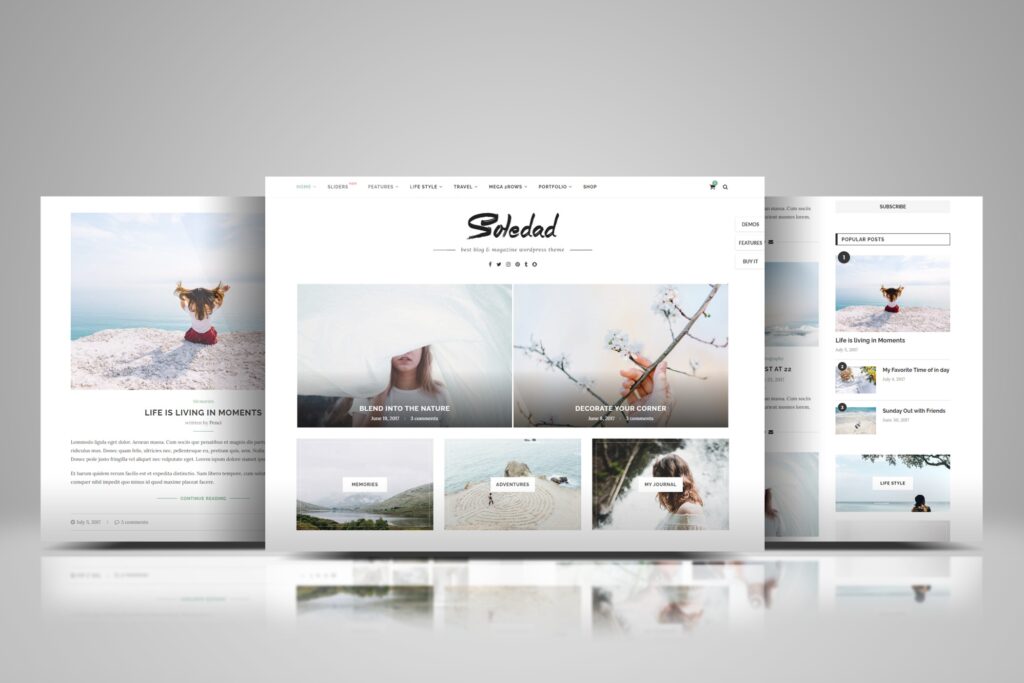 However, since Soledad version 3, it has become a much more well-rounded and feature-rich theme. Soledad should be considered by anyone developing any website using WordPress, including eCommerce stores, because of the enormous amount of demos, page templates, and layout possibilities that have been included.
You can create any website using Visual Composer, a drag-and-drop page builder, WordPress Customizer, or a combination of all three. Visual Composer, a paid plugin, is included for free with your purchase, implying that the Soledad theme has a terrific value.
---
#2. Newspaper
Themes that are built for a certain purpose and consider the needs of a specific user are frequently the finest. Newspaper is a sample of such a theme; it was developed with news and magazine websites in mind.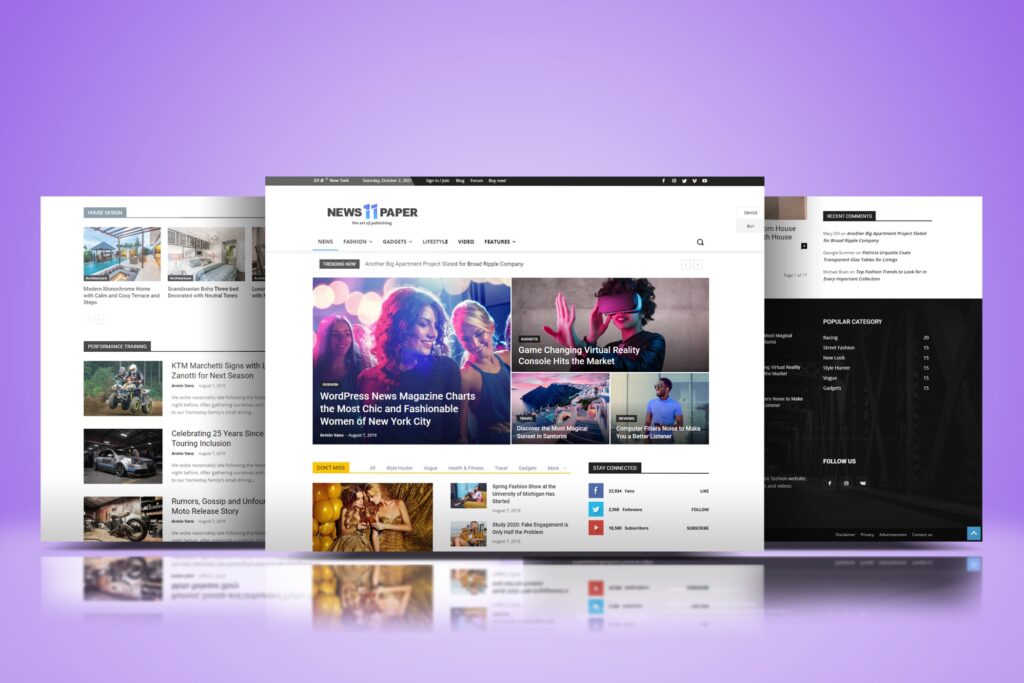 Newspaper is accessible to beginner users while still providing plenty of professional-level capabilities, with over 85,000 satisfied clients and counting. It's a mobile-friendly theme that focuses on performance and utility while being quick and minimalistic. It can also handle a lot of content and high-resolution photos while keeping load times to a minimum.
There are dozens of weather, social media, exchange markets, and other news-related widgets available. There's also an integrated rating system and the ability to embed videos from the internet. Finally, Newspaper is fully designed for Google AdSense and has a system that automatically detects advertising and makes them responsive right away.
---
#3 – Bimber
BIMBER is a dynamic magazine WordPress theme that is designed to engage and entertain users while managing viral and buzz content. This fully configurable WordPress theme comes with many cool features for presenting videos, articles, and photos to your audience.
You can make cool listicles, display stylish badges for popular, hot, and trending topics, and provide powerful sharing buttons to make it easy for website users to share your material. BIMBER theme is fully responsive, retina-ready, and SEO optimized for maximum speed.
---
#4 – Jannah
When it comes to news reporting, it's all about reputation. Although it should be focused mostly on your journalistic work, the visuals on your website also play a role. Thankfully, there is a theme called Jannah that can help you stand out.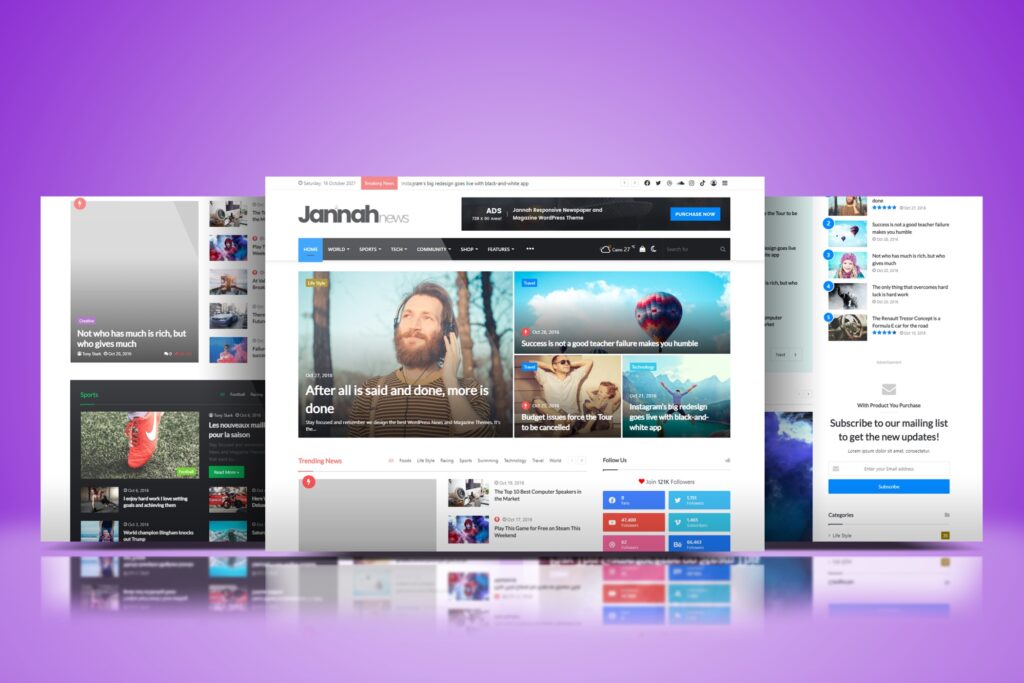 The developers of this theme cared about helping you get your site up and running efficiently. There are many demo templates to pick from, all of which can be installed with just one click and cover a wide range of topics. You can use the built-in drag-and-drop page builder to further personalize your layouts (or create your own from the start).
While many other themes end there, Jannah goes above and beyond with clever embellishments that could seal the deal. There's an option to automatically delete duplicate content, which could hurt your website's SEO. This theme also contains desktop notification capability, allowing your regular users to receive breaking news without having to visit your website.
---
#5 – SmartMag
SmartMag is an outstanding WordPress theme for developing news websites with a broad number of features. Because this theme has been a popular choice for creating content-rich websites for a few years, It has not only grown its user base, but it has also grown in terms of the features offered and the types of news websites it can support.
Even a simple look at the changelog demonstrates how much this theme has been updated and upgraded since its initial release. However, checking the website demos that come with this theme is an excellent place to start if you truly want to learn more about SmartMag. When you purchase SmartMag, you'll be able to try out the 15 ready-made news website demos that you'll be able to import into your WordPress dashboard.
You can easily adapt the demos thanks to SmartMag's flexibility. Furthermore, if you're working on a travel news website but like the design of the sports website demo, for example, it won't take much time or effort to tweak it to fit your needs. You can even further tweak the examples by using the supported Elementor page builder to make them as unique as you like.
---
#6 – PenNews
It's essential to establish a home page for a news website that features a selection of visually appealing content. Many news themes, on the other hand, aren't developed with minimalism in mind. You can avoid this pitfall by using PenNews.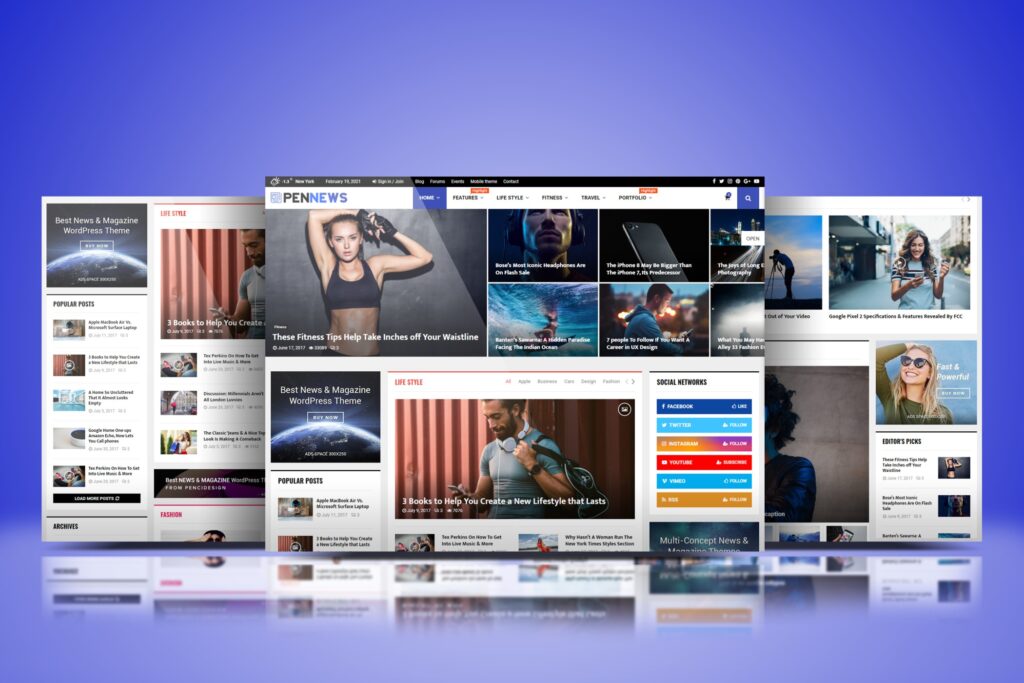 The integrated WPBakery Page Builder plugin (previously Visual Composer) allows you to easily arrange your site elements using a drag-and-drop interface right out of the box. The ConvertPlug plugin comes included with PenNews and is highly handy for growing and managing your email subscriber list.
What distinguishes PenNews apart from the competition is the vast amount of layout customization options available to you. You can choose from over 40 different content block types, ten grid layouts, and various bespoke video playlists and gallery styles.
---
#7 – Zeen
When maintaining a news website, you need a theme like Zeen that is both aesthetically beautiful and functionally optimized. This next-generation news and magazine theme features a stunning design that is more up-to-date and slick than other alternatives. It comes with 30 pre-built premium sites that can be used for everything from blog sites to full-fledged online newspapers.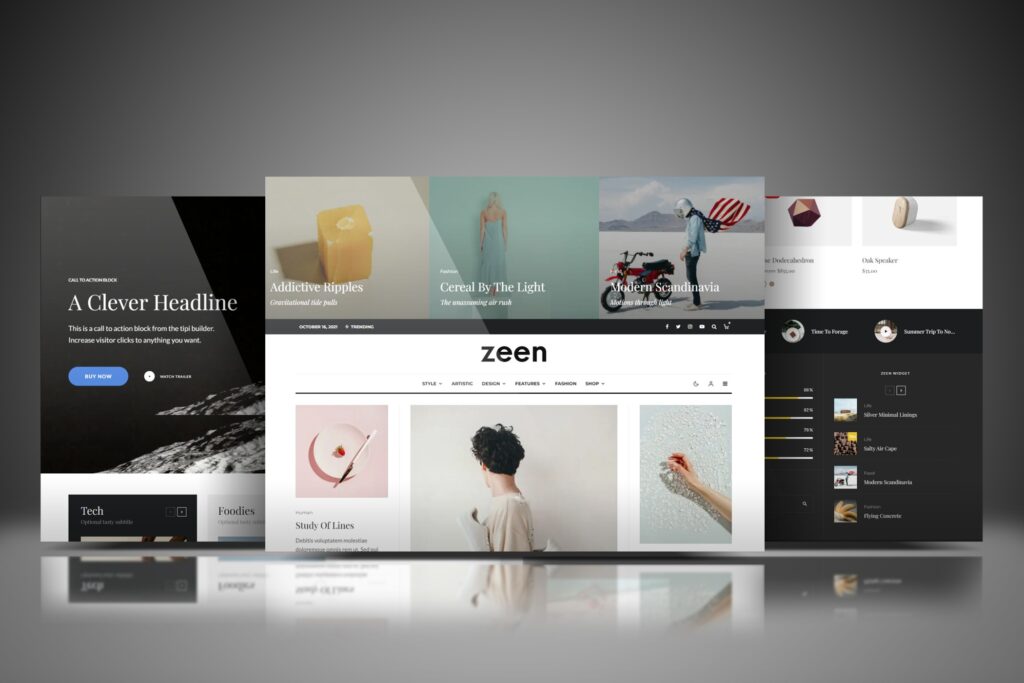 Zeen is built to work with WooCommerce, allowing creating a shop for your news site a breeze. This theme is highly customizable and has been speed and SEO optimized. It also includes unique elements to news sites, such as sponsored post spaces, different advertising places, and clickable background advertisements.
Zeen is a fast, sleek, and contemporary news theme that can be the appropriate fit for you.
---
#8 – Networker
If you want to start a website where you can review gadgets and other comparable things and share the latest tech news, Networker provides many features you'll appreciate. Networker includes six website demos, each focusing on a different form of tech news, such as designs for apps, startups, and creative news, to mention a few. However, because this theme is so versatile, you don't have to use the demos for the objectives they were designed for. There's a good probability that this theme and its templates would work well for any aspect of tech news that you'd like to cover.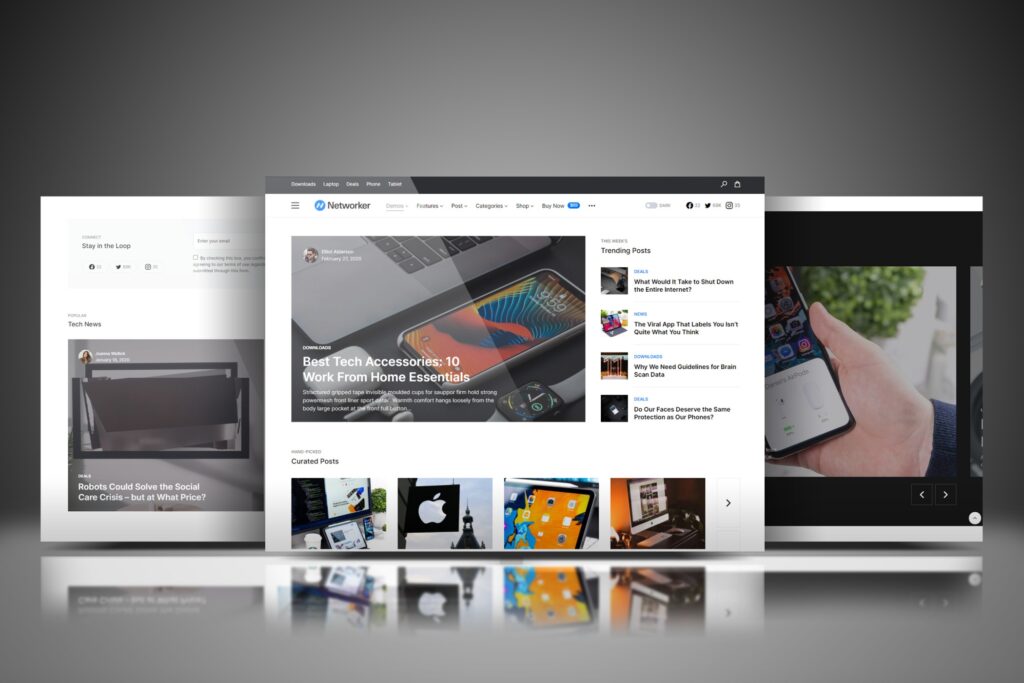 Networker provides several essential features to make your news website more user-pleasant, in addition to a big library of themes. The ability to autoload the next article once a visitor reaches the end of the current piece of content they're reading, a live search tool to help readers find what they're looking for, and social media integration to help you display more useful content on your site are just a few examples of these features. Google AdSense integration is also available, making it simple to monetize your site.
---
#9 – The Issue
On your news website, you'll most likely be publishing a lot of regular content. As a result, you'll need a theme that's both adaptable and simple to utilize. The Issue, fortunately, passes each of these standards with flying colors.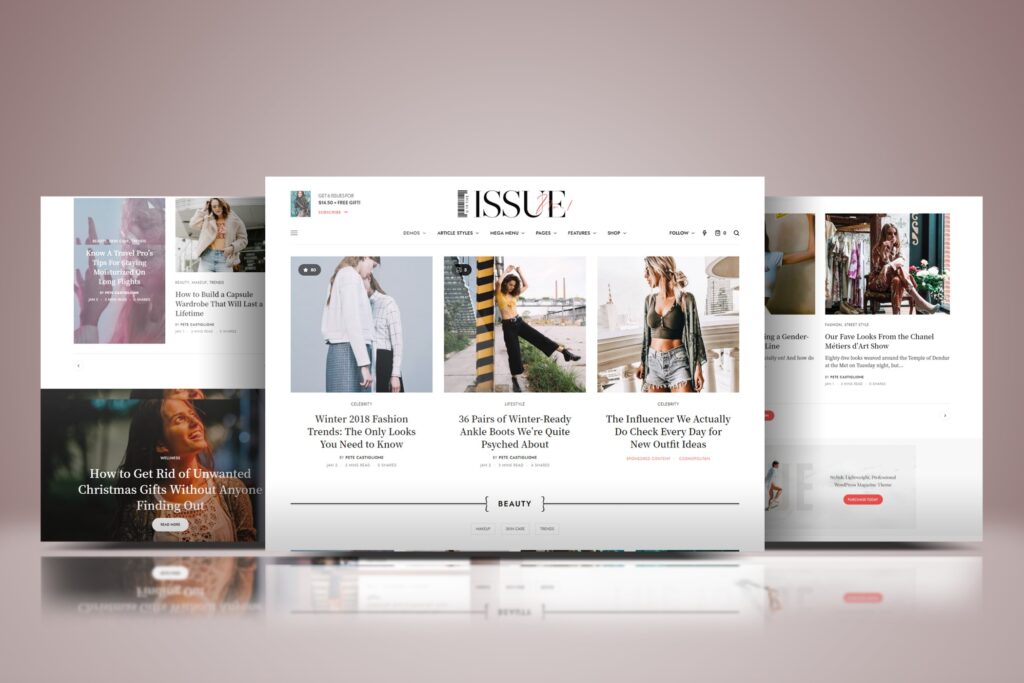 The Issue includes a variety of demos and designs to help you get up and running quickly. Much of the content in this example is appropriate for publishing and presenting news articles. Furthermore, you can choose from various post formats, gallery display options, and review style options, giving you a lot of control over how your content looks.
For a news-focused site, social network integration is extremely vital, and The Issue makes it simple. On articles, you can include share counts, links to your social accounts, and simple options for people to share your content with their own following.
This theme was built from the bottom up to create appealing, feature-rich news and magazine sites, and it shows. The Issue should undoubtedly be on your shortlist!
---
#10 – TheGem
When it comes to developing a news magazine website, the layout is important. You'll need a straightforward way to navigate through all of your content without confounding your readers. Fortunately, TheGem is on the case.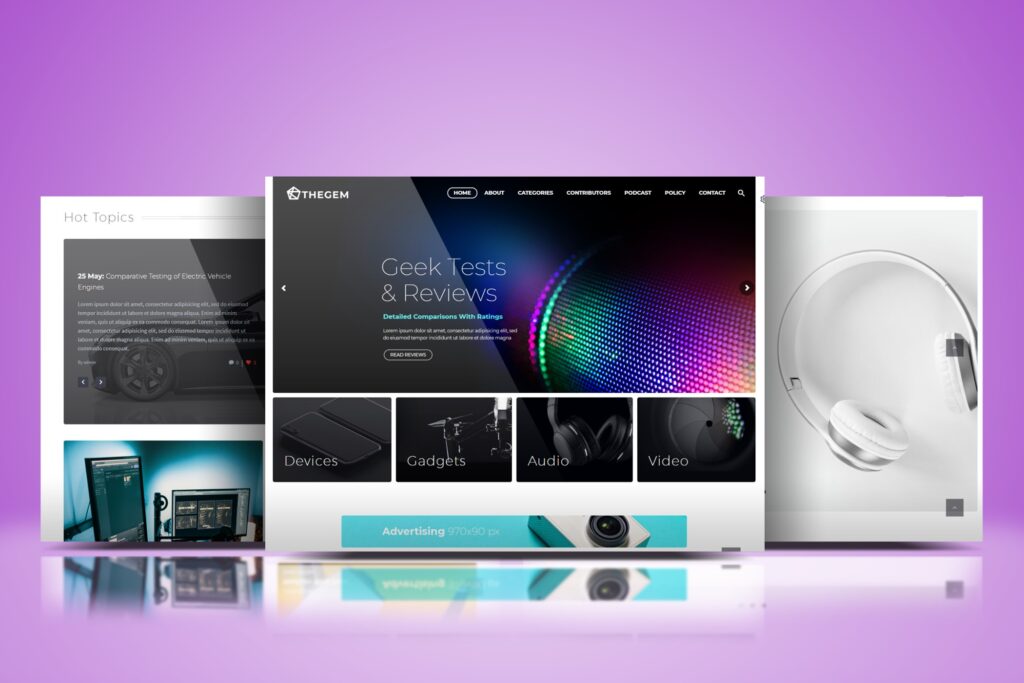 TheGem has a trendy and modern look to it, as well as a slew of extra functions. You have the opportunity to construct a layout that meets your specific needs thanks to a variety of navigation options and header and footer customization. You'll be able to highlight your news items for maximum interaction this way.
TheGem is very simple to use and comes pre-installed with the WPBakery Page Builder plugin for seamless creation. Over 400+ demo layouts are included, as well as flexible page creation possibilities, a robust admin interface, and much more.
TheGem is guaranteed to enter your shortlist if you're seeking a flexible solution with the ability to design your news site to strict specifications.
---
#11 – MagPlus
When it comes to news websites, you want them to be quick, responsive, and adaptable. Users must be able to move seamlessly from one item to the next, and you'll want access to a variety of capabilities that can help you do so.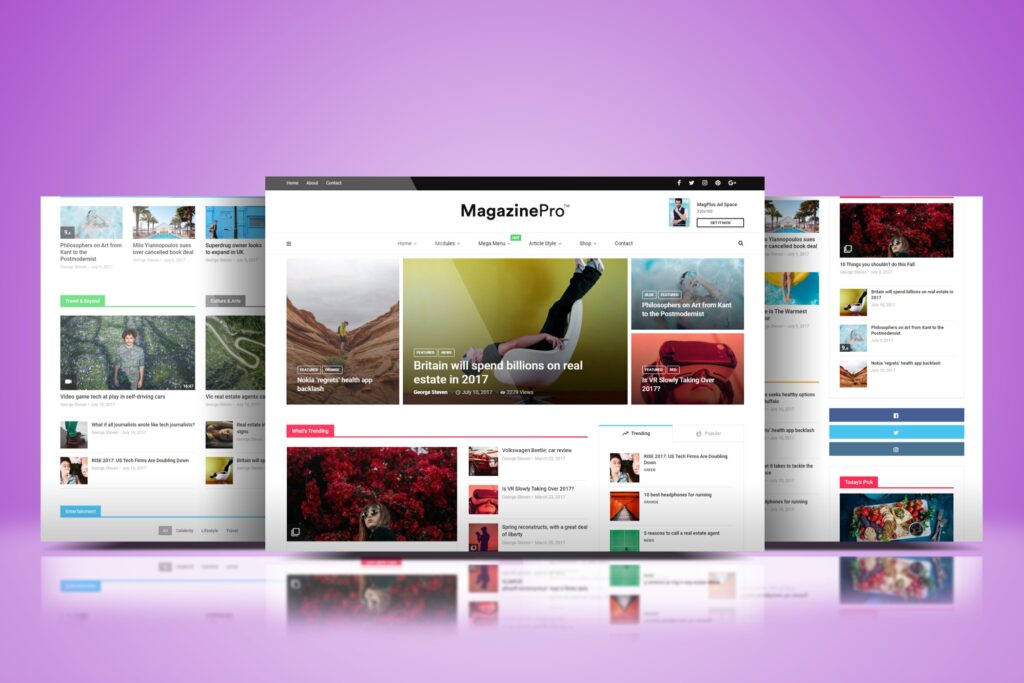 MagPlus is on hand to assist you. This theme was created with news sites and other comparable niches in mind, and it shows. It's well-suited to mobile devices, with lightning-fast load times. MagPlus is also translation-ready and simply integrates with AdSense, allowing you to monetize your content.
When it comes to customizing the style of your site so that it attracts visitors' attention and encourages them to stay, you have several alternatives. To get you started, MagPlus includes a handful of layouts and over 30+ templates that cover a wide range of themes. There are also pre-built elements such as sliders, widgets, and other header and article layouts.
MagPlus has your back if you need to quickly create a stunning news site. You'll be up and running in no time with this theme, and your visitors will always have a positive experience.
---
#12 – Prime News
The availability of free news on almost any topic imaginable is one of the internet's cornerstones. As a result, news websites are large businesses. You might not capitalize on your readers' interest if you don't have a theme that matches your niche, such as Prime News.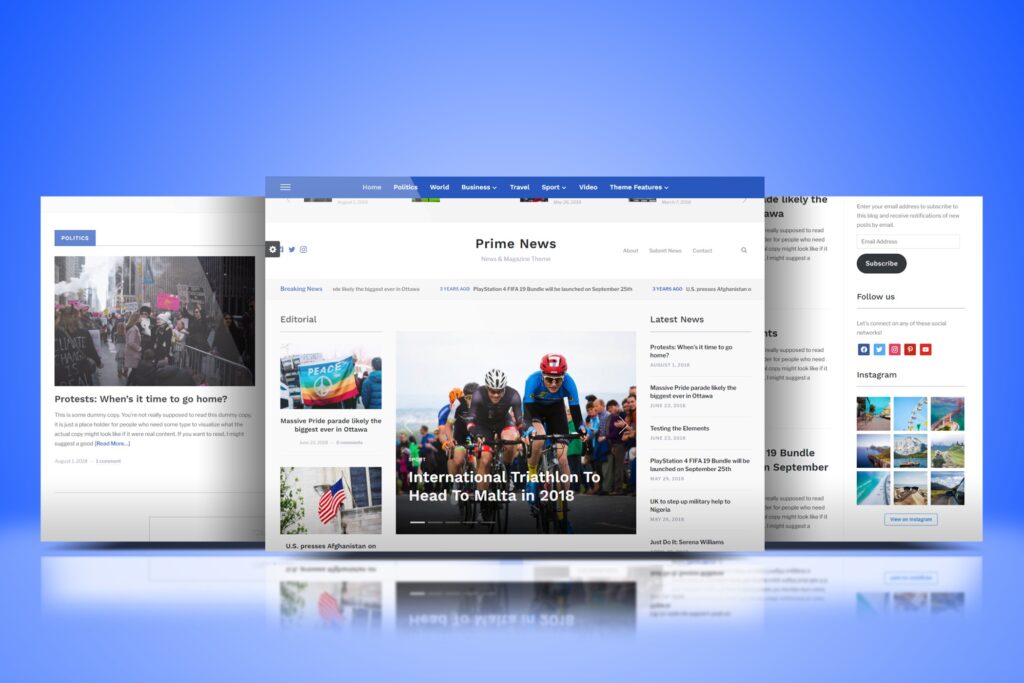 Minimalism frequently takes a back seat on news websites. Given the natural desire to fill every pixel with material, this is sensible. On the other hand, Prime News manages to pack a lot of features into a little space.
There are picture sliders, ticker bars, movies, ad space, and much more, for example, slide-in and more classic navigation options. Regardless, the home page does not appear to be overwhelming. All of these components can also be tweaked using the Live Customizer or the dedicated Theme Options panel.
Despite its initial appearance, Prime News is far from one-dimensional. You should be able to use this theme to create an engaging, intriguing, and absorbing final product regardless of the type of news site you're creating.
---
#13 – Voice
When looking over the Voice theme, the term "elegance" comes to mind first. A nice effect is created by combining a flat, boxy form with strong colors – perhaps not extremely artistic, but certainly pleasing to the eye.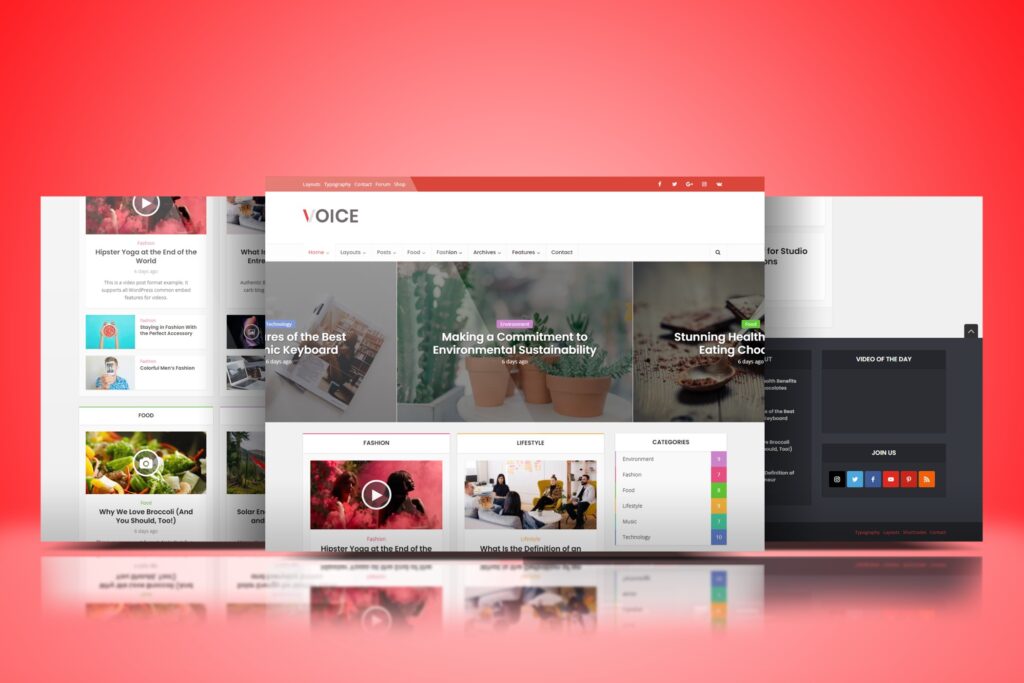 Like some of the other themes in this collection, The Voice includes color-coded categories, which might come in handy when your site produces content on a variety of topics. The full-width manual slider on the homepage with subtle CSS3 effects does an excellent job of showcasing a range of tales, and the appealing visual experience continues on the article pages.
The font, which is obviously crucial on a news topic, is probably not as stunning as one might anticipate. The fonts appear unoriginal and simple in a theme that exudes style far more often than not. However, Voice allows for easy font customization, so you can add your personal touch to the design if you have the time and motivation.
---
#14 – Herald
Herald is a basic, business-like news theme. While it isn't as elegant as some other news themes, it still manages to cram a lot of information onto the page while remaining user-friendly.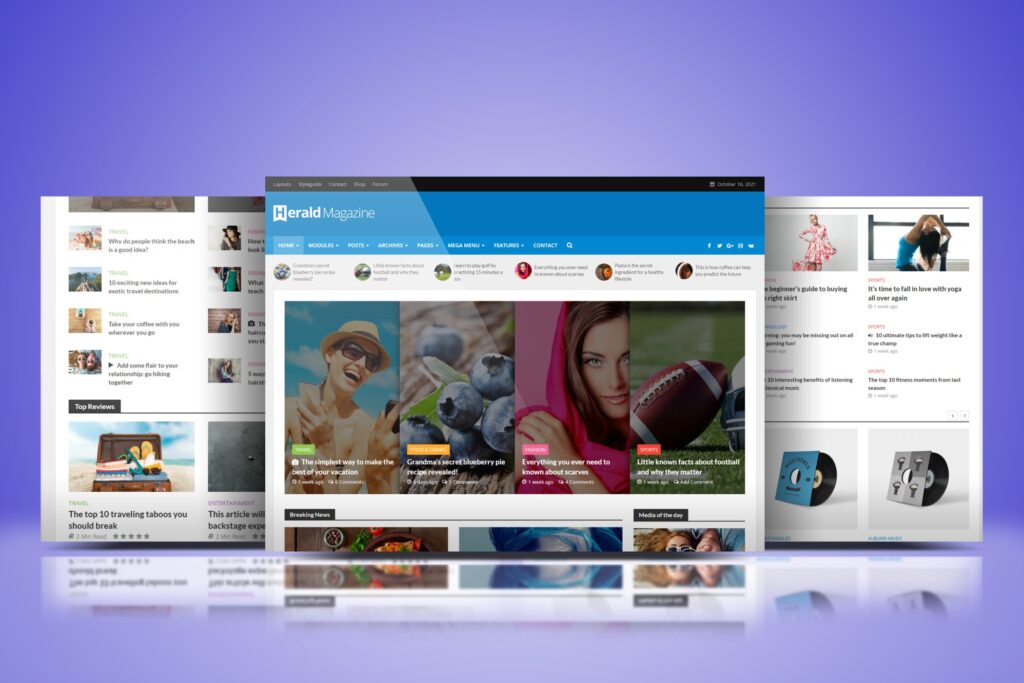 Herald, like many of the other themes in this collection, allows for an extensive design modification. It has components that allow for over 500+ layout variations, as well as a customized header. Color-code categories, create multi-page posts and enable limitless scrolling with ease. There's a built-in function for related postings, and you can make posts with music, video, photos, or galleries.
Pre-placed ad spaces are added on home pages, archive pages, and posts, making monetization simple. Herald also comes with a Theme Translator, which allows you to translate any portion of your website from the Theme Options page.
---
#15 – Newsbeat
Clean lines, large pictures, extensive paragraphs, and a wealth of information come to mind when you think about newspapers. Newsbeat could be an excellent pick if you're seeking a theme that captures the spirit of a newspaper.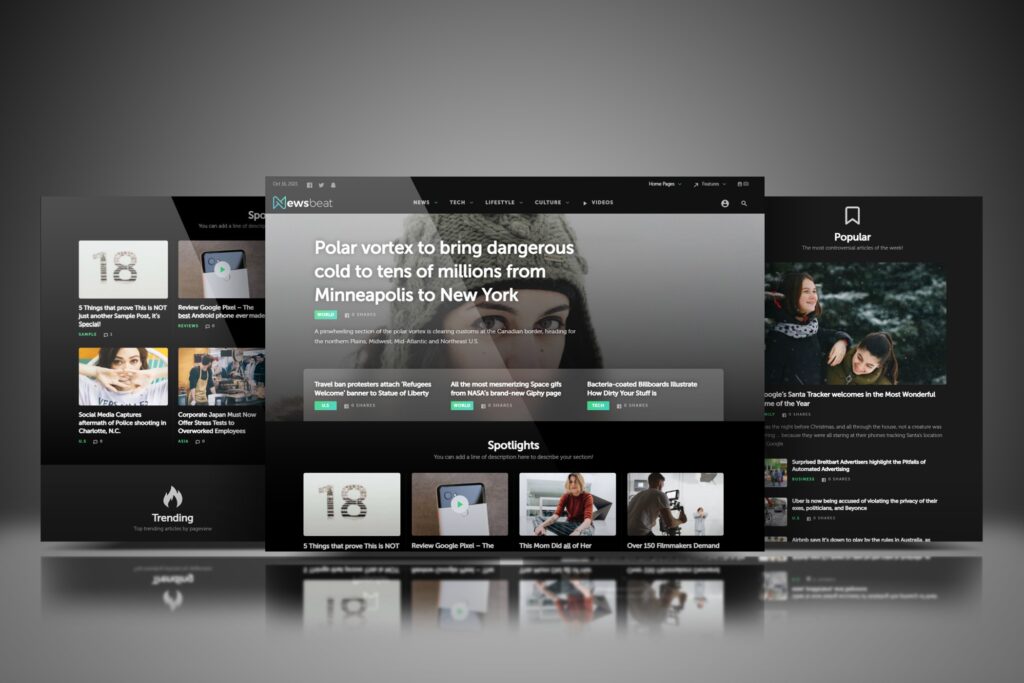 This theme comes with 9+ pre-built demos to help you get started with your website. They include everything from traditional designs to more recent tech beats and beauty blogs. They all have written content in common, of course. You get stunning fonts and huge graphics with Newsbeat to draw in your readers' eyes.
If you want to personalize your news site, Newsbeat includes the WPBakery Page Builder plugin, which lets you change practically any part of the design and add new features. In addition, Newsbeat comes with five alternative header styles and over 25 layouts to choose from.
You'll need a theme that includes the functionality required to create a blog, online magazine, or news website to keep up with the news. Checking out Newsbeat might be all you need to break the story!
---
Conclusion
We hope this post was useful in assisting you in searching for the best WordPress magazine themes for your website. Please share this post with your friends and family if you appreciate it.
Also, if you think we've missed something in our list or you've experienced a better theme, please don't hesitate to share it with our readers in the comment section below. We appreciate your choice.