Any marketing that uses electronic devices to deliver promotional messages and track their effectiveness is called Digital Marketing. Digital marketing refers to marketing efforts displayed on laptops, smartphones, tablets, and other technological devices. It can come in various formats, such as internet video, display advertisements, and social network postings. 
Traditional marketing methods such as magazine advertisements, billboards, and mailings are frequently contrasted to digital marketing. Surprisingly, traditional marketing is usually associated with television.
Did you know that almost three-quarters of all Americans use the internet regularly? Not only that, but 43% log on many times every day, and 26% are online "continuously."
These statistics are significantly higher among those who use the internet on their mobile devices. 89% of Americans use the internet at least once a day, and 31% continuously use it. 
As a marketer, it's critical to take advantage of the digital world by creating a brand and offering a fantastic customer experience that attracts more potential consumers while implementing a digital strategy.
What is Digital Marketing?
Digital marketing, often known as online marketing, promotes companies using the internet and other digital communication to engage with potential clients. This includes email, social media, web-based advertising, and text and multimedia messaging as a marketing channel.
Any marketing activity that employs digital communication is referred to as digital marketing.
Why Digital Marketing?
Digital marketing has grown in popularity due to its ability to reach many people and provide several additional benefits. These are just a few of the benefits.
Geographically diverse.
Efficiency in terms of costs.
High Return on Investment (ROI).
Brand Development
Results that can be measured.
It Increased customer interaction.
Conversions that are simple and convenient.
Digital Marketing vs. Inbound Marketing
For a good reason, digital marketing and inbound marketing are frequently misunderstood. 
Digital marketing employs many of the same tactics as inbound marketing, such as email and online content, to name a few. Both are designed to capture the attention of leads and convert them into customers as they progress through the buyer's journey. 
The two systems, however, have conflicting views on the tool-goal relationship. Each digital marketing tool is assessed for its potential to convert leads. A business's digital marketing plan might involve a variety of channels or just one.
Inbound Marketing is a broad phrase that covers a wide range of tactics. It starts with the objective, then examines the available tools to see which ones will successfully reach target consumers, and finally, at which step of the sales funnel should happen.
The essential thing to know about digital marketing and inbound marketing is that you do not have to pick between the two as a marketer. They're most effective when they're working together. Inbound marketing offers digital marketing activities structure and purpose, ensuring that each channel works toward a unified goal.
Digital Marketing: B2B vs. B2C
Digital marketing is beneficial to both B2B and B2C businesses, but guiding principles differ significantly.
More extensive decision-making processes and, as a result, longer sales funnels are standard among B2B clients. These clients respond better to relationship-building methods, whereas B2C customers respond better to short-term offers and communications.
B2B transactions are often predicated on reasoning and facts presented by experienced B2B digital marketers. B2C content is more likely to be emotive, to make the consumer happy with their purchase.
B2B decisions typically need the participation of several people. The most successful marketing assets for driving these decisions are those that can be shared and downloaded. B2C customers, on the other hand, demand one-on-one contact with brands.
There are, of course, exceptions to any rule. A B2C firm selling a high-ticket item like a vehicle or computer may include more severe and educational material. Whether you're a B2B or B2C business, you must always customize your strategy to your unique target market.
Types of Digital Marketing
Search Engine Optimization, Social Media Marketing, Pay Per Click, Email Marketing, Affiliate Marketing, and Content Marketing are a few suitable types of Digital Marketing.
#1. Search Engine Optimization (SEO)
SEO aims to encourage a company's website to rank higher in Google search results, resulting in more traffic from search engines. To do so, SEO marketers look for keywords and phrases that people use to seek information online and include such terms in their content.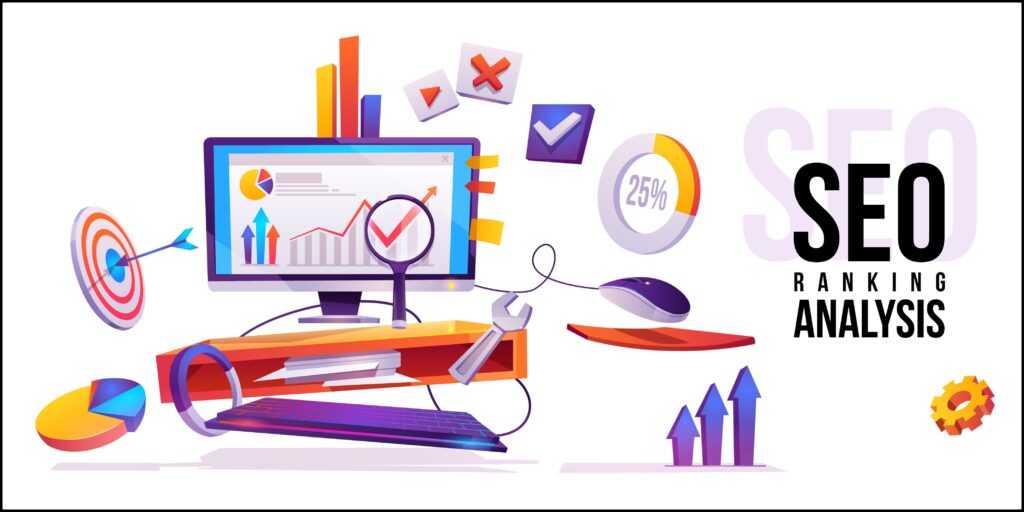 According to Moz's "Beginners Guide to SEO," SEO includes various factors, including the language on your web pages, how other websites connect to you on the web, and how your website is built.
So, what are some effective strategies for improving a website's SEO? It's essential to realize that the challenges of SEO are always dependent on Google and its most updated algorithm. Keeping that in mind, from Moz's Beginners Guide to SEO, here are a few of the essential aspects for SEO strategists and marketers, in general, to grasp about how SEO works today:
High-Quality Content
Mobile Friendliness
Backlinks
Content Indexing
User Engagement Level
#2. Social Media Marketing (SMM)
Social Media Marketing involves everything a company does on social media. Although almost everyone is associated with social media, marketers must use it in an innovative and integrated manner. Social media marketing is much more than merely posting to social media networks and reacting to comments.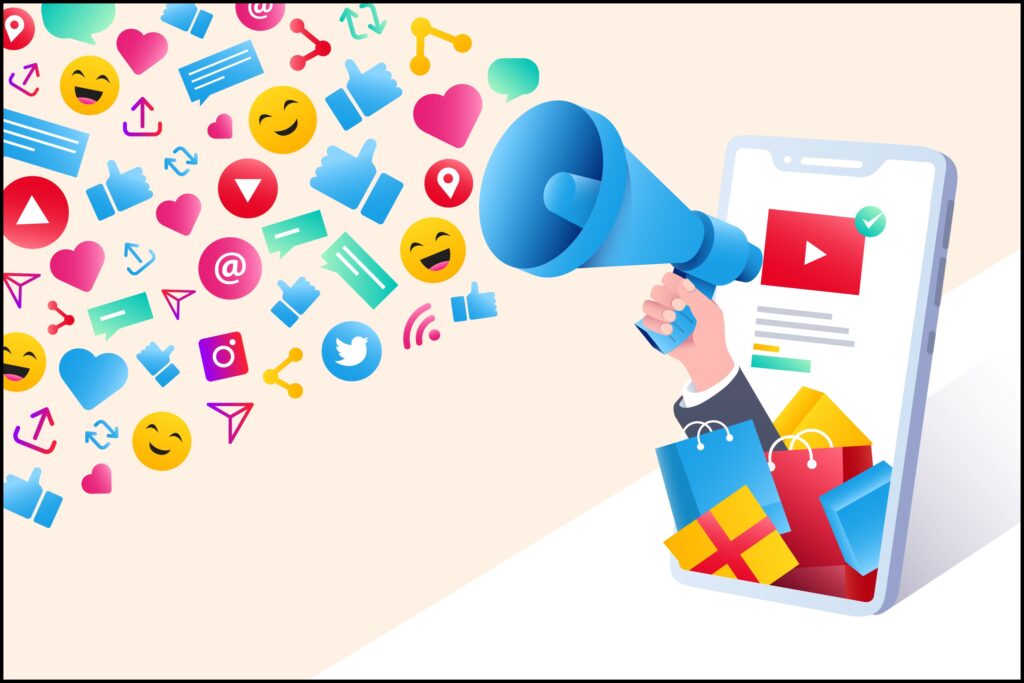 If efforts are to be effective, they must be planned and regular rather than spontaneous. To keep messaging consistent, there are several internet tools available to automate and schedule social media updates. Marketers should, however, see automation as a tool rather than a "set it and forget it" approach. If there is no actual person behind the posts, users will immediately figure it out.
Social media marketers should not operate in isolation from the rest of the marketing team. To ensure that their messaging is consistent across all online and offline platforms, social marketers must cooperate with the rest of the marketing team.
Put another way; social media marketing is a lot more complex than maintaining a personal Facebook or Twitter account. It necessitates a combination of creative thinking and objective, data-driven planning, and it might be ideal for professionals who like combining these two disciplines.
#3. Pay Per Click (PPC)
PPC, or pay-per-click, is when you place an ad on a platform and get charged every time someone clicks on it.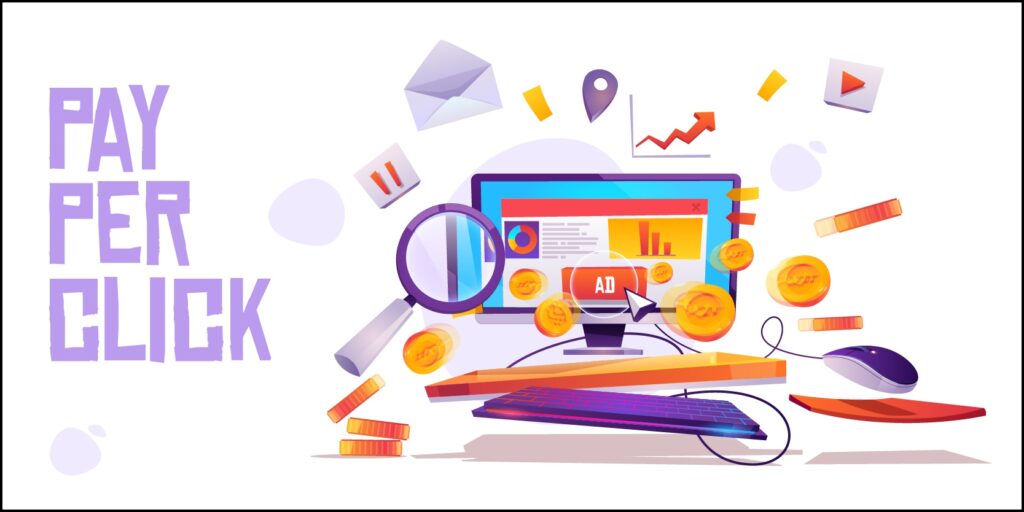 It's a little more difficult how and when people view your ad. When a position on a search engine results page, commonly known as a SERP, becomes available, the engine fills it with what amounts to an immediate auction. An algorithm prioritizes each available ad depending on several factors, including:
The standard of the advertisement.
The relevance of the keyword.
The quality of the landing page.
Amount of the bid.
After clicking an ad, viewers can execute one or more target actions in each PPC campaign. Conversions are these activities, which might be transactional or non-transactional. A conversion may be anything from a newsletter registration to a phone call to your headquarters.
Whatever conversions you set as your target conversions, you may track them using your platform of choice to evaluate how well your campaign is performing.
#4 — Email Marketing
The idea behind email marketing is simple: you send marketing messages to your customer and hope that they click on them. The execution, on the other hand, is far more complicated. First and foremost, be sure that your emails are desired. This entails having an opt-in list that complies with the following criteria:
Both in the text and the subject line, personalize the content.
The sort of email that the subscriber will get.
Provides a simple way to unsubscribe.
Combine Both commercial and marketing emails.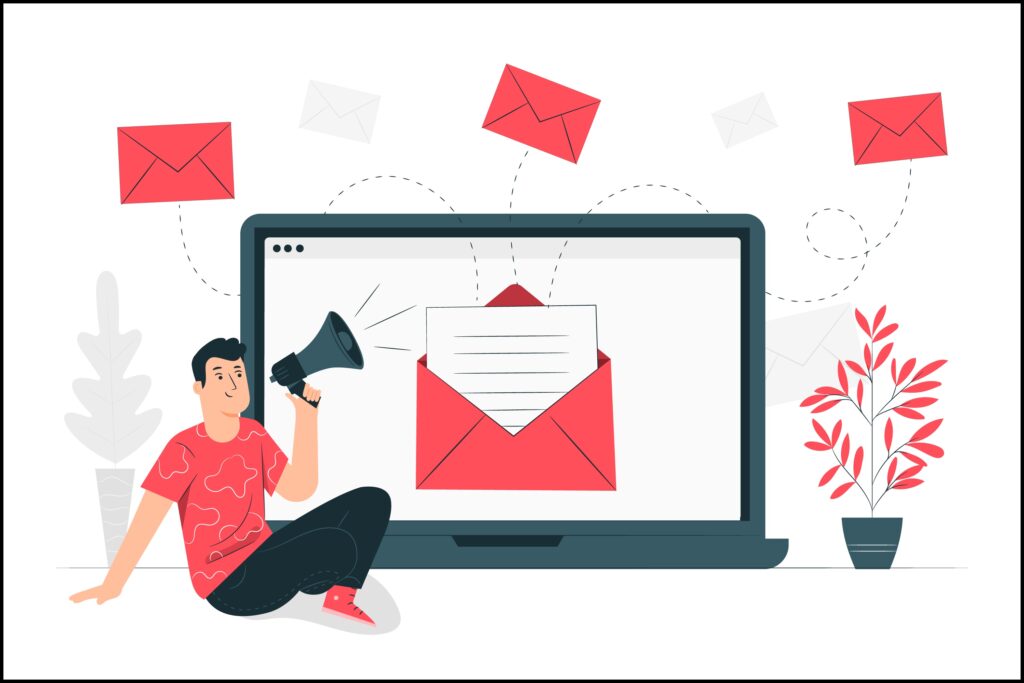 You want your customers to think of your campaign as a valuable service rather than just a marketing tool.
Email marketing is a tried-and-true strategy in and of itself: 89 percent of experts questioned rated it as the most successful lead generating.
It can be even better if you use other tactics like marketing automation, which allows you to segment and schedule your emails to better meet your customers' demands.
#5. Affiliate Marketing
Affiliate marketing enables anybody to make money by promoting other people's products or services. Whether you're a promoter or a firm that works with the promoter, the method is the same in both situations.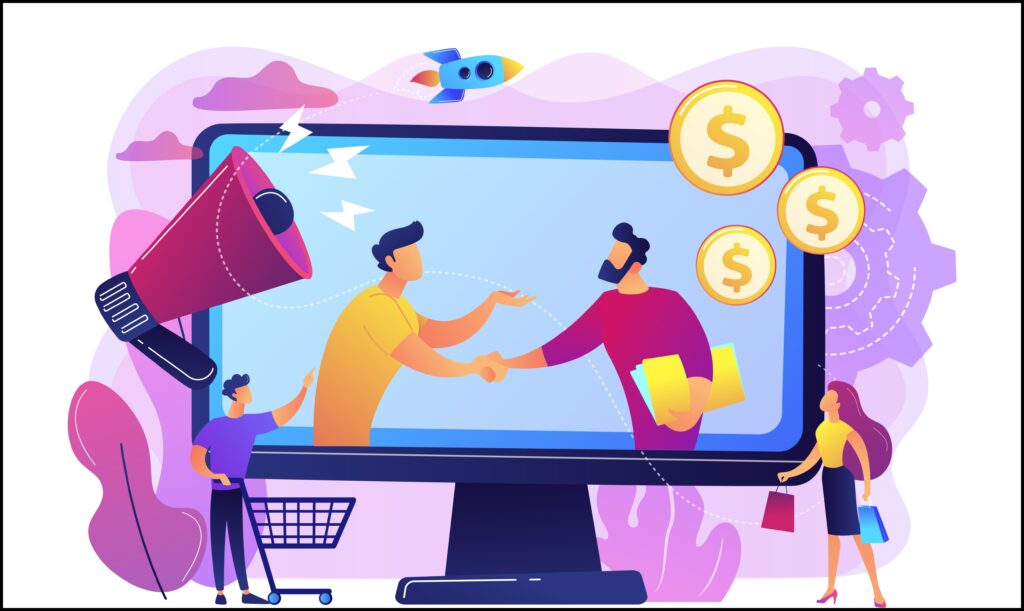 It operates on a revenue-sharing basis. When someone buys the product you're marketing, you'll get rewarded as an affiliate. You pay the affiliate for every sale they assist you in making if you're the merchant.
Some affiliate marketers choose to concentrate their efforts on a particular company's products, maybe through a blog or other third-party websites. Others have many merchant links.
The first step, whether you want to be an affiliate or seek one, is to build a connection with the other party. You can either launch or join a single-retailer program or use a platform that connects affiliates with merchants.
You can do numerous things like a store to make your affiliate program attractive to potential affiliate marketers if you wish to deal directly with affiliates. You'll need to provide those affiliates with the resources they require to be successful. This includes incentives for outstanding achievement and also marketing support, and ready-made items.
#6. Content Marketing
Content marketing, a strategy centered on delivering relevant and valuable content to a target audience, relies heavily on SEO.
Like any other marketing approach, content marketing aims to produce leads that will eventually convert into consumers. Traditional advertising, on the other hand, works differently. It delivers value in the textual content for free rather than enticing prospects with the potential worth of a product or service.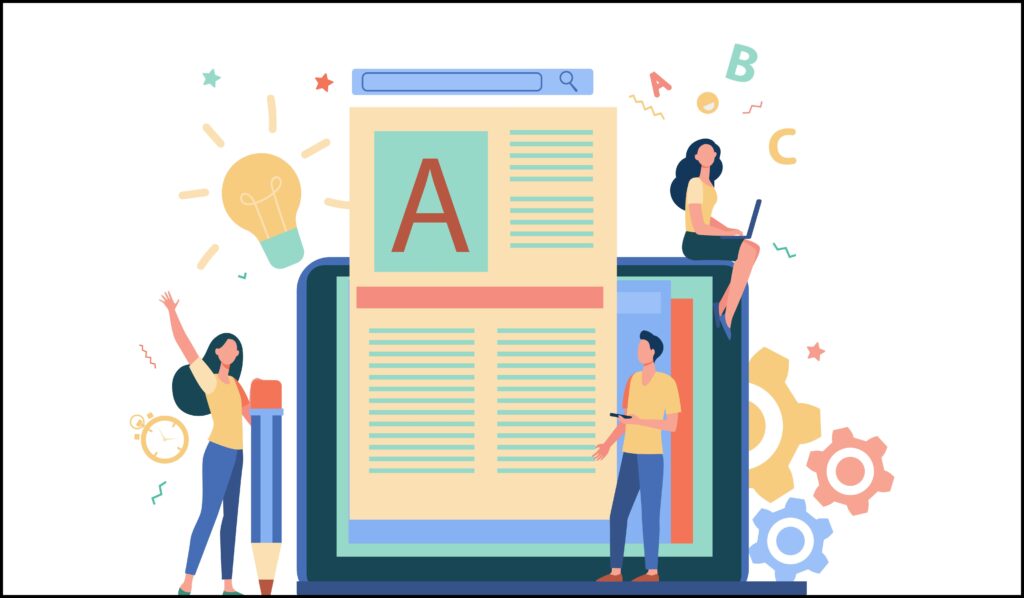 Content marketing is essential, as evidenced by the following statistics:
Consumers want businesses to create engaging and valuable content experiences, according to 84% of respondents.
Companies with at least 5,000 workers make content daily in 62% of cases.
92% of marketers feel that content is a significant asset for their organization.
Content marketing, as powerful as it is, may be challenging. Content marketing writers must rank highly in search engine results while enticing people to read, share, and connect with the company. When content is meaningful, it may form strong bonds with people down the pipeline.
Conclusion
One of the significant objectives of nearly every company's overall marketing plan should be digital marketing. There has never been a better method to continuously remain in touch with your customers, and nothing compares to the amount of customization that digital data can give. 
The more you embrace digital marketing's prospects, the more you'll be able to achieve your company's growth potential.