It might take a lot of effort and money to choose a suitable web hosting service for your website. There are various types of web hosting available, with prices ranging from $0.99 per month to $999 per month.
However, how can you determine which hosting plan is ideal for your business?
We examined popular shared hosting companies and ranked the top 10 web hosting providers in this review.
All of the hosting services on this list are reasonably priced and appropriate for both small and medium-sized websites and new websites. If your website has more than 50,000 monthly visitors, you should look into the dedicated or virtual private server (VPS) hosting.
---
---
Types Of Web Hosting?
When looking for a web hosting provider, you'll encounter several terms that you may not be familiar with. Here are some of the most common alternatives you'll come across and whether or not they're right for you.
Cloud-based hosting: If you need a lot of storage space and wish to leverage cloud computing, cloud-based hosting is a beautiful alternative. Cloud-based hosting offers several benefits, including assured server resources, redundant data storage, and limitless website expansion.
E-commerce hosting: For many internet firms, e-commerce hosting is a popular choice. Many web-hosting service providers may supply you with a web server, as well as an email server and other essential web-hosting services, in addition to assisting you with the operation of an e-commerce site.
Reseller hosting: Reseller hosting is perfect for those who want to use their allocated hard drive space and bandwidth to host websites for other people. To do so, the reseller will need to buy the host's services wholesale and then offer them individually to users at retail pricing for a profit.
WordPress hosting: WordPress hosting is an excellent choice for anyone looking to create a personalized website. Customers like the website hosting company because it allows them to create a professional bespoke WordPress website utilizing a selection of themes, plug-ins, and widgets.
Shared Hosting: Shared hosting is the most simple and least priced hosting option. While a shared hosting service should supply all you need for a personal or small company website, you will be sharing resources with other users on the same server, so if your site expands, you may need to upgrade to a different plan.
Virtual private server hosting: Virtual private server hosting is a step up from shared hosting, allowing you to achieve equivalent features and performance for your sites without upgrading to a dedicated server. A managed VPS hosting service is generally more expensive, but it is ideal for individuals with less technical backgrounds since it allows the company to handle your software and system upgrades. An unmanaged VPS hosting service means that the hosting company is solely responsible for the physical server and ensuring that it is available; maintenance, updates, and software installation are your responsibility.
Dedicated server: For websites with a significant number of visitors, dedicated server hosting is an alternative. You'll receive a real server (or several servers) with this more costly plan, giving you complete control over the computer and far more resources to host your website.
---
How Did We Select The Best Web Hosting Provider?
It's crucial to note that the web hosting provider choices on this list were not specifically "tested" by us. Instead, we developed a comparative summary based on several variables, including third-party reviews and each web hosting business and shared hosting provider's services. 
---
Top 10 Best Web Hosting Providers 2023
When selecting a web hosting provider, the essential aspect is their performance – Speed and Uptime.
Your website will benefit more from a faster hosting provider. In 2023, and most likely beyond, web performance will become increasingly crucial.
The 10 best website hosting companies with quick page load times, excellent Uptime, and competent customer support are listed below.
---
1. Bluehost – Great Choice for New Websites
Bluehost has been around since 2007, and they now host over 3 million websites. For new websites, they are the most popular and affordable hosting choice.
Because of their high Uptime and Speed – 99.96 percent and 641 milliseconds, respectively – are a top-rated web hosting company.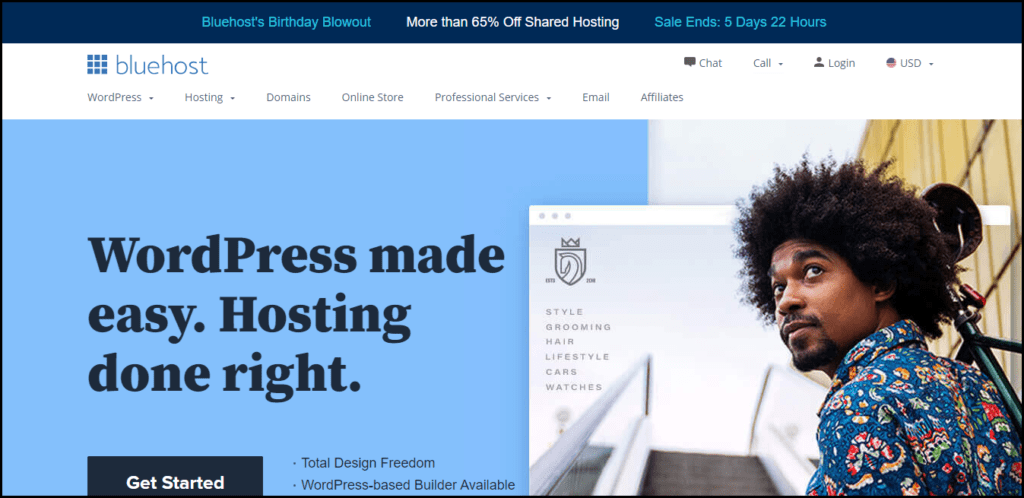 Their initial pricing of $2.75/mo (renews $8.99) includes a free domain name, website builder, and one-click install for WordPress, Joomla, and Drupal through their control panel. So, if you're starting (and don't have a website), this is the best option. The base package includes unlimited bandwidth and 50 GB of Storage.
Because WordPress.org officially suggests it, it's a fantastic match for WordPress websites.
All Bluehost plans include free email accounts, live customer service, and SSL (security layer). It's highly user-friendly, and it's arguably the most exemplary entry-level web hosting service in terms of reliability and security. For higher-traffic websites, the company offers dedicated, VPS, and managed WordPress hosting services in addition to standard shared hosting.
All of their hosting plans come with a 30-days money-back guarantee and are enabled quickly, allowing you to get started right away.
Bluehost Pros
Uptime is good (99.96 percent )
a rapid speed (641 ms)
WordPress One-Click-Install
Beginner-friendly and easy to use
Domain and website builder for free
Support is available 24/7 (Live Chat and Phone)
Bluehost Cons
Discounts are only available for more extended plans.
---
2. Hostinger – Cheap Price ($0.99)
Hostinger has an average uptime of 99.74 percent, which isn't exactly impressive. However, they make up for it with a lightning-quick average loading speed of 345 milliseconds, making it the most OK inexpensive web hosting available.
Hostinger (which also owns Hosting24) provides exceptionally low-cost hosting options without compromising service quality or Speed. While Hostinger's plans are inexpensive, the capabilities that come with them will appeal to many new website owners.
The company offers several hosting plans with varying features, including a simple website builder, a free SSL certificate, a 99.9% uptime guarantee, and 24/7 support.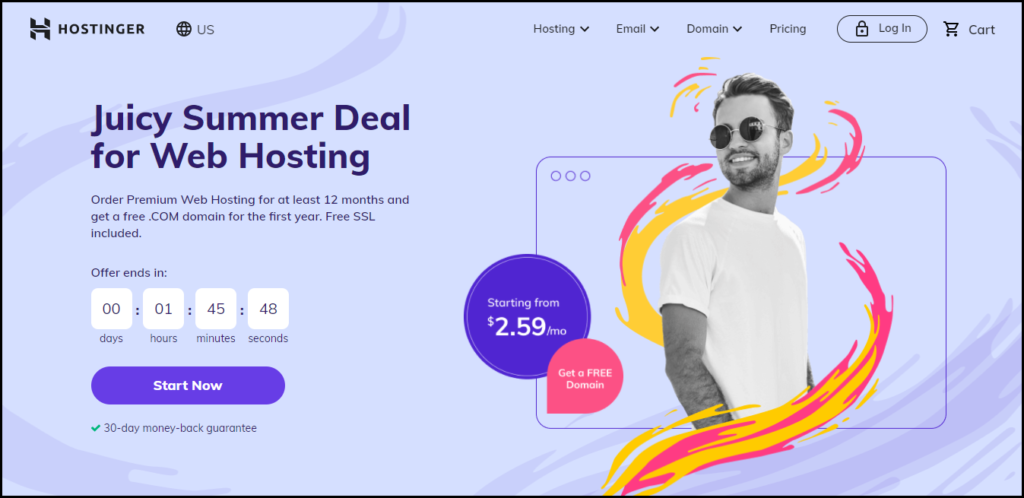 The lowest Hostinger plan starts at $0.99 per month (when you select a 3 years payment plan), with renewals beginning at $2.15 per month. Unless you pick the "Single Web Hosting" package, bandwidth and databases are limitless. You'll get 10GB of disk space, 100GB of bandwidth, one MySQL database, and one email account with the latter. The lowest plan does not come with a free domain and has restricted processing power and memory.
Hostinger also provides cloud, email, WordPress, and Windows VPS hosting options, among other things.
A 30-day money-back guarantee is included with all hosting plans.
Hostinger Pros
Quick Load Time (345 Ms)
Low Monthly Cost ($0.99/Mo)
A Free SSL certificate
In the United States, Europe, and Asia, there are data centers.
Live Chat Support 24/7
Hostinger Cons
No Free Domain Name
Low Uptime (99.74%)
Low Bandwidth For Basic Plans
---
3. A2 Hosting – Fastest Shared Hosting Service
The fastest shared web hosting provider is A2 Hosting (established in 2002 and hosting over 500,000 websites). Over a year, they were able to reach an average load time of 279 milliseconds.
A2 Hosting is quick due to its WordPress-optimized servers and usage of the LiteSpeed cache. None of the other shared web hosting companies come close to A2 in terms of Speed.
A2 Hosting is also trustworthy. With a little more than two hours of downtime, their average Uptime has been approximately 99.97%.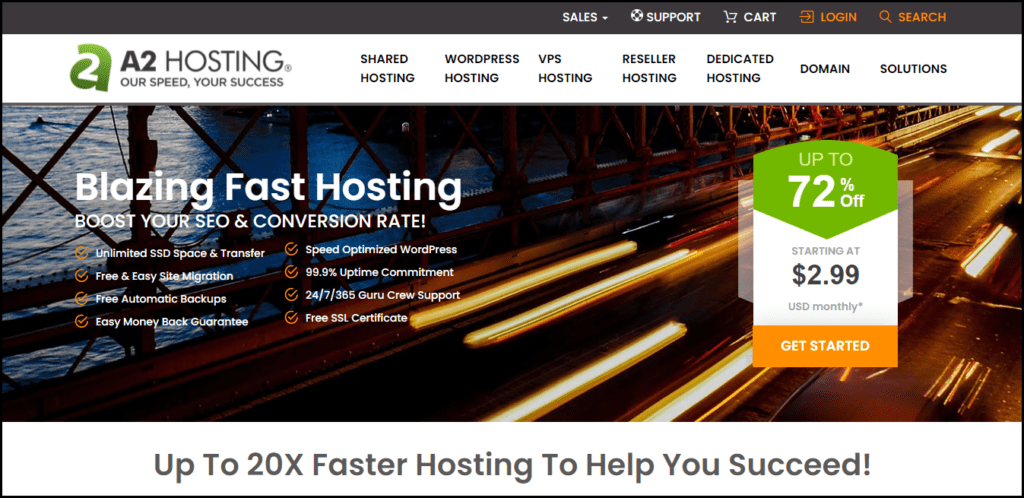 A2 Hosting is well-known for easy integration with all major content management systems (CMS), including WordPress, Joomla, Drupal, OpenCart, and Magento, making it an excellent choice for web developers. A free LetsEncrypt SSL certificate, unlimited SSD storage, and free website migration are all included in the company's hosting options.
The cheapest plan, "Lite," starts at $2.96/month (renews at $7.99/month) and includes 1 website, 25 email accounts, a 1-year domain name, free Cloudflare CDN, and infinite bandwidth and storage space.
The "Guru Crew Support" team at A2 Hosting is a dependable customer support staff. Customers may contact them by live chat, phone, email, and tickets 24/7. They also provide dedicated, reseller, and VPS hosting services in addition to shared Hosting.
All plans of A2 Hosting come with a 30-day money-back guarantee.
A2 Hosting Pros
Quick load time (279 ms)
Excellent Uptime (99.97% )
WordPress-friendly servers
Storage and bandwidth are both unlimited.
"Guru" chat support is available 24/7
20+ email accounts.
A2 Hosting Cons
Renewal costs are higher.
---
4. DreamHost – Great "Monthly" Payment Plans
DreamHost is one of the oldest web hosting companies, having been founded in 1996. In more than 100 countries, the business hosts over 1.5 million websites, blogs, and apps.
DreamHost has a low uptime (99.62%) and a low speed (1180 ms).
DreamHost is distinct from many other web hosting providers in that it allows customers to pay monthly rather than yearly.
This means you can sign up for a hosting account for $4.95 and start using it straight away. You can also sign up for a 3-year plan, which starts at $2.59 per month and renews at $4.95 per month. A free domain, one website, unlimited bandwidth, and Storage are all included in the basic package. Customers may also use DreamHost's drag-and-drop builder and add an email for an additional $1.67/month.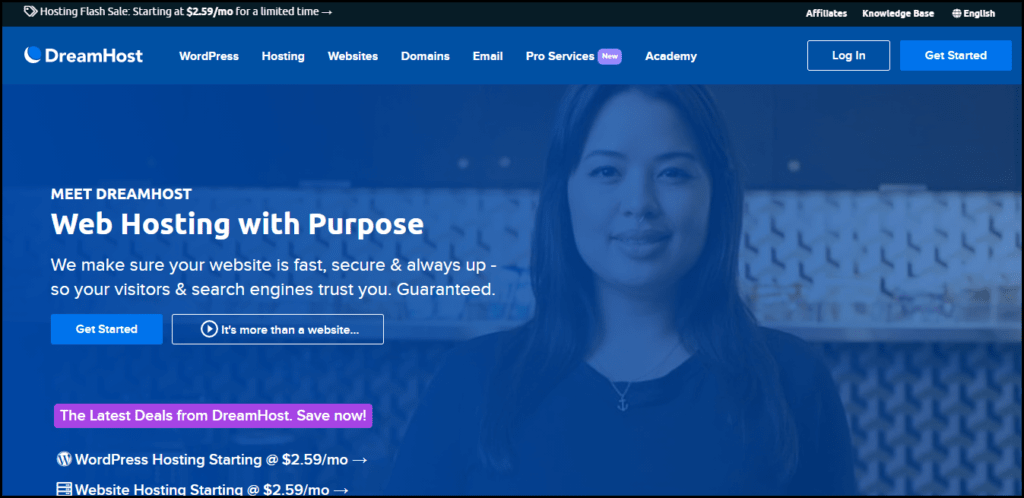 Highly secured features (LetsEncrypt SSL), a range of domain administration tools, and limitless data transfer per month are all available from the company. WordPress is pre-installed, and the company also provides a beginner-friendly website builder. They don't have cPanel, which is well-known among site developers. However, DreamHost does have an admin panel that functions similarly to cPanel or Plesk.
All subscriptions include live chat assistance from the United States, which is available 24/7. The company offers a substantial 97-day money-back guarantee.
DreamHost Pros
Guaranteed Uptime
There are monthly options available.
97-day money-back guarantee
Infinite Storage and bandwidth.
DreamHost Cons
Low Uptime (99.62%)
No cPanel
Slow Loading Time (1180ms)
---
5. SiteGround – Excellent Customer Service
SiteGround is a web hosting company based in Sofia, Bulgaria, that was founded in 2004. They host over 2 million domains and are one of the three approved web hosting services recommended by WordPress.org.
SiteGround has a superb uptime (99.99%) and excellent Speed (756 ms), making it a mighty top 10 web host.
SiteGround is recognized for providing excellent customer support, and its user base is rapidly expanding. Free website builder, email account, SSL, Cloudflare CDN, daily backups, and SSH access are included with all SiteGround hosting plans.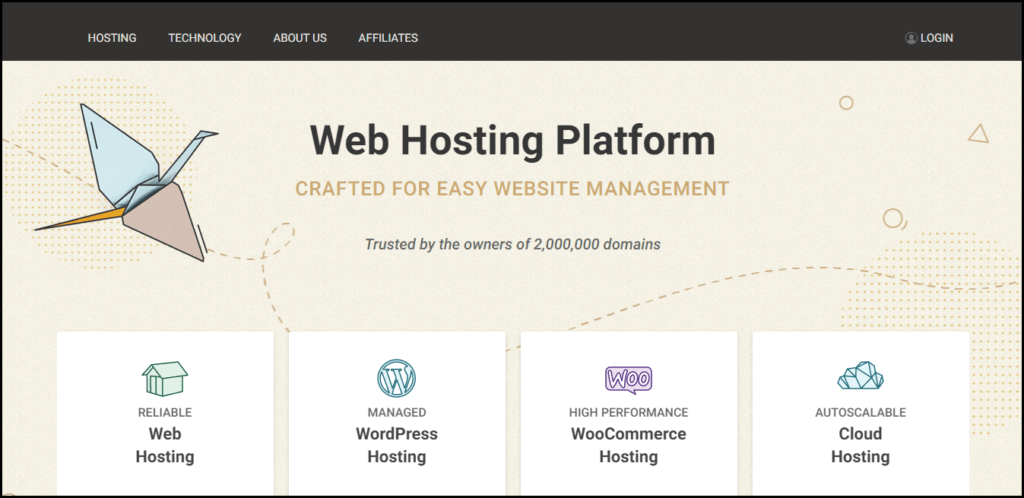 The lowest Startup package for newbies is $3.95 per month (when paying for a 12-month plan), with renewals costing $11.95 per month. You can host a single website with a monthly traffic capacity of 10,000. The package includes 10 GB of web space, unlimited bandwidth, and 24/7 customer support.
Managed WordPress hosting, WooCommerce Hosting, cloud hosting, enterprise hosting, and dedicated server hosting are just a few of the services offered by SiteGround. They are renting servers from the Google Cloud rather than having their servers.
All plans have a 30-day money-back guarantee, which is industry standard.
SiteGround Pros
Enough loading time (756 ms)
Excellent Uptime (99.99%)
Excellent Customer Service
"Guru" chat support is available 24/7
More Than 20 Free Email Accounts
SiteGround Cons
On monthly subscriptions, there is a setup charge.
Only a few cheap plans are available.
---
6. GoDaddy
GoDaddy is one of the most popular hosting service providers, with over 44 million websites. The company operates 14 locations across the world and is one of the primary domain registrars. They also provide web hosting services that can accommodate both small and large websites. They, like SiteGround, don't have their own servers; instead, they've collaborated with Amazon and rent servers from Amazon Web Services (AWS).
GoDaddy has a 99.95% uptime and a page speed of about 518 milliseconds, indicating a reliable service. GoDaddy is an excellent option for creating unique websites since it includes a basic drag-and-drop website builder (GoCentral) that is easy to use. MySQL, cPanel, CloudLinux, Python, and several PHP versions are among the developer-friendly technologies available.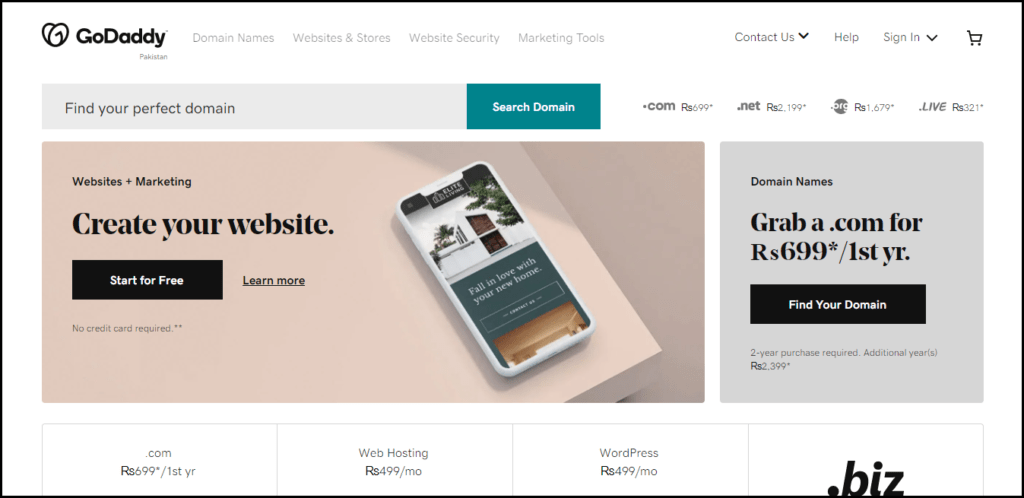 Their cheapest web hosting plan costs $4.33 per month (renews for $8.99 per month) and comes with 100GB of website storage and unlimited bandwidth. DDoS protection and security monitoring are also provided.
On the other hand, GoDaddy offers many "upsells" that will certainly make you spend a little extra. Site backups, SSL certificates, and email accounts are not included with their most basic package. GoDaddy also assists 24/7.
GoDaddy offers a 30-day money-back guarantee on all annual and multi-year plans.
GoDaddy Pros
Good loading speed (518 ms)
Uptime on average (99.95% )
100GB of website storage
99.90 percent uptime is guaranteed.
Access to cPanel and the website builder
GoDaddy Cons
Little Extra Pay For SSL and Email Accounts
Site Transfers Not Available
---
7. GreenGeeks
GreenGeeks has been established for more than a decade and currently hosts over 500,000 websites.
For only $2.95 per month, GreenGeeks provides stable and fast Hosting with a 99.95 percent uptime and load speeds of 451 milliseconds. When you consider their feature-rich incentives, high-quality 24/7 customer service, and ecologically responsible procedures, it's clear to understand how GreenGeeks is fast making a name for themselves in a crowded industry.
A one-year free domain, cPanel website administration software, free Wildcard SSL, PowerCacher, unlimited SSD storage, and unlimited data transfer are included in all GreenGeeks's plans. Customers get an endless amount of domain names, email accounts, and daily backups as well.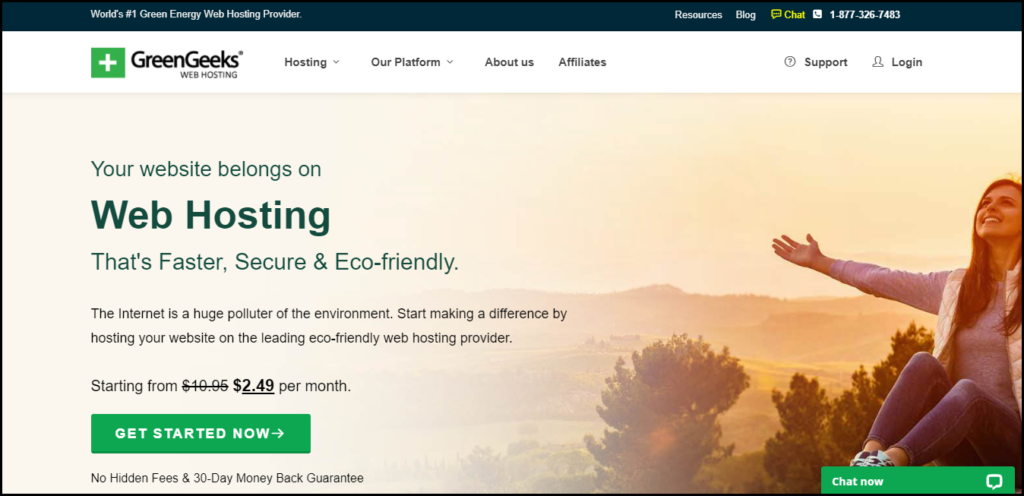 You may easily switch to their more versatile VPS hosting if your website becomes larger. GreenGeeks will also free move your site from your current web server. Unfortunately, the $10.95 monthly renewal charge may dissuade some webmasters from opting for GreenGeeks over alternative hosting providers.
GreenGeeks offers a 30-day money-back guarantee on all plans.
GreenGeeks Pros
Good loading speed (451 ms)
Consistent Uptime (99.95% )
There are servers in the US, Canada, and the Netherlands.
Transferring a website for free
Storage and bandwidth are both unlimited.
GreenGeeks Cons
The money-back policy is questionable
Renewal costs are high.
---
8. InMotion Hosting
InMotion is one of the largest and most established hosting companies, having been in business since 2001 and hosting over 300,000 domains. They're well-liked for a reason.
InMotion has an average uptime of 99.93 percent and a page speed of 463 milliseconds. These are promising results, given the magnitude of InMotion's client base.
For only $2.49/month, you can purchase InMotion's lowest subscription, Lite, which includes impressive features like unmetered bandwidth, free SSL certificates, and 400+ app integrations (including 1-click WordPress install). Unfortunately, this pricing is only available for a 24-month membership, after which it will renew at a considerably higher rate of $7.49 each month. You'll also have to go through a verification process before you can start working on your website.
Still, InMotion is worth a look if you're just getting started with your first website because it has many valuable features. Beginners will appreciate their high-quality live chat assistance available 24/7, as well as their extensive knowledge base and free website builder. You can upgrade to a more scalable VPS or dedicated server hosting package as your site grows.
Overall, InMotion is a quality service, despite the hefty renewal fees. The risks are pretty low due to their highly unusual 90-day money-back guarantee.
InMotion Pros
Uptime is good (99.93% )
Excellent Speed (463 ms)
Customer service is excellent
Money-back guarantee for 90 days
Transferring your website for free
InMotion Cons
Delayed Verification Procedure
Some Plan Restrictions
---
9. IONOS (1&1) Hosting
Ionos by 1&1 is the next company on our list, and it provides shared, VPS, cloud, dedicated, and WordPress hosting. Ionos is among the best services in terms of Uptime, according to test site statistics from the preceding 12 months (99.98 percent ). Their average page speed isn't particularly fast, but it's still respectable at 727 milliseconds.
The cheapest Ionos plan starts at an absurdly low $1.00 per month. This package includes a website builder, free SSL, a free domain and email address, and popular CMSs like WordPress, Drupal, and Joomla.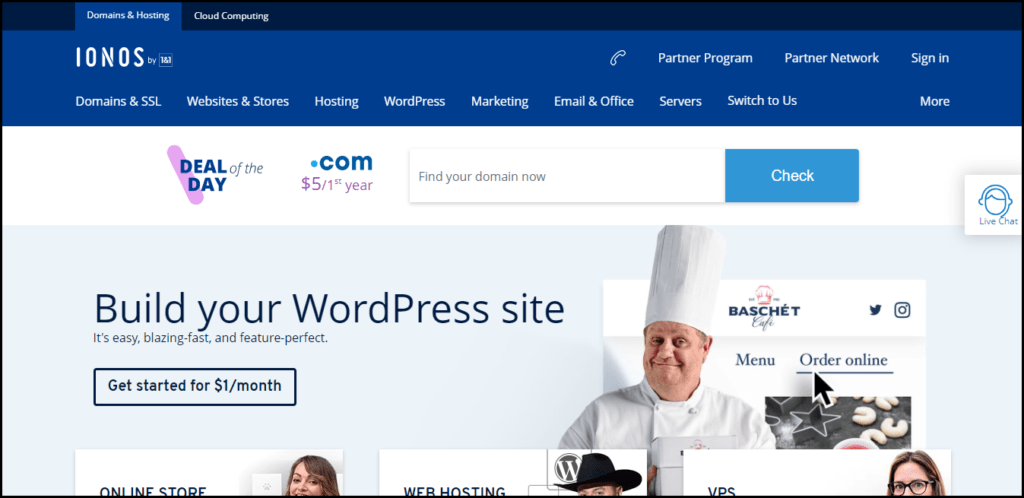 After the first 12-month term, you'll be charged $10.00 per month for a hosting service that doesn't include live chat support and charges for site migrations. Furthermore, Ionos is unavailable in several countries, including many European countries, China, and Egypt.
So, while Ionos may not be the ideal choice for everyone, they do offer good performance as well as a risk-free 30-day money-back guarantee.
Ionos Pros
Superb Uptime (99.98 percent )
Excellent Page Loading Speed (727 ms)
SSL security is provided for free.
Email and a free domain
User Interface Enhancement
Ionos Cons
Only phone support is available.
There are no free website transfers available.
In many countries, you won't be able to sign up.
---
10. HostPapa
HostPapa has grown to serve over 500,000 websites since its beginning in 2006. They provide exceptional performance, features, and value for money.
Websites had a 99.99 percent uptime and an average page speed of 565 milliseconds.
However, their good performance isn't their only advantage:
Perhaps no other host provides as many assistance choices as HostPapa. They offer live chat, email, fax (!), mail help 24/7, and phone service in over 18 countries and four languages. In addition, their knowledge base contains several valuable videos.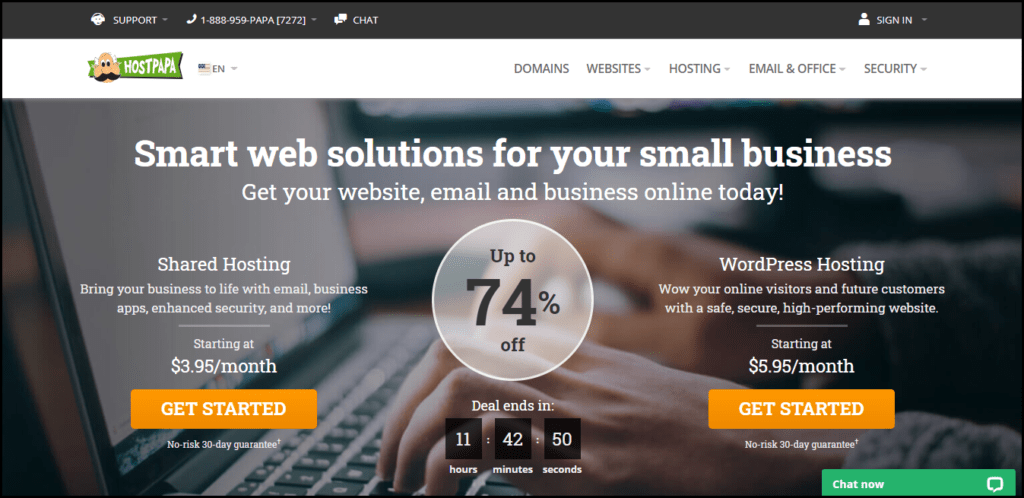 With a 3-year subscription, you can receive HostPapa's cheapest plan, Starter, for $2.95/mo. This includes outstanding Panda Cloud security features and a website builder and 400+ 1-click-install apps, free migration, SSL, and CDN. A free domain name, 100 GB of Storage, and unmetered bandwidth are also included.
All of this represents excellent value for money and is a perfect fit for beginners. The only drawback is that the Starter plan automatically renews at $9.99 each month.
Shared, VPS, and WordPress hosting solutions are available from HostPapa. They also provide a 30-day money-back guarantee.
HostPapa Pros
Excellent Uptime (99.99 percent )
The Average Speed is high (565 ms)
Numerous Support Options
Proactive security Features
Money-back guarantee for 30 days
HostPapa Cons
---
Conclusion
The hosting service you pick will most likely be your partner for a long time. So carefully consider each option that has piqued your interest, and choose the one that best meets your requirements.
All of the hosting companies on the list above are reputable companies with a track record of providing excellent service. Use the strategies and best practices we discussed to make an informed selection, whether you choose one of the top suggestions or scout out your own.
In today's environment, having a dependable web host is essential. Make this decision as though your company's future depended on it.