Online learning platforms are a fantastic and easily available resource for studying on your own schedule, whether you're looking to learn some new valuable skills or just want to explore a topic for pleasure. These platforms, as an alternative to online schools, tend to be a little more flexible and may even offer more unique or uncommon programs that you wouldn't find at a traditional college, but prospective students should weigh their alternatives to choose what is best for them.
The best online course platforms can assist you with anything from designing a course website to publishing videos and engaging with students. We listed the seven best online learning platforms in this article to choose the best one for yourself.
#1 – Coursera — Best For College/University Students
Coursera is more than simply a place to take college-style classes; it also provides real academic courses from real professors and colleges at a fraction of the cost of an online degree.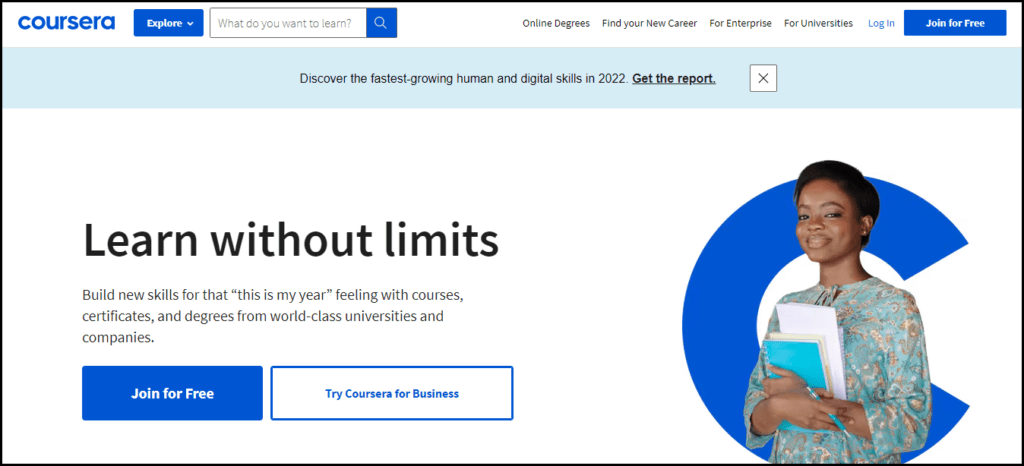 Over 200 colleges and businesses have partnered with the platform to create real-world learning experiences that can lead to real-world advantages. You can even gain certificates or degrees fully through Coursera, which can lead to professional rewards such as promotions, raises, and more. Even if you aren't interested in professional growth, Coursera provides hard and engaging programs on a variety of topics, allowing you to explore hobbies you may not have previously considered.
Coursera courses, which take roughly 4-6 weeks to complete and feature video lectures, peer-reviewed assignments, and community discussion forums, are taught by instructors from some of the world's leading universities.
Coursera Pricing?
Coursera is free to join, but you must be signed in to access individual course cost information. Coursera's course offerings are divided into three categories.
Basic Course: Subscriptions to the main courses range from $29 to $99 per month. These take about 4-6 weeks to complete, and you'll get a digital course certificate (PDF Document) when you're done.
Specialization Course: Specialization courses range from $39 to $79 per month and are designed to help you master a certain job skill. With hands-on projects and more challenging training, you tackle actual business difficulties in these online courses.
Degree Program: Online degree programs are available. You can even enroll in university-recognized online degree programs if you want a more advanced education. These take 1-3 years to finish and range in price from $15 to $25,000.
#2 – Udemy — Best For All
If there's something you want to learn, it's probably on Udemy. The site is more of a hub or repository where students can access over 100,000 courses on any topic possible, rather than a single "platform."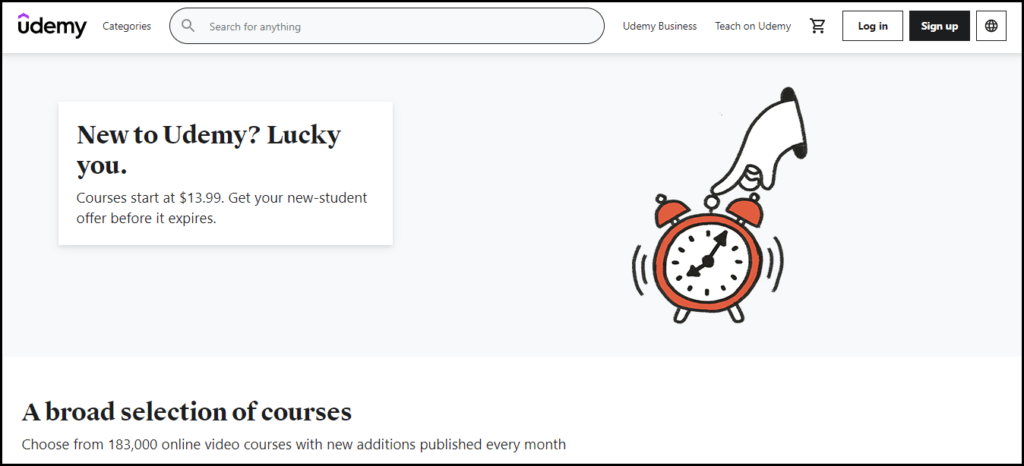 Lessons in programming and IT, business skills, teaching, productivity, and much more can be found alongside language, arts, music, and fitness classes. There are also sections for personal development and lifestyle, which involve life skills and other practices that aren't usually taught in the classroom.
With over 24 million students, 35,000 instructors, and an incredible 80,000+ courses, Udemy is one of the top online course platform marketplaces.
Udemy Pricing?
Each class is charged separately because it is designed and taught by a different person: The cost of lifetime access to a single course can range from as little as $11 to $15 to as much as $200 or more. The good thing about Udemy is that they always allow you to use coupons that can give you a complete course for free.
#3 – Skillshare — Best For Creative Fields
Skillshare is a big online marketplace focused on creative learning. Graphic design, music production, visual art, and cooking are just a few covered topics.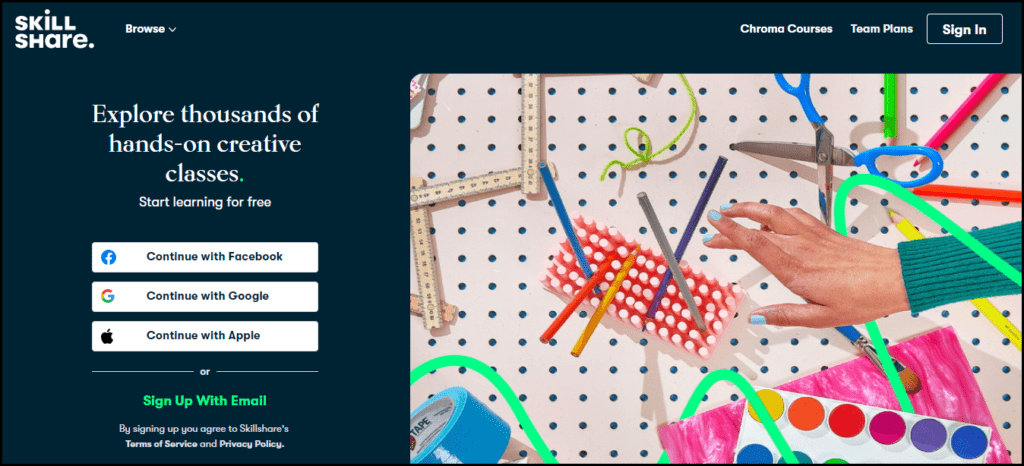 Data science, analytics, and e-commerce are among the more technical topics covered in their lectures. Skillshare has over 5 million members and has paid out more than $5 million in instructor compensation.
Each session is 20-60 minutes long, with shorter courses and tasks and a community discussion area where students can communicate with one another.
Students can share their efforts and receive feedback from others during open conversation, which is incredibly valuable for their creative subjects. They can also assist premium members with production, course development, and even online course creation at their New York studio.
Skillshare Pricing?
Students who sign up for Skillshare can take as many or as few courses as they wish while registered because the company uses a subscription model rather than a per-course pricing approach. The current monthly price is $32, or $168 if you pay for a year in advance (which comes out to roughly $14 per month).
#4 – Shaw Academy — Best For Professionals
Shaw Academy is a platform that provides professional, recognized online courses to its students. Shaw Academy gives students access to their long-form courses once they sign up.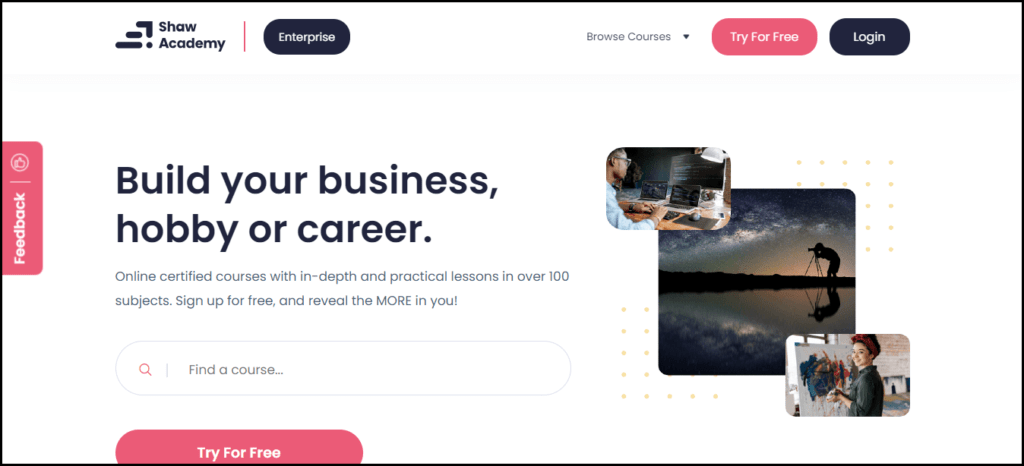 They provide training for enthusiasts, professionals, and businesses in three different categories.
For example, they provide a widely acclaimed Digital Marketing Course in their "For Professionals" category. This course consists of 32 videos and will take 16 weeks to complete.
Shaw Academy Pricing?
For the first four weeks, all courses are free. After that, you can pay for a monthly plan to continue studying.
The monthly fee then goes from $49.99 to $60.
#5 – EdX — Best Pedigree
Authentic college courses in a wide range of subjects and topics are offered, designed, and delivered by real college instructors. Although they have a minor bias toward STEM areas, there are plenty of languages, humanities, and art themes to choose from. EdX, which has partnered with various universities, provides professional degree certifications and "micro" bachelor's and master's degree programs, primarily as a tool for professional growth.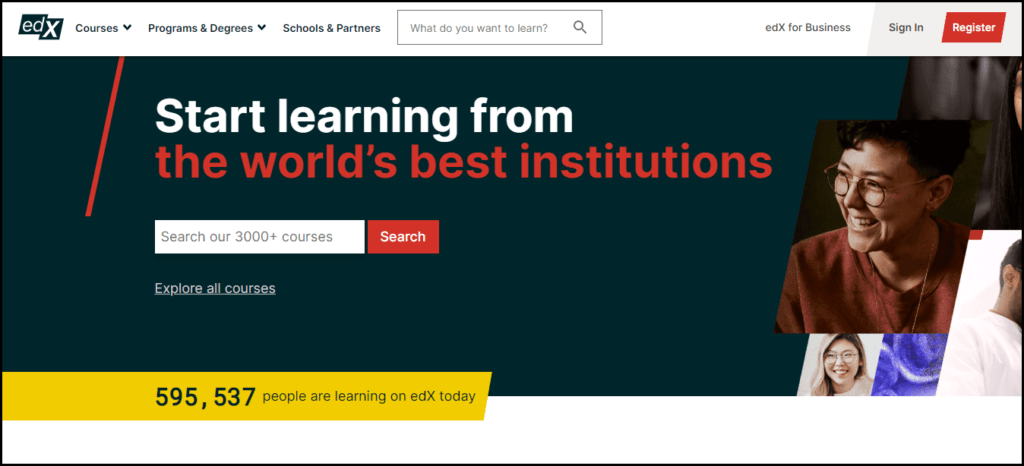 They also offer a "Global Freshman Academy," which allows students to earn transferable undergrad credits for certain classes through cooperation with Arizona State University. Classes are similar to "actual" online courses in the following ways: You may be subjected to lectures, books, assignments, discussions, and quizzes, to name a few.
EdX Pricing?
Most of EdX's courses are free, which is a strong selling point—but there's a catch. The free version will certainly be enough if you're just taking the class for fun, but the "verified certificate" option costs around $49 per session if you want official certification for professional purposes.
Each course has an official "start date," which cycles often, but once the session starts, students can go at their own speed.
#6 – Udacity — Best For Technologist
Udacity offers courses in all of the most in-demand fields, making IT skills one of the most valuable skills you can take on your own time.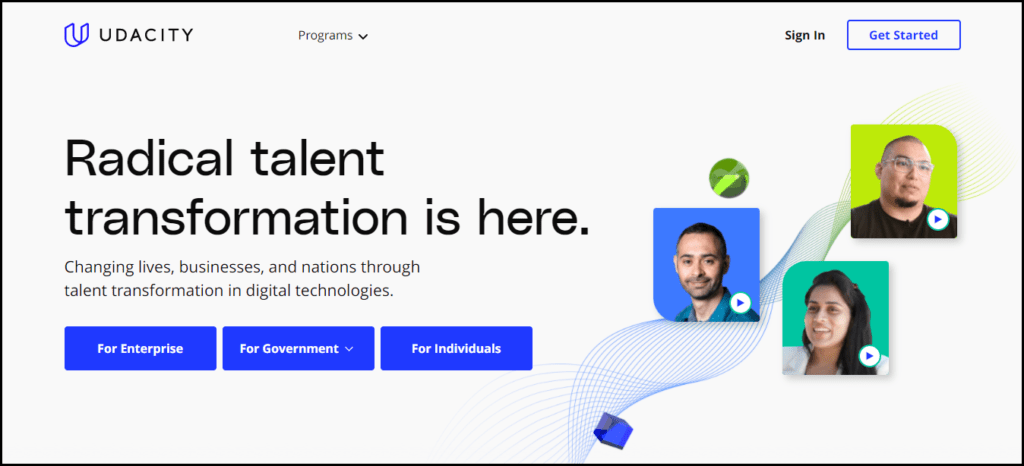 With modules focusing on web development, programming, cloud computing, and data science, the platform is created as a version of the "coding Bootcamp" learning method. There's certainly a course at the proper level for you, whether you're a total newbie attempting to create a new skill set or you're trying to improve your knowledge of a specific topic.
Hands-on practice, real-world applications and examples, personalized code reviews, and genuine instructors and career counselors that can address your specific requirements are all included in each program.
Udacity Pricing?
Udacity's platform is distinct from others on the market. Rather than individual classes, their main product is a "nano degree," a Bootcamp-style program that combines several lectures, projects, individualized evaluations, class discussions, and one-on-one technical mentoring from specialists. Most programs need one to five months of part-time study depending on the subject.
However, all of these benefits come at a cost: It costs around $399 each month, or $597 for students who pay for the entire four months at once.
#7 – LinkedIn Learning — For Business People
Another online course marketplace geared toward business people is LinkedIn Learning (previously Lynda). They're a powerful platform for working people wishing to keep their skills up to date, with over 1,000 business courses in areas like project management, web development, and digital marketing.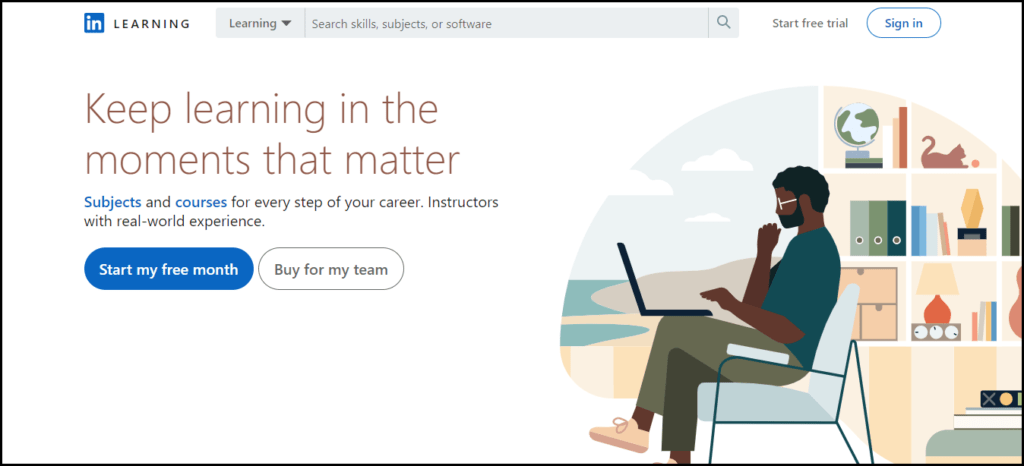 They also provide certificates that you can add to your LinkedIn page to highlight your skills and improve your online profile.
LinkedIn Learning Pricing?
Monthly charges are tied to a LinkedIn premium membership, which costs $29.99 per month or $24.00 per month if paid yearly.
The Concluding Note:
Remember to do your research while choosing amongst the top online course platforms: consider the student experience, marketing features, and cost.
The essential thing is to make the most of your educational opportunities. When deciding which platform to utilize, this is the rule to follow; select one that will help you get the most out of it.