Softorino Overview
Softorino is a group of few people but not lesser in passion as it has become one of the best providers of amazing tools to its users. It was founded back in 2014, and since then, it has never looked back and focused on being one of the best in the business.
Their first product was WALTR which has upthrusted the firm and dedicated them to their passion for better customer opportunities. Softorino entered the competition and shortly became one of the leading groups in the field.
Soforino believes in simplicity and consistency, and with time they have to avoid the disappointment of their users. In addition, the tech group constantly added useful, simple, reliable, and affordable tools that mark the firm as it is today.
Here in this special review about softorino.com, we will be sharing our own personnel experience regarding the site; while covering an array of interests to the audience.
Softorino Premium Software?
Softorino provides several software/applications that are beneficial for the customers in many ways.
#1. Waltr Pro
WALTR PRO can be experienced on both macOS and Windows. It can convert and transfer any file into the operating system. Here you can easily get files into your device without any hassle. The firm's flagship project has made a reputable success in the marketplace.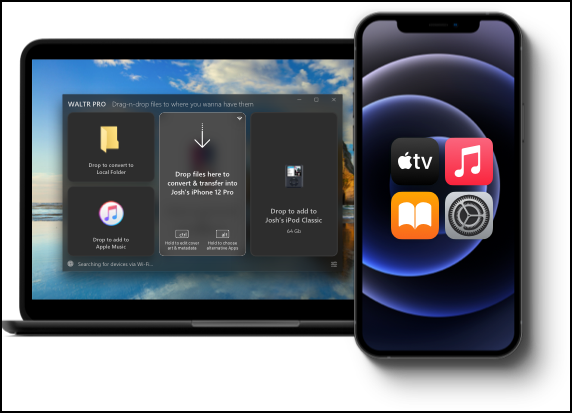 How To Use It?
Select your destination file.
Drag and drop the file of your choice.
WALTR PRO detects the individual file you have selected.
It converts the file and transfers it to the selected destination file.
Features of WALTR PRO
There are plenty of features of the WALTR PRO but let's look at a few of them.
Edit Metadata and cover art: It is one of the promising features of WALTR PRO, where you can automatically scan and fills missing metadata through the Automatic Content Recognition (ACT) feature. It has given you the freedom to edit cover art and metadata and allows you to make your media eye-catchy.
Virtual Transfer of FILES TO IOS: You can virtually transfer files to the iPhone or Ipad. Simply select a file such as documents, pictures, comics, videos, and many more to your desired location.
Play music from my vinyl: You can also listen to a collection of music from HomePod through iCloud. Another option for the FLAC music collection is to transfer the group to Apple music without losing any quality and enjoy the beat.
Pricing:
The pricing for WALTR PRO starts at $29.95. You can get a 50% off option while upgrading from WALTR 2 to WALTR PRO.
#2. Softorino YouTube Converter:
Softorino, the incredibly handy and ingenious Waltr software creator, has introduced YouTube Converter for $20. YTC, like that software, makes it simple to sync videos to an iOS device without first importing them into iTunes. (Be sure to disable automatic sync in iTunes, as this would delete any videos downloaded by YTC or Waltr.)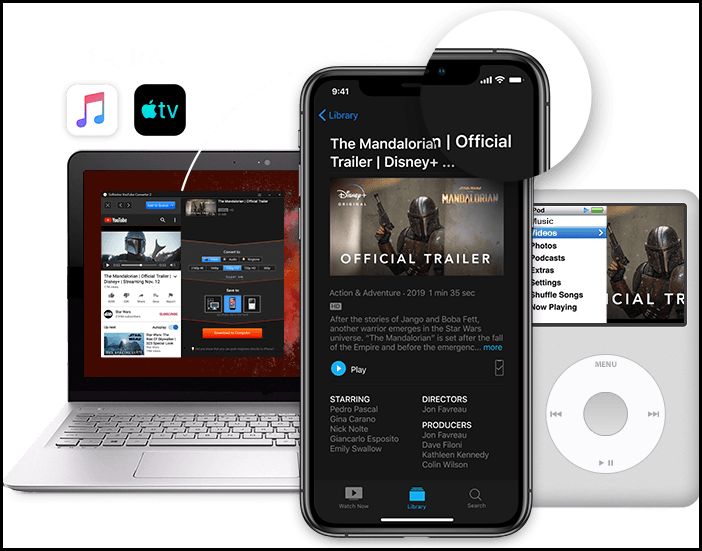 The difference is that YTC can download videos straight from YouTube's servers and convert them to one of four quality levels on the fly: 4K, 1080p, 720p, or 360p. (With 720p chosen, native 480p videos transfer without conversion.) The generated file is then transferred to Apple's built-in Videos app's Home Videos section, along with thumbnail artwork.
How To Use It?
Simply copy a YouTube URL, and it will be instantly pasted into the app.
Choose a quality setting and destination.
YTC handles the rest when you click the red Convert button.
Features of Softorino YouTube Converter:
There are plenty of features of the SYC but let's look at a few of them.
One-Click Download: You can download music and videos to a computer or Apple device built with a single click. It works with the full iPod lineup, including older iPod Classics and Nanos. Softorino offers 4K Ultra HD downloads at 60 frames per second, including subtitles and playlist support.
Built-in Browser: A YouTube browser is included in SYC 2. Without leaving the app, you can search for any YouTube video. You can copy the URL from a number of newly supported websites, and Softorino YouTube Converter 2 will detect it instantly (this includes: SoundCloud, Vimeo, BandCamp, VEVO, BREAK, Weibo, DailyMotion, Facebook, Instagram, Audioboom, VK, LiveLeak & many others).
Turn YouTube Video Into Ringtones: Trimless Ringtones may be the most fantastic and unique SYC 2. With Trimless Ringtones in the new SYC 2, you can easily convert ANY YouTube video into ringtones and send it to your iPhone with a single click (even without cords, via WiFi).
Pricing:
SYC 2 will be $9.95 if you choose the monthly billing method. In contrast, it will only cost you $35 if you choose the annual payment method. You can also go for the lifetime license by paying a one-time payment of $300.
#3. Folder Colorizer 2:
Folder Colorizer's breakthrough was its direct client experience — the ability to change folder color with a single click as if it were already built into the framework. Folder Colorizer 2's first concept and objective raise the standard for categorizing little Windows utility software.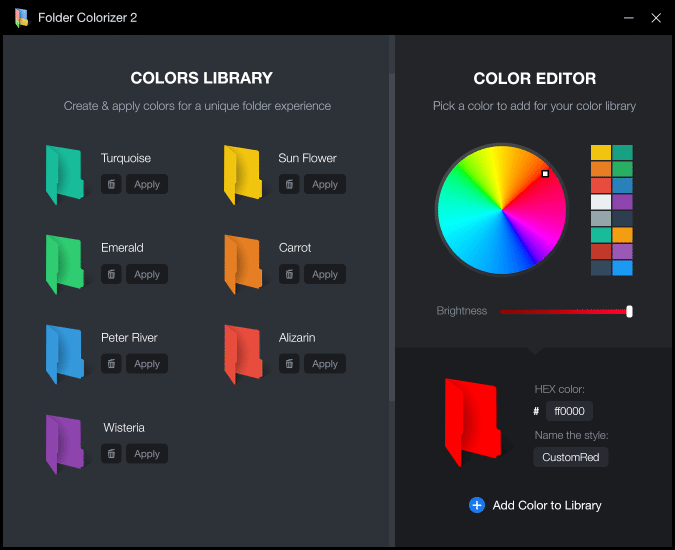 How To Use It?
Download the Folder Colorizer 2 from Softorino.
After installing the Softorino Folder Colorizer, activate your license.
All you have to do is just right-click on any folder on your PC, and you'll find the Colorizer option where you can choose your desired color for folders.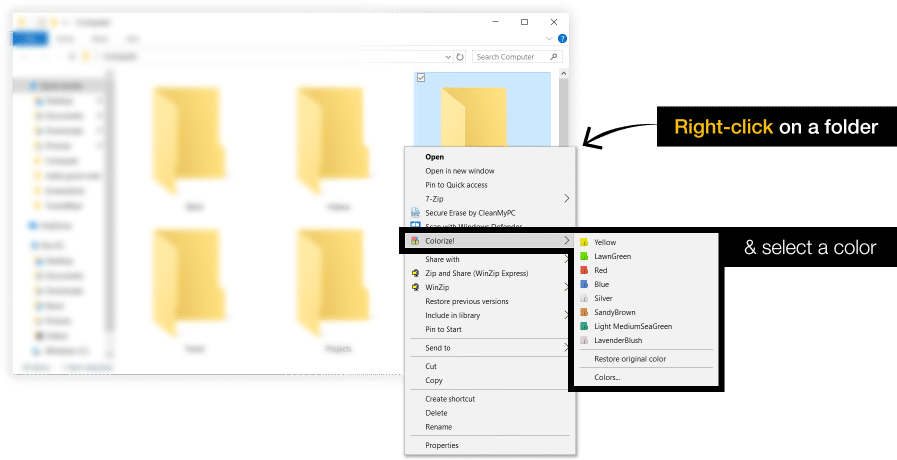 Features of Softorino Folder Colorizer 2:
Make Your PC More Colorful: On Windows PCs, changing the color of folders by category, need, or various labels is difficult. Folder Colorizer 2 has a color-changing option in the Context Menu that allows you to modify the tone of an organizer by just right-clicking on it. It doesn't get any easier than adding colors to Windows organizers.
The World's Colors: Folder Colorizer 2 exceeds all expectations with an implicit color manager. It now has support for HEX color codes. Furthermore, with 16 million distinct tones to choose from, customizing your color tone is a snap. As a result, it's so much nicer when your organizer comes in that precise hue that you like.
Make Folders Stand Out: With Softorino Folder Colorizer 2, you can easily recognize different folders on your PC.
Pricing:
It has the same pricing tables as for SYC 2.
Softorino Universal License:
In Softorino, 16 Premium apps will help you organize your workspace and make your workflow pleasant.
You can go for any app individually that will cost you $35. However, you can get all the 16 Premium Softorino Apps with a single lifetime license that will only cost you a one-time payment of $300.
In the Softorino Universal License, you can activate 16 apps (a total of $300) with a single license.
Here is the list of the apps that are included in the Universal License:
WALTR PRO
SYC 2
iRingg
Folder Colorizer For Mac
Folder Colorizer 2
Memory Optimizer 2
Task ForceQuit 2
Volume Concierge 2
Some other apps that will also be included in the Universal License in the near future:
PicFindr
Streamr
SYC PRO
altTunes