Bluehost Overview:
Bluehost was founded in 2003 and has since evolved to become one of the world's leading providers of affordable and reliable web hosting.
From shared and WordPress hosting to website builder tools, Bluehost has a variety of products and services to help you get started with your website or online store. They focus on serving the demands of small businesses in terms of digital marketing and education.
Their low-cost hosting plans include unlimited bandwidth, free global CDN and SSL certificates, as well as free daily, weekly, and monthly backups, all on a robust and reliable platform that is built to scale and optimized for performance and security. The cheapest hosting plan is $2.75 per month.
Bluehost is a well-known brand name in low-cost web hosting, with over 2 million websites globally. They are able to give considerable price savings due to their high volume of business.
To boost traffic, Bluehost offers marketing training, SEO services, social media marketing, content management, graphic design, email, domain names, and local business listings in addition to web hosting.
Bluehost has it all, from complete beginners to huge e-commerce sites, as well as experienced WordPress users.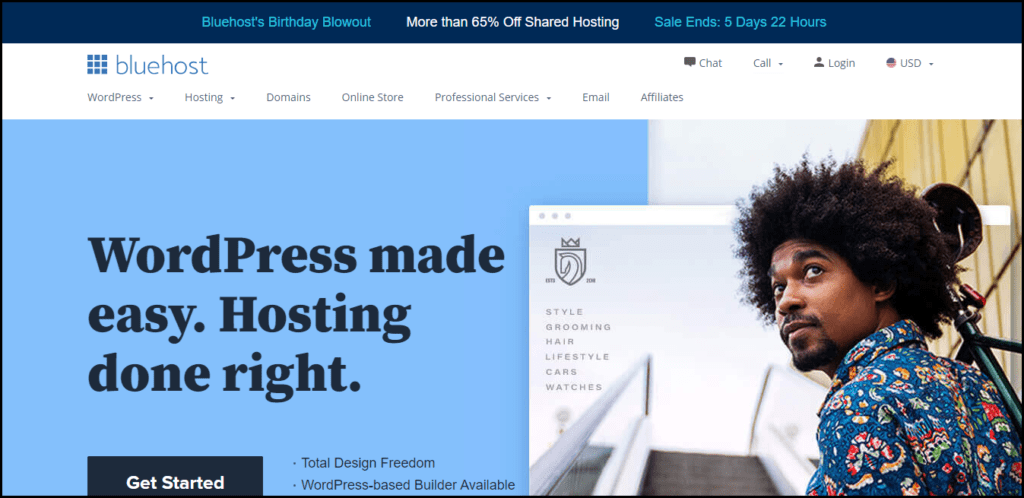 Bluehost Review:
In this in-depth Bluehost review, we'll put their claims to the test with a comprehensive review using industry-standard benchmarking techniques.
The following are the topics we'll cover:
Speed
Uptime
Customer Support
Hosting Plans
Features
Pricing
Bluehost Speed Test:
Google's research revealed that:
"As page load time goes from 1s to 3s the probability of bounce increases 32%."
This means that your site's visitors are 32 percent more likely to leave it. Longer page loading times lead to more visitors lost.
In addition, Google is shifting its indexing strategy to prioritize mobile devices. This implies that your site must be mobile-friendly, or you will lose traffic.
In any situation, a poor website will almost always result in less visitors and, as a result, fewer sales. So, the most essential factor that can make and break your website's success is page loading time.
You can view the Bluehost speed monitoring results history since 2017 here.
Bluehost Uptime Test:
When it comes to choosing a web host, uptime is one of the most important factors to consider. After all, if your site is down, your users won't be able to access it. When looking for hosting services, continuous uptime should be one of your top objectives.
After assessing many web providers, our standard for "good" uptime is 99.93 percent. We don't want to see anything less than that in the perfect world.
The good news is that Bluehost significantly exceeds this goal.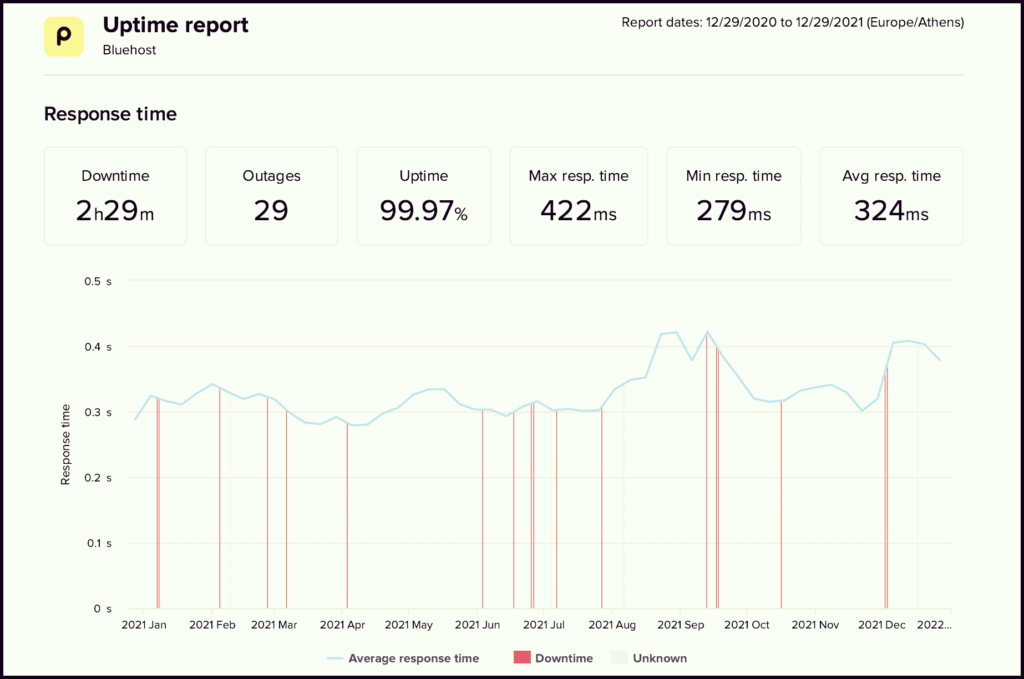 Here's how Bluehost's average uptime has changed over the last 12 months:
| Month | Year | Average Uptime |
| --- | --- | --- |
| January | 2021 | 100% |
| February | 2021 | 99.97% |
| March | 2021 | 100% |
| April | 2021 | 99.99% |
| May | 2021 | 99.77% |
| June | 2021 | 99.99% |
| July | 2021 | 100% |
| August | 2021 | 99.98% |
| September | 2021 | 99.90% |
| October | 2021 | 93.29% |
| November | 2021 | 90.63% |
| December | 2021 | 99.95% |
Bluehost Customer Support:
Bluehost offers live chat, phone, and email ticketing 24/7. They also have an extensive knowledge library with answers to frequently asked questions and relevant information.
The ticket-based support system is one thing that is missing. Bluehost recently chose to phase out ticket-based support in favor of a more personalized live chat and phone-based approach.
Some customers, however, may miss the ticket-based support system, which is especially useful if your problem cannot be handled in a single live chat or phone session.
Bluehost Hosting Plans:
Bluehost has a wide range of hosting plans to suit all your budgets and needs. Shared hosting, virtual private servers, dedicated servers, cloud hosting, WooCommerce hosting, managed WordPress hosting, and more are all available.
Let's look at some of Bluehost's hosting solutions.
Bluehost Shared Hosting: Shared hosting is an excellent choice for a new website with little traffic. Your website shares server resources with other websites in a shared hosting setup.
Bluehost WordPress Hosting: Their WordPress plans are dedicated to WordPress-based websites. It is WordPress-optimized and can even protect your WordPress site from typical attacks.
Bluehost Cloud Hosting: An upgrade to the shared hosting plan that is more reliable. It enables you to use many cloud servers, letting your website move to a new server automatically in the event of a hardware failure or significant traffic.
Bluehost WooCommerce Hosting: WooCommerce is the most popular eCommerce plugin for WordPress, and it enables you to create an online store using the system simply. WooCommerce hosting comes with all of the functionality you'll need to get your eCommerce shop up and to run.
Bluehost VPS Hosting: VPS hosting is a step up from shared WordPress hosting, allowing you to have dedicated virtual resources in a shared environment.
Bluehost Dedicated Server Hosting Plan: A dedicated hosting server for your website implies you'll have exclusive access to all of the server's resources. The disadvantage is that you will be responsible for managing the server independently.
WordPress can be installed with a single click on any Bluehost hosting plan.
All plans have a simple hosting control panel that allows you to manage your hosting, manage databases, and more.
Bluehost features a customized control panel that makes it easier for beginners to use. It uses a modified version of the cPanel hosting dashboard for more complex features.
Bluehost's Shared Hosting Plans Detailed Look:
Bluehost is a shared hosting plan that is ideal for new websites. There are four different levels of their sharing plan. These are basic, plus, choice plus, and pro.
Let's look at Bluehost's price and what each plan includes.
| | BASIC | PLUS | CHOICE PLUS | PRO |
| --- | --- | --- | --- | --- |
| Websites | 1 | ∞ | ∞ | ∞ |
| Bandwidth | ∞ | ∞ | ∞ | ∞ |
| Storage | 50 GB | ∞ | ∞ | ∞ |
| Email Accounts | 5 | ∞ | ∞ | ∞ |
| Email Account Storage | 100 MB/per | ∞ | ∞ | ∞ |
| Extras | Free Domain and Free Website Builder. | Free Domain, Free Website Builder, and 1 SpamExperts. | Free Domain, Free Website Builder, 1 SpamExperts, 1 Domain Privacy, and 1 SiteBackup Pro. | Free Domain, Free Website Builder, 2 SpamExperts, 1 Domain Privacy, 1 SiteBackup Pro, and a Dedicated IP. Domain Privacy. |
| Regular Price | $8.99/month | $11.99/month | $16.99/month | $26.99/month |
| Discounted Price | $2.75/month | $4.95/month | $5.45/month | $13.95/month |
Bluehost Features:
If you're thinking about starting a website or blog, Bluehost is one of just three hosting companies recommended by WordPress. Their cheapest shared hosting package costs only a few dollars per month for a single name. You can add an infinite number of domains and subdomains for a nominal fee.
The following are some of Bluehost's best features:
Uptime is good (99.96 percent )
A rapid speed (641 ms)
WordPress One-Click-Install
Beginner-friendly and easy to use
Domain and website builder for free
Support is available 24/7 (Live Chat and Phone)
Easy-to-use, customized cPanel.
Dozens of website tool addons.
Free site builders.
Free email accounts.
Technology to support fast page load times.
Free Cloudflare integration (speeds your site loading).
Free SSL certificate.
Above-average security features.
#1. Bluehost Control Panel:
The Bluehost Control Panel is included with all shared packages. The Bluehost Control Panel is a modified and improved version of the cPanel Control Panel, which is popular and simple to use. cPanel has been redesigned to make it even easier to use.
#2. Bluehost Addons:
Whether you're a beginner who needs a little help or an experienced pro who knows their way around the nooks of website creation and maintenance, Bluehost will make creating, modifying, and maintaining your website straightforward.
All of this is possible owing to Bluehost's numerous site tools.
#3. Bluehost Professional Emails:
Bluehost's Microsoft 365 integration provides you with a professional email address created from your domain name (i.e., i[email protected]) and a smooth method to interact with your team.
#4. Money-Back Guarantee:
Bluehost offers a 30-day money-back guarantee. You must read all of the terms and conditions because this isn't a simple situation. You'll get reduced hosting pricing when you initially sign up. The discounted pricing, however, is only valid for the first term. Then it goes back to the original price.
#5. Bluehost Cloudflare CDN Integration:
Everyone, especially e-commerce business owners, values quick website load times. High bounce rates, low conversion rates, and financial loss are all caused by slow pages. This is when Cloudflare comes into play.
Cloudflare integration is included in all Bluehost plans. Cloudflare is a content delivery network (CDN), or a collection of servers that caches your website's content.
Bluehost Pricing:
Bluehost provides a variety of hosting options, including shared, VPS, dedicated servers, and WordPress hosting. Here's a quick rundown of their plans and current pricing. Visit Bluehost's website for the most up-to-date pricing.
| Plan | Storage | Bandwidth | Price |
| --- | --- | --- | --- |
| Basic Shared | 50 GB | ∞ | $2.75/month |
| Plus Shared | ∞ | ∞ | $5.45/month |
| Choice Plus Shared | ∞ | ∞ | $5.45/month |
| Choice Pro Shared | ∞ | ∞ | $13.95/month |
| Standard VPS | 30 GB SSD | 1 TB | $18.99/month |
| Enhanced VPS | 60 GB SSD | 2 TB | $29.99/month |
| Ultimate VPS | 120 GB SSD | 3 TB | $59.99/month |
| Standard Dedicated | 500 GB | 5 TB | $79.99/month |
| Enhanced Dedicated | 1 TB | 10 TB | $99.99/month |
| Premium Dedicated | 1 TB | 15 TB | $119.99/month |
| Basic Shared WP | 50 GB | ∞ | $2.75/month |
| Choice Shared WP | ∞ | ∞ | $4.95/month |
| Choice Plus Shared WP | ∞ | ∞ | $5.45/month |
| WP Pro Build | ∞ | ∞ | $19.95/month |
| WP Pro Grow | ∞ | ∞ | $29.95/month |
| WP Grow Scale | ∞ | ∞ | $49.95/month |
| WooCommerce Standard | ∞ | ∞ | $15.95/month |
| WooCommerce Premium | ∞ | ∞ | $32.95/month |
Bluehost Pros:
Bluehost hosts over 2,000,000 websites worldwide, indicating that the company is doing something well.
Provides a diverse range of web hosting services.
Upgrading to a VPS or dedicated server without transferring your website is simple.
Provides you with Cloudflare support that is built-in.
Unique IPs, SSL, and SiteLock protection are among the security features included.
Bluehost Cons:
Does not provide shared hosting on a month-to-month basis.
Charges a fee to transfer your website from another hosting provider to Bluehost. The majority of hosting companies offer this feature for free.
Bluehost exclusively provides Linux-based servers; Windows hosting is not available.
The cost of their free domain renewal is greater than the average.
For complete security, you must perform your own regular backups.
Do We Recommend Bluehost?
Yes! We recommend Bluehost.
Bluehost has done significantly better in the past, but they continue to deliver satisfactory services with reasonable server speeds.
They also provide:
Excellent security features.
A fantastic money-back guarantee.
A multitude of user-friendly apps.
Numerous levels of hosting services suit different consumers.
With an exclusive offer, the monthly price starts at $2.75.
FAQs about Bluehost:
We tried to cover all areas of Bluehost's hosting services in our in-depth Bluehost review. Some of the most frequently asked questions regarding Bluehost from our users are answered below.