Not all of us are equally blessed. Some of us are going through financial troubles, and because of this, our education also suffers. You may have financial issues, and you want to learn some new skills, but you don't have enough money to pay for it. In short, you are less blessed.
But don't worry, there is a way for you to learn the skill you want for free, and that is The Financial Aid Program, which is run by Coursera.

A lot of students are benefited from it. In this guide, I'll be focusing on students with needy backgrounds. I'll share with you the step-by-step process of How to get Financial Aid for any paid course with a certificate.
These certificates hold the importance they are worth. You can mention these certificates in your resume, and it may help your career by cracking an interview for a good job.
How To Apply For Coursera Financial Aid?
Here are a few steps to apply for Coursera's Financial Aid Program. By following these steps, you will get Financial Aid for your desired course.
Step 01:
For example, I need "Optimizing a website for Search Course". This is the third course in the SEO specialization. I completed the first two courses through Financial Aid. As you can see, the option "Financial Aid Available" is next to the enroll button.

When you click the button, a new window will be opened, where you've to select the 'continue to application' option.


To continue to the application form, tick the two options and type "I agree to terms above" in the box.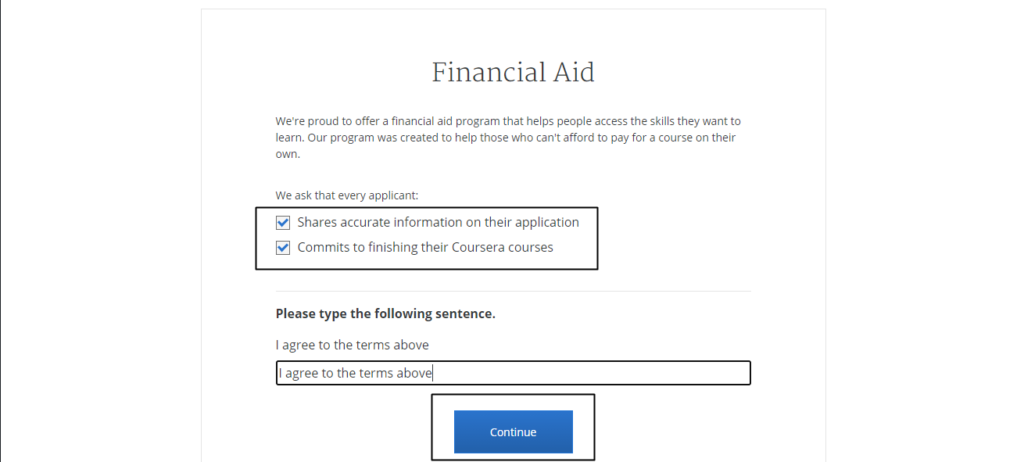 Step 02:
As you can see, we've got the application form. In the first section of the form, you've to fill in your Background Information. You can fill it by Yourself.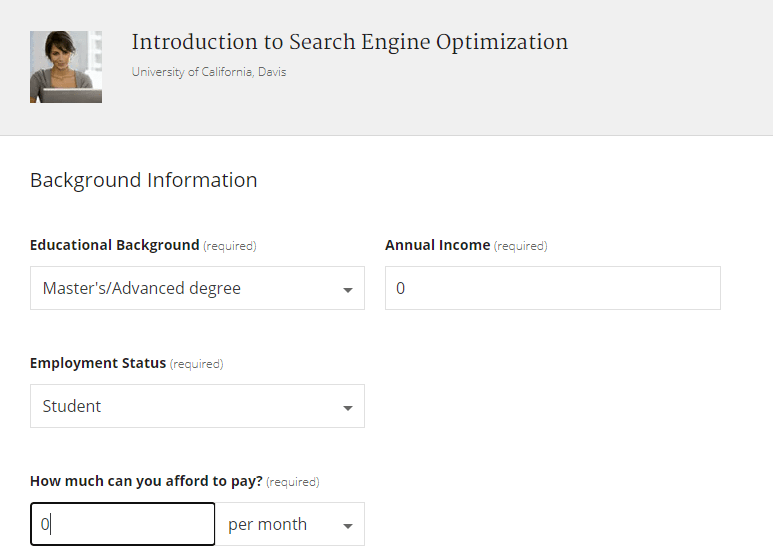 Step 03:
Now it's time to answer the question they are asking, and yes, it is the difficult part of the application form because you've to tell them why you need this Financial Aid for the course.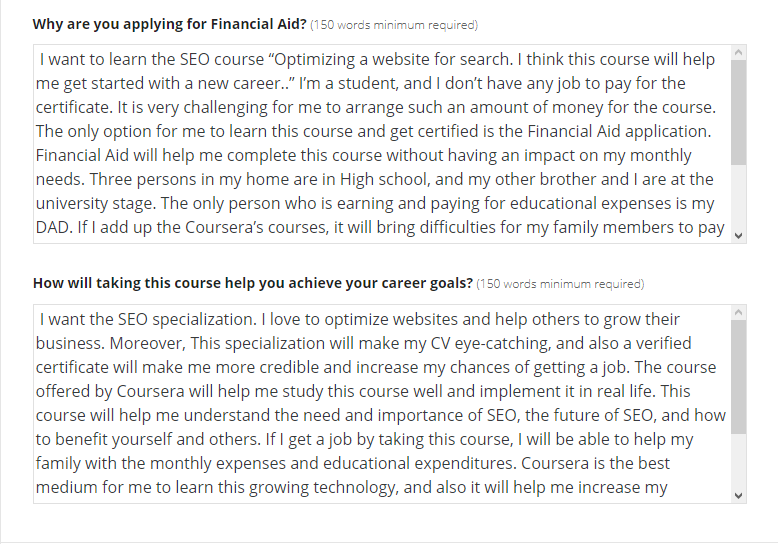 Here are the questions you need to answer:
Why are you applying for Financial Aid? (150 words minimum required)
How will taking this course help you achieve your career goals? (150 words minimum required)
If you answered no, please help us understand why.
Would you consider using a low-interest loan to pay for your courses?

You may be thinking, how do I answer these questions. But, Don't worry, here are the best answers to all the questions they're asking.
Answering The Questions:
Q1: Why are you applying for Financial Aid? (150 words minimum required)
Ans: I want to learn the SEO course "Optimizing a website for search. I think this course will help me get started with a new career.." I'm a student, and I don't have any job to pay for the certificate. It is very challenging for me to arrange such an amount of money for the course. The only option for me to learn this course and get certified is the Financial Aid application. Financial Aid will help me complete this course without having an impact on my monthly needs. Three persons in my home are in High school, and my other brother and I are at the university stage. The only person who is earning and paying for educational expenses is my DAD. If I add up Coursera's courses, it will bring difficulties for my family members to pay for the educational expenses. Completing a course from a top university through Coursera will help me get a bright future. If I complete this course, it will help me add a bonus point to my resume, which will help me get jobs easily. Not only for the resume, but I'm also willing to learn the course and want to understand all its majors.

Q2: How will taking this course help you achieve your career goals? (150 words minimum required)
Ans: I want the SEO specialization. I love to optimize websites and help others to grow their business. Moreover, This specialization will also make my CV eye-catching, and also a verified certificate will make me more credible and increase my chances of getting a job. The course offered by Coursera will help me study this course well and implement it in real life. This course will help me understand the need and importance of SEO, the future of SEO, and how to benefit yourself and others. If I get a job by taking this course, I will be able to help my family with the monthly expenses and educational expenditures. Coursera is the best medium for me to learn this growing technology, and also it will help me increase my knowledge in the emerging tech world. My main career goal is Computer Science, and learning these courses will help me attach credibility to my certificate and boost my progress in my career.
Q3: If you answered no, please help us understand why.
Ans: I'm studying, and I've no job. My family is not able to pay the monthly educational expenses. If I add the Coursera courses certificate expenses, it will be tough for them to carry the costs. I can only invest my time in these courses, and I'm willing to learn these courses. I'll do my best to complete this specialization.

Q4: Would you consider using a low-interest loan to pay for your courses?
Ans: For this question, only two options are available, YES & No. Select No

You can use these answers for any course. Just replace the course name with the course you want to do. It works. I got Financial Aid for many courses with the same answers.

Now click on the submit button, and now you will have to wait for 15 days for the application's approval. After 15 days, you'll receive an email from Coursera whether your application is approved or not? If your application is denied, they will also explain the reason, so you can fix the error and re-submit your application.

As you can see, by following these steps, I got financial aid for the course.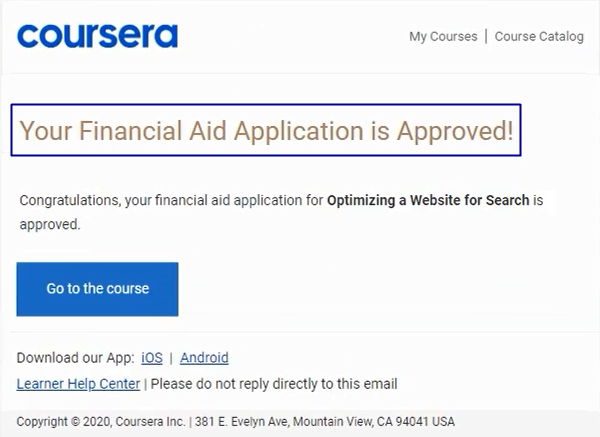 FAQs:
Is the Financial Aid option available for every course in Coursera?
Ans: No, not every course has a Financial Aid option available. For some courses, you have to pay.
Can I start the course with a free trial after submitting the Financial Aid application?
Ans: Don't apply for the Free-Trial while you've submitted the Financial Aid application.
Can I re-apply for the Financial Aid application after rejection?
Ans: If your application has been rejected, they will email you why they rejected your application. So you can Re-apply for the application after making corrections.
If a specialization has multiple courses, you've to apply individually to every course in the specialization.
After getting approval for the first course, when should I apply for the next?
Ans: Apply for the financial aid of the next course while doing the earlier one. So as you complete the first course, you'll get the next course approval.
Can I apply to Coursera's Financial Aid through Smartphone?
Ans: You can not apply for Financial Aid using your smartphone. You have to apply through a computer or desktop.
Do they require ID verification?
Ans: Some courses require your ID verification. So you will have to provide your documents for the verification.
The Concluding Note:
So this was a full guide on how to get Financial Aid for any Paid course. Hopefully, you understand it very well. If you still have any questions regarding filling the application, please feel free to ask them below in the comment section. I'll try to answer all of your questions.

Share this guide with someone who really needs it.
Happy Learning 🙂