Artificial intelligence (AI) is increasingly being used in cutting-edge technology. On November 30, the ChatGPT chatbot, the newest innovation from San Francisco-based OpenAI, went on the free public tests. A chatbot is a piece of software created to mimic human-like dialogue in response to user input.
According to Sam Altman, co-founder, and CEO of OpenAI, over a million people have tried to get ChatGPT to communicate within a week of its release.
What is ChatGPT:
ChatGPT is an innovative natural language processing (NLP) model created by Hugging Face, an AI research lab. The model was designed to facilitate interactive conversations between people and machines. It is based on the GPT-3 model, a powerful AI language model developed by OpenAI. With ChatGPT, users can ask questions, get answers from the model, and even have a natural conversation with it.
The model is trained on a large amount of data, allowing it to understand and reply to a variety of topics. It can generate meaningful answers to questions and can even keep a conversation going by asking its own questions. ChatGPT is a great tool for businesses to use to interact with customers and can even be used in educational and entertainment settings.
How Does The OpenAI's ChatGPT Work?
ChatGPT is a natural language processing (NLP) system that is powered by a powerful Machine Learning algorithm called GPT-3. It is designed to provide human-like conversation responses to users' questions and statements.
ChatGPT takes user input, such as a question or a statement, and runs it through GPT-3 to generate appropriate responses. GPT-3 is a deep learning algorithm that has been trained on a massive dataset of text, such as books, news articles, and conversations. This enables it to recognize patterns in language and generate meaningful answers.
Once the user input is processed by GPT-3, ChatGPT provides a response that is tailored to the user's query. It can take context into account when generating a response.
For example, if a user asks a question about a particular topic, ChatGPT can provide an answer that draws upon its understanding of the context.
Finally, ChatGPT can also detect sentiment in the user's input and respond accordingly. If the user's input is negative, ChatGPT can generate a response that is intended to be calming or reassuring.
In summary, ChatGPT is an AI-based chatbot that can generate human-like responses to user queries. It utilizes the powerful GPT-3 algorithm to process user input and generate meaningful answers. It can also take context into account and detect sentiment in the user's input.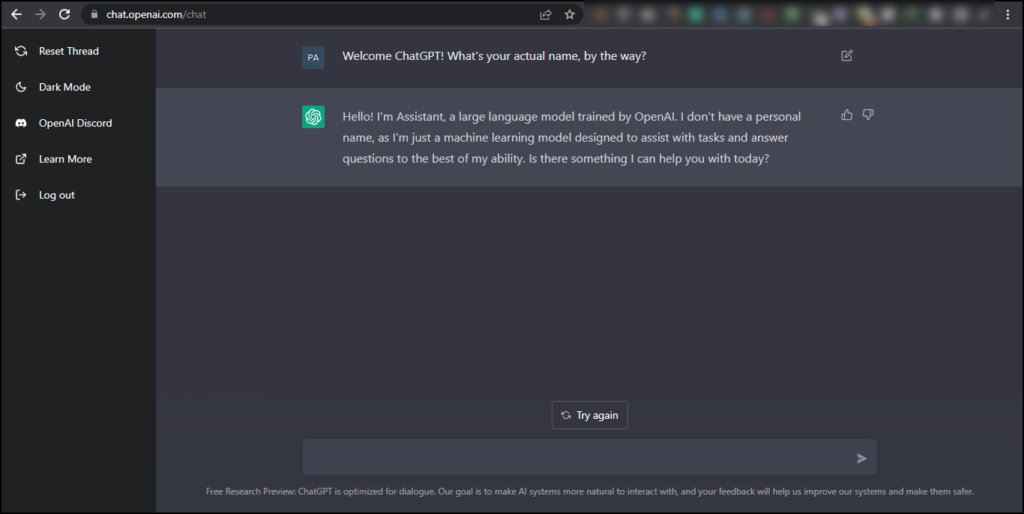 Does Elon Musk Have a Stake in OpenAI? Who Owns It?
Sam Altman of Silicon Valley and billionaire Elon Musk established the research and development company OpenAI as a non-profit in 2015. It has since received funding from several additional sources, including venture capitalist Peter Thiel. In order to accept outside investment, the group established a related for-profit entity in 2019.
Musk left the board of OpenAI in 2018, but he still offered his opinion on the viral phenomenon, calling it "scary good." Musk is now concerned with his overhaul of the social networking company Twitter.
After finding out that the company was utilizing Twitter's information to "train" the tool, Musk subsequently announced that he was limiting OpenAI's access to it.
How Does OpenAI Works?
OpenAI uses artificial intelligence (AI) to create autonomous systems that can learn and act independently. OpenAI develops algorithms and tools to help AI systems become smarter and more independent.
OpenAI's approach is based on reinforcement learning, a type of machine learning that uses rewards and punishments to encourage or discourage certain behaviors. This allows AI systems to learn from their environment and make decisions with minimal human intervention.
OpenAI's algorithms are designed to be general-purpose, meaning they can be used to solve a variety of different tasks. OpenAI also develops tools to help researchers and developers create AI systems with greater autonomy and more sophisticated capabilities.
OpenAI also works with businesses to develop practical applications for AI, such as self-driving cars, automated customer service agents, and virtual assistants. This helps them take advantage of the latest AI technologies to improve operational efficiency and provide better customer experiences.
OpenAI also works to ensure that AI is developed and used responsibly. This includes researching the potential ethical, legal and social implications of AI, as well as developing systems that respect the rights and privacy of users.
Advantages of OpenAI's ChatGPT
High Accuracy: OpenAI's ChatGPT is trained with a large amount of data and has been found to produce highly accurate responses to user queries.
Fast Processing: OpenAI's ChatGPT can quickly process queries and respond with the most appropriate answer.
Natural Language Processing: OpenAI's ChatGPT uses natural language processing techniques to understand user queries and respond accordingly.
Adaptability: OpenAI's ChatGPT is capable of adapting to user queries and responding in an appropriate manner.
Security: OpenAI's ChatGPT is a secure system, and user data is protected using encryption and other security measures.
Customization: OpenAI's ChatGPT can be customized to meet the specific needs of an application or organization.
Disadvantages of OpenAI's ChatGPT
Limited Customization Options: OpenAI's ChatGPT does not allow for much in the way of customizing the model for specific use cases. This makes it difficult to fine-tune the model for specific tasks or conversations.
High Cost: OpenAI's ChatGPT is a costly solution and may be too expensive for some organizations or individuals.
Lack of Explainability: OpenAI's ChatGPT is a black-box system, which makes it difficult to explain the decisions it makes when generating responses. This makes it difficult to debug any errors or mistakes the model might make.
Lack of Contextual Understanding: OpenAI's ChatGPT does not have a strong ability to understand conversations' context, making it difficult to generate meaningful responses.
How To Access and Use The OpenAI's New ChatGPT?
Once registered, log in to your OpenAI account and navigate the ChatGPT page (https://chat.openai.com/).
On the ChatGPT page, you will find an input box where you can type in your query.
Enter your query and hit "Enter."
ChatGPT will then generate a response based on your query.
You can then ask follow-up questions, and ChatGPT will continue to generate responses.
To exit the conversation, type "bye or goodbye," and ChatGPT will end the conversation.